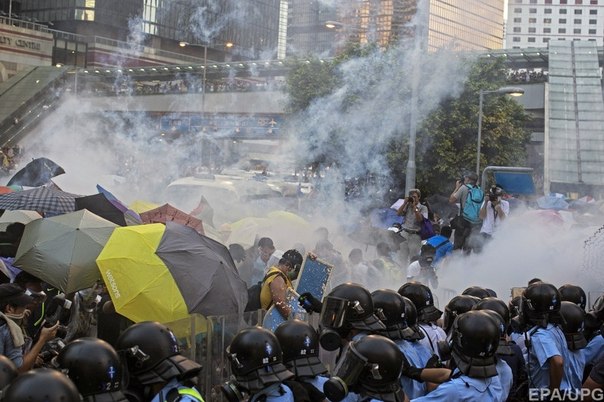 The "Umbrella revolution" in Hong Kong strictly follows the scenario of Kiev Maidan.

Chinese authorities seem unable to find any adequate response to the mass protests against the abolition of democracy and the transformation of Hong Kong into one of ordinary Chinese cities.

In Hong Kong, its own Maidan has begun. The story of the protest, which began three days ago, is almost identical to the Ukrainian one. Students and pupils, indignant at the deliberate change of the country's political course, came out to protest in the main square. In the night the police had beaten and detained dozens of protesters, following that up to a hundred thousands of outraged citizens came out to streets and stayed out there for the night and for the next day. In the center of the city, among brilliant skyscrapers, luxury boutiques and multi-billion dollar banks, barricades began to rise.

"I do not remember anything like this in the history of Hong Kong",Ho-fung Hung, a researcher at Johns Hopkins University said in his interview to The Guardian, commenting on the mass protests against the Chinese government, which involved masses never seen hitherto. According to him, it is the first time when the protesters use the methods of civil disobedience and erect barricades. In the past they have always tried to protest gently without disturbing the normal rhythm of life of the financial capital of Asia. However, this time it's different: "Now they do not care about it, the city is partially paralyzed - it's obvious."

The expert hardly mistakes in his assessments. The demonstrations having spread over many areas of this usually calm "special administrative region" of China are really unprecedented. Protesters block streets and squares, elder pupils and students boycotted classes and went to rebel actions, many banks and stores are closed. Stores ran out of their stocks of swimming glasses, diving masks, respirators and rain-cloaks which are being used for protection from tear gas and pepper gas.

One of the products of high demand usual umbrellas have become: twisting them inside out and holding them in front of their faces, protesters protect themselves from the gas sprayed by the police. Because of this feature, the protests have already received informal name of Umbrella Revolution.