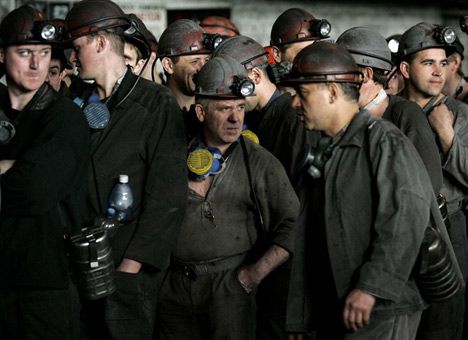 Miners in western Ukraine, who are not receiving loans for last six months, are rioting. About one hundred mine workers in Volyn are blocking the roads (today it was the bridge over the "Western Bug" on the road "Lviv-Brest" in the village of Litovezh).
Quoting Yuriy Kalistratov, director of a local branch of the Coal Industry Worker Union, people are being owed over 23 million UAH (1,7 million USD). "We will be blocking the roads until we receive our loans, - as one of the protesters called Mikhail threatened, - Last time we received any payments was even before the presidential election".
In western Ukraine there are several coal mines - in Volyn and near Sokal-Chervonograd in Lviv region, many of which are falling into decay, five mines will be shut down in next two years.
Head of the independent miner's union Mikhail Volynets complains, that the state does not develop the Lvov-Volyn coal mine basin. Quoting him, - "If the mining were increased here, there would have been no need in buying so much of expensive coal abroad, and the electricity tariffs would not increase."