It is only being expected yet to determine who brought down the civilian plane: to decrypt data from its black boxes, to analyze the nature of its damage, to assess it against "Buk" capabilities and to find out where was the Ukrainian fighter aircraft at the time of disaster. None of this has been completed yet, but the US has already made a statement that "The militants shot down Malaysia Boeing by mistake".
Lets assume for a moment that this version is true and use it as the starting point of our argument. "Shot down by mistake" implies that the intent was to shot down a military aircraft, but a civilian one was hit instead. The Malaysian airlines flight is regular, hence its planes regularly fly the same route. That means the same or a similar Boeing flew above Donbass the day before and the day before it. Is it right? No, that is not so. On the day of the crash the plane took an unusual route. Air traffic controllers who determine the air corridor of the route were not from Novorossiya, they were, you guess it, from Ukraine.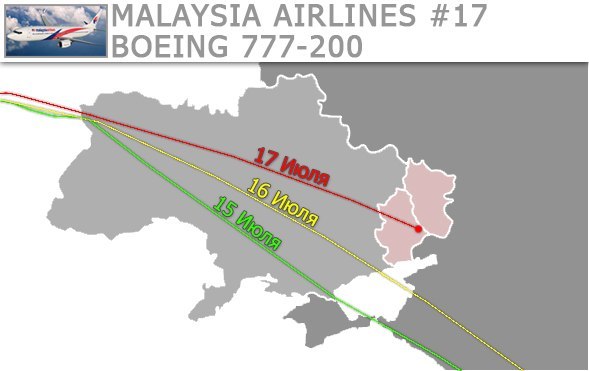 The first cause of "the mistake" is the corridor given by the traffic controllers on July 17. Note the silence about that "mistake" of Ukrainian air traffic controllers.
Say, it is the winter of 1941-1942 and a foreign civilian airliner is shot down as it approaches Moscow. Who would be to blame? The answer is clear: whoever sent it towards the batteries of Moscow air defenses and whoever even permitted a civilian airliner to fly over the war zone.
When a country is at war, passenger aircrafts do not fly over it.
That leads us to the next cause of the disaster: the systematic lies of Kiev junta and its Western backers. None of these gentlemen have said that Ukraine is at a full-scale war. Instead, they hide the fact of the war behind euphemisms: "anti-terrorist operation", "aggravation of the political crisis", "unrest", etc. Anything but war. The motives besides this shameless word manipulation are clear: a full-scale war implies the presence of full-fledged belligerents. That in turn means that a significant portion of Ukrainian population does not accept the current Kiev clique who seized the power in a coup. And that population is ready to confront the clique with arms. We won't bother here about "Russian aggression" or "Putler" nonsense.
What about false Poroshenko statements on 90% (or 99%) Kiev support in Donbass? And what about his own legitimacy itself? Whole regions do not rise up against legitimate authorities. We have a clear example on how the substantial lie led the authorities to use manipulative language. That language led to unacceptable decisions – to the continuation of civilian flights over the war-torn country. And that decision became one of the reasons of the crash.
Another question arises: how could Malaysian airlines leadership allow that? Surely the key people there are responsible and educated and have zero interest in killing their own crew and passengers – quite the opposite. They have Internet access... Here we observe a Western phenomenon: the media "thinking for" an average person who obediently picks up the TV version of the story. If TV says there is no war - at best it is just a "local revolt", that means there is no war! If that is how educated people think, what do you expect from others?!
For those Ukrainian citizens who are deceived by myths about the future "European life" and the warm embrace of Ukrainians by European nations, here is another important observation. The day after the crash all world newspapers came out with photographs of dead passengers... Happy families, lovely children - all those whose lives were abruptly broken. That is after a few months of barbaric bombing and shelling of cities of Ukraine (or Novorossiya - in this case, there is no difference) killing hundreds... Happy families, dear children - all those who died. How often do you see their portraits on front pages of Western newspapers? Or, do you think that a human life from Kharkov, Cherkassy, or even from Lviv is more appreciated in the West than a human life from Lugansk or Slavyansk? Don't be ridiculous. "We can never be brothers!" - that is what's true. Moreover, we will never be equal neighbors either.
And real causes of the crash are yet to determine.
Author: Michail Shaturin