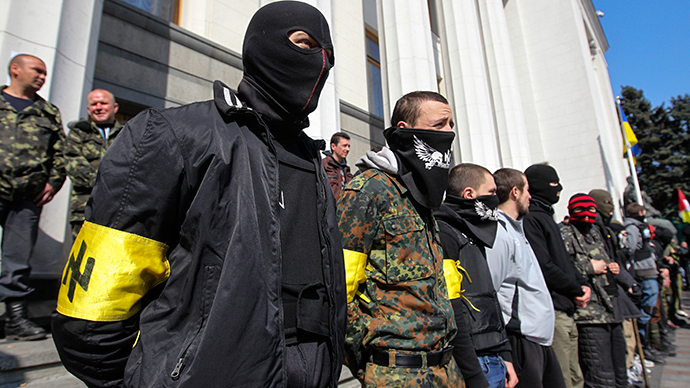 Reuters / Valentyn Ogirenko
The far-right Ukrainian group Right Sector has threatened its armed forces will raid Kiev unless authorities release all its members and end all criminal investigations against them. They accused the police of being "anti-Ukrainian."
In a statement published on Right Sector's website, the group's leader, Dmitro Yarosh, and the commander of the its volunteer battalion, Andrey Stempitsky, accused Deputy Interior Minister General Vladimir Yevdokimov of heading "a criminal police group of separatist stooges and a Moscow puppet."
Right Sector also accused the Interior Ministry of "unlawful detentions, arrests, beatings, confiscation of arms taken in battle" in moves targeting dozens of fighters of Right Sector's volunteer battalion, which was formed with the stated goal of fighting armed militias in the east of the country.
The far-right group called on President Petro Poroshenko to fire Yevdokimov and his men from the service and investigate them for "their criminal activities." As for detained members of Right Sector, all of them should be released and criminal cases launched against them must be closed, Yarosh demanded.
"Unless our demands are met within 48 hours, we will be forced to call off all our units on the front line, start a general mobilization of reserve battalions and launch a march on Kiev to enact a 'swift reform' of the Interior Ministry. The columns of the Right Sector will march in full gear," the statement said.
The movement called on other volunteer paramilitary groups supporting the government's military campaign in the east of Ukraine to support their demands and oust "the helpers of the terrorists in police uniforms from the Ukrainian land."
Right Sector leader Dmytro Yarosh (RIA Novosti)Right Sector leader Dmytro Yarosh (RIA Novosti)
Interior Minister Arsen Avakov dismissed the Right Sector's threat on his Facebook page, calling Yarosh's armed forces "mythical" and the statement a publicity stunt.
"Maybe it's time to stop playing Robin Hood and stupidly putting in harm's way the real patriots who believe you, Yarosh, for the sake of your patriotic snobbism?" the minister wrote, adding that he sent the paperwork to have Yevdokimov dismissed to the government a couple of weeks ago.
Avakov also implied that Yarosh was either out of his mind, or was working for Moscow by acting as a boogieman to Ukrainians in the east of the country.
The far-right group, which was at the core of the February armed coup that ousted President Viktor Yanukovich in February and installed the current government in power, has been at odds with the Interior Ministry for months.
The confrontation first erupted in March after notorious Right Sector activist Aleksandr Muzychko was killed in a police raid to arrest him from what police reported as a self-inflicted gun wound. Muzychko publicly taunted Avakov in the weeks before the raid, and his fellow nationalists accused the minster of masterminding his assassination.
The Ukrainian government reportedly considered outlawing the movement at the height of the confrontation. However the start of the military campaign in eastern Ukraine in April marked a resurgence of Right Sector's ties with the government, as the group contributed to the creation of Ukraine's volunteer battalions to take part in the fighting.
Yarosh was placed on a wanted list by Interpol at Russia's request. Moscow suspects him of inciting extremism.
Interior Minister Arsen Avakov (RIA Novosti / Grigory Vasilenko)