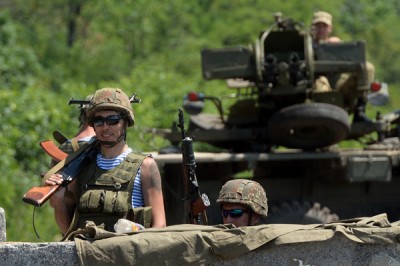 "Ukrainian government is using the truce in Novorossia to send military reinforcements to the region in preparation for a future offensive on Donetsk." – said the Vice-Speaker of the Parliament of Novorossia Alexander Kofman in a "Pervyi Kanal" (Russia's First Channel) broadcast.
"Transport planes carrying military equipment and soldiers are touching down in Kramatorsk airport every 30 minutes. Reinforcements are gathering around the city of Donetsk. We've already seen one similar truce before. It resulted in the loss of Slavyansk and Kramatorsk." – reminded Kofman.
Furthermore, the Vice-Speaker said that the truce will not be enough to allow refugees to return to their homes in Donetsk.
"Refuges have nothing left, Ukraine will not provide financial or any other type of assistance and they simply don't have the means to live on Ukrainian territory."
He also stated that the road map offered by Moscow in hopes of bringing an end to the conflict is not acceptable for LPR and DPR – the republics can no longer remain a part of the Ukrainian state. "I understand Russia's intention to de-escalate the conflict and we are grateful for the effort. But the current plan for de-escalation is not going to work", - said Kofman.
According to the Vice-Speaker, by following the current plan the participants of the negotiations are "positioning themselves against the wishes and interests of the people of Novorossia". He also mentioned that Ukraine is not respecting the terms of the cease-fire.