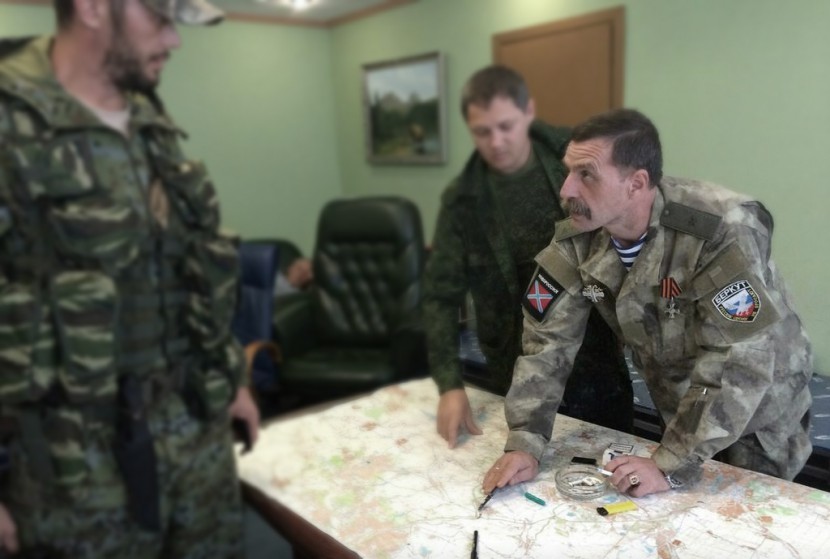 Interview with the commander of Gorlovka defense, General Bezler, the call sign "Bes" (meaning "Demon" in Russian)
Why Bes?
My nickname since childhood. Perhaps for being naughty.

Strelkov came to Slavyansk, the name of the city itself is symbolic, named so by Catherine the Great. You came to Gorlovka. Why Gorlovka?
I like the city, it is beautiful.
You are wanted in Ukraine as a saboteur of the Main Intelligence Directorate of Russia. The Security Service of Ukraine considers you the most dangerous state criminal charged with not only the disarmament of military units in the Crimea, the security service and the police, but also with the establishment of a network of agents. Is it true?
Crimea awarded me a medal and a cross: Crimean, not Russian. I did not disarm military units - they opened the gates themselves because they were sick of the yellow-blue independence, or rather, the oligarch-gangster lawlessness. Besides we were very polite, a result of good upbringing. I'll leave the rest without comments.
Does humanitarian aid reach you?
Not always, it is getting better now.
How are you going to cope with winter? One will not last on humanitarian aid only.
I won't guess, I'm a realist. Ukraine is waiting for handouts from the West, nothing was sown, hence there is nothing to reap. With shells and bombs Kiev destroyed Donbass feeding the country, burned its fields, killed its residents or expelled them from the native Russian land only because they are Russians who do not want to practice Uniate dogmas and do not want to be slaves of Poles or Germans – they have a different mentality. On the sacral level we are not obedient as western Ukrainians. The manufacturing equipment from Kharkov and Zaporozhye plants have been transported to western regions halting production. The machinery must be working, otherwise it's just scrap, idiots! Nobody stopped the war and the US serving whores, non-Ukrainian by blood, who seized the power, are going to fight to the last Ukrainian!.. Everything works in our cities: mines, factories, infrastructure, day care for children, schools, pharmacies, except those that produced amphetamine. We fought drugs, crime and corruption. But Gorlovka is not entire Donbass. It will be hard, but we are Russians, we will stand, while the rest of Ukraine will suffer, this is already a fact.

You are a military man, hence with systems thinking. But one person cannot handle a huge city, especially while making military decisions, industry experts are needed.
They are present. We kept the existing staff, only weaned them off from taking bribes and stealing – they turned out to be fast learners. Mr. Klep remained the mayor with the rights of signature and stamp. I am taking care of him (author's note: he is under guard) – he is shaved bald, dressed in the spirit of the times, he sings Soviet Union anthem in the morning, gets up at 6 and goes to bed at 22:30. He is getting morally cleansed – he is not stealing, not taking bribes, returning people what he stole and he is building roads. He will keep doing that until he is reeducated. He should learn for himself what it means to live within own means. He became a patriot - ordered to hang Russian flags around the city, to leave all internal revenues in, to keep militia salaries in companies where they used to work. Our mayor cares.

How do you assess the current authorities in Kiev?
How can you assess traitors? They will have their Nuremberg Trial. I regret that I gave Petr Poroshenko only two slaps while driving him out of the Supreme Counsel building to the train station in Simferopol. They can only rob and divide, it is their gangster upbringing. They were taught this from the childhood – look at their biography. Flawed and inadequate, with the mentality of small speculators, they cannot be statesmen, period.

The authorities in Kiev hammer into people heads that this is a patriotic war of the Ukrainians fighting Russian aggression. Who are you fighting?
We fight against fascists. We are fighting the global financial and industrial oligarchy, for which Ukraine is only a means to achieve the main goal - to destroy Russia, Russians and Slavs. The plan is to pit Slavs against each other, so they destroy themselves. If we fall, all nations will be on their knees, because no nation, no people can resist them except Russian. During the coup, with the anthem of fascist Germany in the background the crowd killed and maimed members of the special police force Berkut, Ukrainians who remained faithful to the oath. Who came to power? Yanukovych accomplices looting the country, accomplices of Kravchuk, Kuchma and Yushchenko - they only differ in the scale of theft. Brainwashed people chant after their masters - "Russia invaded." If Russia sent one division only, then next day its troops would be in Lvov. More precisely, in the ancient town of Lemberg. Today's Banderites need to understand this. Also they should not forget that we remember Volhynia massacre of Poles, shootings of Jews and gas cameras, Khatyn and a lot more that their parents and grandparents bloodied their hands in. All these also poisoned generations with the hatred of everything Bandera. Mercenaries are fighting us - Americans, Anglo-Saxons, Arabs, Swedes – all kinds of trash. Do they want our land? Well, it will take and bury them then, no other choice.

Do you have Ukrainians in your units?
Almost all my people are local, I do not divide them into Ukrainians, Russians, Chechens, Armenians, Jews and so on. They all are equally important to me, fighting with Nazi descendants. It was not us who came to Rovno, Zhitomyr to kill, rob and rape, destroy houses, burn fields, blast plants. In their cruelty they even overshadowed the Nazis during Donbass occupation. Even then it was not Germans who committed atrocities, it was Ukrainian nationalists who served in the police and Sonderkommando.

Are there foreigners in the militia?
Of course there are, they fight together with us shoulder to shoulder: the Serbs, the Spaniards, the French and the Germans, who genuinely hate fascism and the current hegemony of the United States. These are people of conscience which still exists in Europe. Once we detained a German at a checkpoint, he was brought to me. "Who are you? Where are you going? Why?" He replies that he came for his wife, who is in Lugansk, and for his beloved cat. Clearly, the cat is important, so he came. He looks at my assault rifle, takes 40,000 euros out of his pocket and asks me to sell it. He says "This is all I have and I will give it all for the rifle, I want to fight fascists". At the same time a call comes from Merkel's office. One of her advisors yells hysterically that we captured a German citizen and he demands his immediate release. I say: "I don't mind, but he does not want that". "What does he want?", the caller asks. "He wants to join the militia", I respond. Eternal silence follows and then in a quiet voice: "Can I hear this from him?" "No problem", I say, giving the phone to the German. The German goes: "I am a sergeant of defense forces, a commander of Leopard 2 tank crew asking you to give me 3 tanks, then in two days I will be in Kiev". In response short beeps and no more calls. I gave the rifle to the German as a gift for his speech. He is now in the militia, he is an excellent fighter, only Frau Merkel did not send him tanks.
Did you suffer big losses?
For me, every "two hundredth" is a loss of a loved one, even if you do not know him personally. But this is a war and anything can happen. As far as statistics, our losses are ten times less than Ukrainian. We grinded almost all aircraft and armored vehicles of the Ukrainian army, they have thousands of dead and wounded, whom the authorities declare deserters to avoid payments to relatives. Only our special battalion does not bear losses, it has constant replenishment.

Which battalion?
Prisoners.

How many? What happened to them?
Enough. In general we just keep officers - for exchange of prisoners. Conscripts and soldiers are returned to relatives or transferred to the regional center. I don't take Nazi prisoners in principle – no time to reeducate ideological beasts. They are not shy when they deal with us, why should we be noble with them then? They came to us with a sword, from a sword they will perish, we follow Alexander Nevsky's behest.

How do Kiev authorities look at prisoner swaps?
Kiev does not need them at all. Every time they set their teeth on edge about it. We agreed to exchange Olga Kulygina, Ph.D. In Biology, captured by Ukrainian forces as saboteur, on officers of the Security Service of Ukraine, but at last moment Kiev changed its mind. They can create as many colonels as they want, but Olga has more value. It is nice that they exchange many of theirs for one ours. We exchanged Olga anyway, for 17(!) officers and one citizen of Georgia. They always exchange ours on three, four or more of theirs – they value us several times more and we are proud of it. The general impression is that Kiev only wants dead soldiers, because they will have more problems with those who are still alive when the first frost comes.