http://colonelcassad.livejournal.com/1621583.html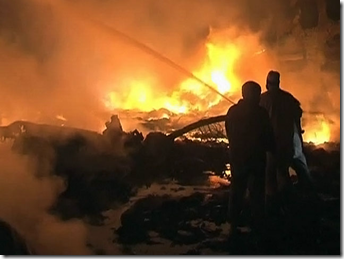 Regarding Mariupol city, it`s not all so simple. Despite the bravura reports from junta, the militia is still in Mariupol and, in fact, started to use the tactics of urban guerrilla warfare. Given that in Mariupol there are 500 000 citizens and in total there are not more than 1500 armed men from both sides (the military and the militia), full control of Mariupol is hardly probable on either side. That is why, everything seems to be reduced to sporadic clashes of low intensity.
http://www.youtube.com/watch?v=56-vdWONGuA
Fascist junta detachment was ambushed on the bridge in Mariupol. The number of killed and wounded people is not known.
UPD: According to specified data http://ria.ru/world/20140614/1011967410.html – 3 junta`s people killed, 4 junta`s people wounded. So, Mariupol was written off too early.
UPD2: The link http://vk.com/feed?w=wall-66621324_485897 more details.
Additional interesting information about Lugansk. The shelling of the city, its suburbs and Schastye town started at night is continued. At the same time, as reports the correspondent of the Komsomolskaya Pravda newspaper:
http://www.youtube.com/watch?v=nvPzvY6HbkM
49 people were killed in Lugansk because of the crash of IL-76 which was brought down by the militia. This was stated in the report of the press service of the General Prosecutor of Ukraine:
"June 14, 2014 01:10, IL-76, a military transport aircraft of the Armed Forces of Ukraine was brought down when landing at the Lugansk airport. This happened as a result of a shot done from an air defence missile system. The plane had 40 military men and 9 members of the crew on board. They all died"- noted in a statement.
Prosecutor's Office of the Southern region of Ukraine that is in charge of law enforcement in the military field initiated a pre-trial investigation of criminal offenses under Part 3 chapter 258 of the Criminal Code (act of terrorism that led to casualties and significant damage to property).
http://alternate-politics.info/content/v_rezultate_krusheniya_v_luganske_sbitogo_opolchentsami_il76_pogiblo_49_chelovek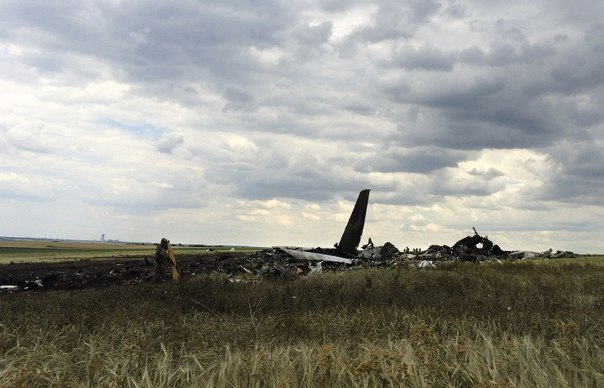 IL-76 brought down in the area of ??Lugansk airport.
Soldiers of airborne forces from Dnepropetrovsk city and Lvov city are locked in Lugansk airport. In the morning, in the Lugansk airport, immediately after the crash of IL-76 a fighting between Dnipropetrovsk and Lvov paratroopers flared up. It seems that Dnepropetrovsk paratroopers won. Before that, they had raised the Russian flag over the fuel-oil depot. That is why the fight began.
Now they came out of the airport zone and are moving in the direction of the Antratsyt city with the Russian flag. Now the militia is trying to establish a contact with them.
In Lugansk, an air-raid alarm was declared. PS. According to unconfirmed reports, there were not 40 but 100 paratroopers on board of the brought down IL-76. Apparently, their death triggered the mutiny in the paratrooper detachment.
http://alternate-politics.info/content/v_luganske_vzbuntovalis_dnepropetrovskie_desantniki
UPD:
Details of IL-76 annihilation:
"There were three aircrafts in the air. First of them landed. The second was shaked down by terrorists. It had 49 people on board: 9 members of Melitopol transport team, 40 people from the 25th brigade. 1,2,3 – battalions, rocketeer, scouts, gunners, sappers. They all were reservists and contractors from the Dnepropetrovsk region. Accurate lists are specified and will be ready in the near future. Now we are working to collect the remains in the zone of aircraft crash. The third aircraft managed to get out of fire and to come back".
UPD:
Hysterics of Mr Filatov on Facebook:
"Of the 49 people killed:
9 – crew members of Zaporozhye region.
Two paratroopers were from Donetsk, one – from Kherson, one – from Odessa, one – from Kharkov, one – from Lugansk, one – from Kirovograd.
The remaining 32 people were from our area: 10 people were from Dnepr, 6 people – from Krivoy Rog, 2 people – from Pavlograd, 2 people – from Dneprodzerzhynsk, 2 people – from Nikopol. The other guys were from the rural areas of Dnepropetrovsk.
You, Russian scum, had this "Novorossia" mixed in the plane.
Lying. Not counted correctly. Another one boy was from Lvov city."
NB! Mr Filatov`s error is that this were not Novorossia men but punishers, that were thrown to suppress this very Novorossia and that died near Lugansk. Others who want to fight in Donbas should know that the end can be sudden and swift.
Overall, we got a sort of a good revenge for Mariupol and for defeat in Donetsk airport. Increasing shelling is apparently a revenge for the losses in the airport.
It should also be noted that in recent days losses of dozens of people have ceased to be something special and have turned into a bloody routine.