http://voicesevas.ru/news/yugo-vostok/1179-igor-strelkov-kogda-pravda-o-poteryah-pod-slavyanskom-vsplyvet-etomu-pravitelstvu-nastupit-karachun.html
«Ukrainians have been battered on the roadblock near petrol station this morning. The floor slabs have been destroyed in the hotel where the garrison has a rest. The mortar detachment was demolished at the turn to Krasny Liman yesterday. A lot of infantry perished.
We shelled this roadblock in the afternoon. The howitzer detachment just left the gun and ran away making only a pair shots in response. Ukrainian mass media keep silence about all these events…
By the way, according to some, their battle helicopters (at 4 or 5 pieces) shelled own positions not far from Karachun by mistake. Observing this work we were surprised by their targets because our fighters had never been there. Ironically, they had a great result. Nevertheless, Ukrainian mass media keep silence again…
We had one lightly wounded per night.
We did not have losses among fighters at all yesterday, just among civilian population. Locals severely suffer from brutal shelling of Ukrainian army.
Greetings to everybody from the crew of the howitzer «Nona»! «Nona» has been triply proclaimed to be destroyed. Don't even think about it…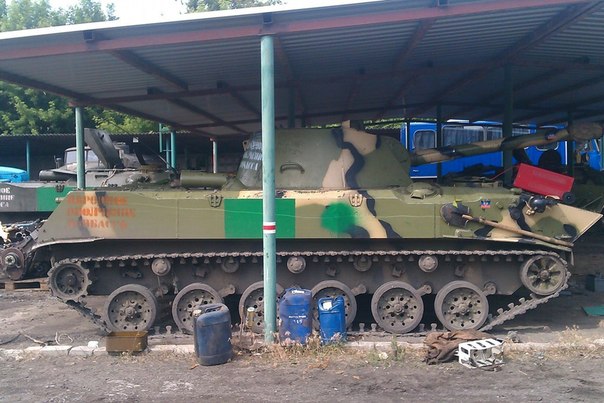 photo take http://colonelcassad.livejournal.com/1609852.html post about "NONA" – Russian
When the truth about the losses near Slavyansk pop up, "Karachun" will come to this government.
Thus, they need to occupy Slavyansk at all costs. Then «victorious assault» will be responsible for all losses».
About the weapon of the Second World War.
«There were some rifles, but there is no sense to use them now. We have enough modern weapons as for example carbine SKS is. We also use machineguns DShK (1944); there are many PTRS (including production of the War time), TT pistols and Nagants (as a personal weapon for advanced commanders). There is one machinegun M-53 (it is a Yugoslav model of MG-42)».
About 100 volunteers have joined us in the last twenty-four hours.