2014-05-29 10:18:00 http://www.voicesevas.ru/news/yugo-vostok/na-territorii-ayeroporta-v-donecke-zazhi.html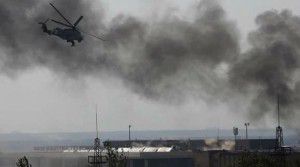 Nazi military attack on the building of the international airport in Donetsk Prokofiev May 28 , according to the People's Republic of leadership Donetsk ( DNI ) , turned into a massacre. 6 civilians killed , 44 wounded.
As the Deputy Prime Minister Andrei Purgin DNR , at the airport lie the corpses of the faithful who came to try to reconcile the combatants .
- Donetsk Orthodox, done May 28 regular procession around the building of the regional administration , went to the airport to stand between the warring parties and to stop the bloodshed . But militants burned them alive , dead bodies now lie with the other next to the airport. How many of them were still unknown – said Purgin . - Also near the airport in recent days have killed six local residents and 44 wounded.
As the leader of the DNI Dennis Pushilin , pick up the bodies of the dead is impossible because of the snipers who opened fire on anyone who tries to approach him.
May 26 Donetsk Mayor Alexander Lukyanenko confirmed the death of at least 40 people as a result of the punitive operation conducted Ukrainian security forces near the airport and the city of Donetsk .
- Our primary goal – to unlock the terminal building to collect corpses , get injured , which is now impossible because of constant bombardment help snipers – said Purgin .
Fighting in Donetsk began at noon on May 26. NATsIgvardiya undertook the attack of the airport after a night it is, according to representatives of self-defense, without firing a shot passed under control of militias.
Was later hit a truck carrying wounded from the airport under the guise of medical care. According militia firing squad in " KamAZ " killing 35 people .
According to the defense headquarters DNR machine drove the wounded from the battlefield. Please snipers " removed " the driver , and then the car shot from hand grenade . Those who survived , finished off with machine guns gunmen "right sector." None of whom are in " KamAZ " survived.