Igor confirmed the order to shoot looters:
"Yes. Looting and lawlessness will fight mercilessly."
description picture:
order
"I hereby declare that the decree -martial tribunal militia DNR from 24.05.2014g . , For (marauding)looting , armed robbery , kidnapping , abandonment combat positions and concealment of crimes committed on the basis of the Decree of the Supreme Soviet of the USSR Prizidium " On Martial Law " from 22.06 . 1941 – sentenced to death by firing squad militia company commander DNR Slavov Dmitrii ( "Bulgaria" ) and a platoon commander militia DNR Lukyanov Nikolai Alexandrovich ( "Luke " ) .
Sentence was carried out .
I warn all soldiers and militia commanders DNR , as well as residents of the city of Slavic and Slavic area about what the above mentioned and other serious crimes committed in a war zone will continue to resolutely and ruthlessly punished .
DNR does not command the militia will turn his rear in the field of criminal mayhem. Punishments for crimes are inevitable on the status and merit criminal.
commander of the host DNR Colonel II Strelkov. May 26 , 2014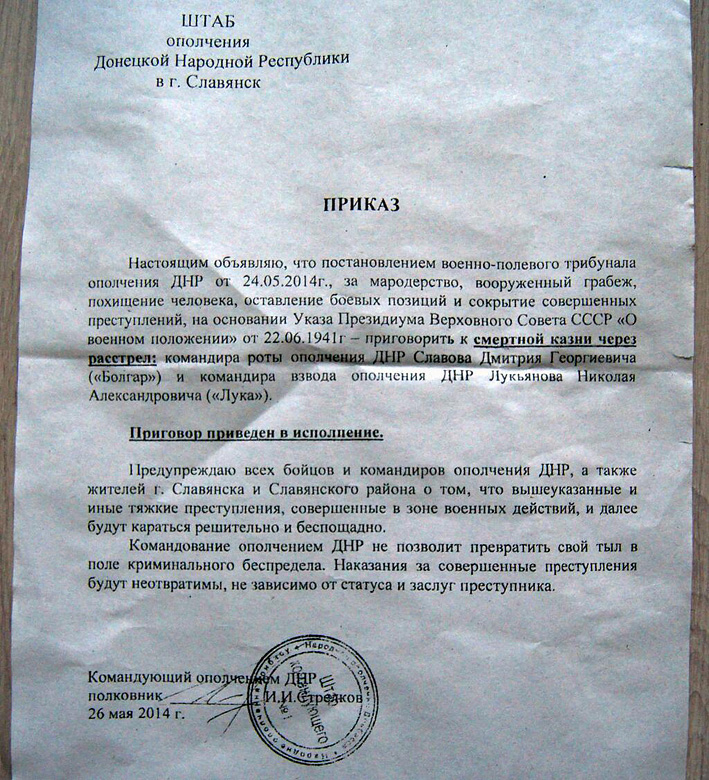 Last post by Igor Ivanovich in 19 hours 52 minutes:
"Oh, By City beating. Walk out with communications. It should" steer "."
http://summer56.livejournal.com/125556.html