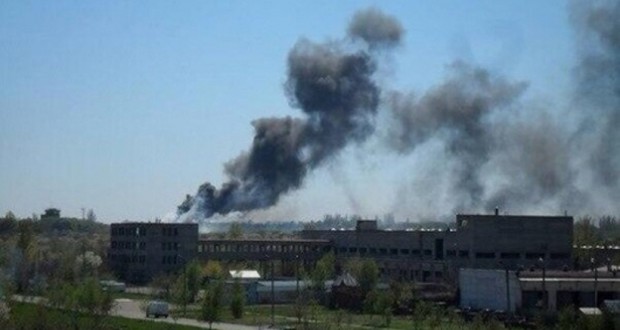 First is the report by Strelkov (Commander of DNR militia forces in Slavyansk– transl.) about fights near Slavyansk.
http://colonelcassad.livejournal.com/1593221.html
http://colonelcassad.livejournal.com/1592947.html.

"Ok, today'sreport.
"Hey! There you are, buddy! Sit down, drink your beer! Today's report is good!" (c)
Early in the morning today, an enemy's roadblock near Malinovka town was attacked from two sides at the same time. It was bombarded at short range with a mortar and several RPGs. 2 BTR was burned, roadblock is completely destroyed. The enemy suffered heavy losses in manpower. Our casualties is one wounded soldier.
At around noon, we bombarded with the mortar a grove near the road between Slavyansk and Kramatorsk where Integrated Units of "naciguard" (National Guard of UA – transl.), 25th and 95th airmobile brigades is located, also a roadblock was shelled. We fired 60 82-mm mines at the grove and 10 "Nona" shells at roadblock (2C9 "Nona" – Soviet SPG – transl.) Also 6 shells flew away at the position of enemy's artillery on the back side of mounting Karachun. Later on helicopters landed on the mounting Karachun and near the roadblock to evacuate the wounded. Late in the day, ourreconnaissance get the information on whereabouts of enemy near Seleznevka town (the border of city, 2 km north from Semenovka). The reconnaissance party enter the town and in fast firefight take out six "naciguard" solders (black uniform; helmets, painted with slogans and insignias of Right Sector), about 10 more "naciguard" solders was wounded and a Kamaz truck burned.
Altogether, according to radio intercept, today's casualties of the enemy in manpower was more than 100 solders, also 3 BTR, radio station based on GAZ-66 and 2 trucks was destroyed. According to local peoples data all killed enemy soldiers is placed inside plastic weapon crates and moved to Izum, where all morgues is already full with bodies, the fridges there is overfull. By nightfall, the enemy is undertaking harassing fire on our positions with mortars and howitzers.
I was reported just now that our reconnaissance party attacked roadblock BZS (entrance to the city). One BMP burned with RPG-18. Several "naciguard" solders is put out of action dead or wounded. The enemy is shelling the roadblock abandoned by our solders with howitzers, but no one is there already … -)"
P.S. About enemy's heavy causalities:
"Inside the grove the people were packed up like sardines. And shots was lucky and with a fine grouping. The same was in Malminovka – everything was packed tight.
http://summer56.livejournal.com/116636.html - link (in russian).
http://www.youtube.com/watch?v=lzg-4IYDreQ
To the point, the yesterday's intense firefights at the approaches to Slavyansk was, so to speak, a background for a junta attempt to try to advance to Kramatorsk. The assault was proceed with the support of 122 mm howitzers (probably В-30) which deployed near TV tower on Karachun mounting and was shelling roadblocks and outskirts of Kramatorsk.
After forced out the DNR militia form ill-fated airfield, which was changing hands many times, the National Guard with a support of BTRs attempt to enter inside the city line. The exactly number of advanced forces is unknown. According to pieces of information in the open sources up to 12 BTRs and about 250-300 solders. The main advancing forces was National Guard. (National Guard is a recently founded military force. It is not part of the UA army – transl). With the support of the artillery shelling the militia roadblocks, they was able to enter the city and reach the hospital #3 toward gorispolkom (one of the main administrative buildings – transl). However, they was stopped there and after that thrown back toward the airfield. Later in the day, another attempt was take place form Yasnogorky sector. The National Guard with support of 6 BTR try to advance through roadblocks inside the city. However, this attempt was weak and militia was able to repel it. There are no reliable data about casualties from ether sides. But judging from intense of battles it is certain there was casualties.
In tote, this assault leaves a strange feeling, because it was conducted with obviously insufficient forces multiplied by low quality of training among National Guard, which is not only have constant and heavy casualties but also undertake battle missions in a very questionable way. It is almost a month since the assault of 24 April happened, but naciguard did not show any significant improvements at Slavyansk and Kramatorsk except killing more civilians. The event of enemy had use heavy artillery yesterday suggests the growing up understanding of the fact that only BTR and infantry is not enough to take the city.
Moreover, the absent of strike helicopters during yesterday's assault is symptomatic. To all appearances junta afraid of more losses or pilots simply reject to fly over not explored fortifications, where is located unknown amount of MPADS.
Tanks are in reserve as before and out of use. Its 18 may and the enemy is still not using the combined assault group tactics as the Russian Federation army was using in assault of Grozin during second Chechen war.Conceptually, instead of ridicules attempts to drive into the city on BTRs, it requires trickling inside the city form different directions, fortifying in the houses on the outskirts of city, using tanks and mortars for destroying roadblocks, supporting points inside city and taking out snipers in the buildings. At the same time, it includes artillery and air strikes at heavy fortifications to make way for assault party inside the city. And like this, slowly but surely, moving to the center of city.
However, there is no systematic approach to assault for now, but only stupid tip-and-run attacks, which leads only to growing casualties and do not solve any operational tasks. In my opinion, the reason of this is trivial. Considering the general low quality of available infantry (how good as military forces can be ex-Interior Ministry troops mixed up with Right Sector activists and Self Defense of "euromaidan"?), and obviously not really high grade of command as a result the junta's forces struggling at the approaches to the two small cities for a month already. In this regard the information given by Strelkov is much closer to the reality than Avakov's (Avakov – Minister of Internal Affairs in UA– transl.) fantasies, in which he is already defeat everyone many times in his Facebook, but as junta's forces was hanging around outskirts of Slavyansk and Kramatorsk so is they now.
It is worthy of being noted that in the April Junta's BTR could freely drive to the center of Kramatorsk and then they can retreat without any harm chasing away by the civilians. Yesterday one can noticed the changes that happens to Kramatorsk, junta's forces wasn't allowed to the center of city. Moreover, this was at Kramatorsk, which fortification comparing to Slavyansk is much less strong.
Frustration form realizing this fact was very big, so in revenge junta turn off water and gas supply to the city (alternative version says that gas pipes were damaged during artillery bombardment and blowing of POL storage near Kramatorsk). I think that for the local "it is no concern of mine" audience this will be much worse than sight of running here and there BTRs and bullets flying up to the top-level apartments.
Summarize the events of yesterday – junta was try to make some efforts to go out from routine firefights and achieve operational success by secure Kramatorsk. However, applied efforts and professionalism was evidently not enough. Therefore, junta suffers another failure, which is not very crucial for her from the operational point of view, but it hits hard on morality of troops, which already have very dubious quality. Hit-and-Run attacks of Strelkov under Slavyansk at roadblocks also expands the good image of the day for DNR militia.
At down 19 May it was a gunshot under Slavyansk; no doubt, it was people of Strelkov biting junta's positions.
In return, a routine low intense artillery bombardment was heard on the outskirts of Slavyansk.
Oh, and one another thing. After "magical" kick from Strelkov, forty men already join local militia yesterday and according to Strelkov 300 more on the way.
To be continued …
original -http://colonelcassad.livejournal.com/?skip=10