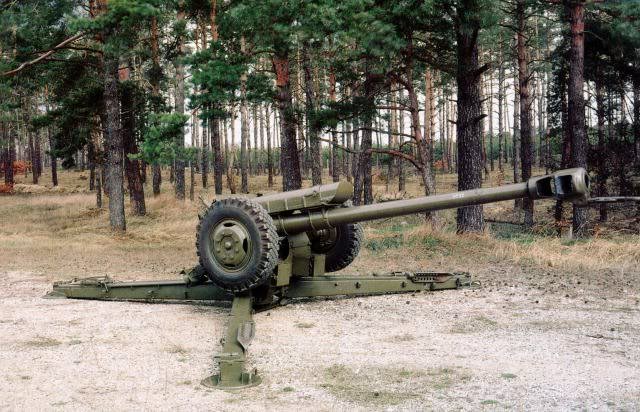 https://ru.wikipedia.org/wiki/122-%D0%BC%D0%BC_%D0%B3%D0%B0%D1%83%D0%B1%D0%B8%D1%86%D0%B0_%D0%94-30
The detention of LifeNews journalists was connected with the Artillery fire on May 18. LifeNews is the only media company that could bring to live the evidence of fascist crimes.
Igor Ivanovich Strelkov has now confirmed that the firing was conducted by Ukrainian fascists' howitzer D-30.
Many movies were signed that the city was under mortar fire . Given the distance from the mountains to Karachun Kramators'k snyaryadov flying and sounds , I am inclined to believe that the fire was just 122 mm . From the Editor – from the mountains to the outskirts Karachun Kramatorsk 14.5 kilometers in a straight line . The burden Currently none of the existing mortar including the newly created Russian and American developments do not exceed the range of 8-14 kilometers. From what we can conclude that Obster conducted from howitzers . Layfnyus journalists have witnessed this and decided to get rid of them .
0-36, Slavyancka Residents are in their gardens unexploded ordnance.
">Kramators'k city Donetsk region underwent truly shelled the mountain Karachun !
">and residential neighborhoods and factories of the city!
">With high probability it was the D-30 howitzer 122mm caliber .
<p>">D-30
For reference . ">destruction and suppression of enemy personnel , and are open in shelters field type ( in the trenches, bunkers , dugouts )
">fracture fill timber emplacements ( bunkers ) and other field-type structures
<p>">fighting with artillery , mechanized vehicles and enemy tanks.
The city has no water and gas. Outside the city water utility Nazis destroyed and the gas pipe . Left there with a large garrison appliances do not give conduct repairs. <p>">According to the locations (data not yet fully tested ) .
Kramatorsk EMSS – hit 8- shells. ">Kramatorsk KZTS – at least 2 of the projectile ;
Kramatorsk CMDS and NKZMZ . ">At least two of the projectile.
">According to local residents correction Ukrainian fire howitzer artillery from Mount Karachun carried
enemy spotter , who traveled around the city by car.
signature under the videoclip: 05/18/14 plant burns.
russian mortar
france
america