Strelkov's Militiamen destroyed the fascists' APC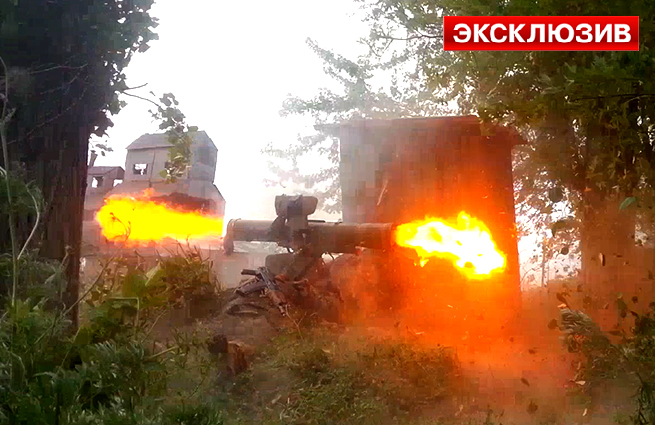 ">Militia knocked natsguard APC between Slavic and Kramatorsk.
<p>">checkpoint near the village Cherevkovka .
the militiamen and military <p>">This is the only roadblock on the way from Slavyansk to Donetsk .
">As a result of the combat one Ukrainian APC is hit. ">correspondent informs from the combat site, the fight lasted about 40 minutes – no casualties .
- Mobile group of self-defense tried to take the checkpoint outside the village Cherepkovka . This road connects Natsgvardiya applied heavy machine guns . ">were involved, militia retreated.
As the headquarters explained to LifeNews, it is the only checkpoint controlled by the Ukrainian army on the road from Slavyansk to Donetsk . They do not grant pass to the workers to repair water and gas supply . Sloviansk residents are still without gas and water. Earlier, during a battle near the village Uspenka in Donbas three kilometers away from Rostov region, according to various sources , one to two people were killed , one seriously wounded. - A corpse of a man with gunshot wounds was found on site. According to preliminary data , he was riding in a car, but the body was found on the roadside , – said a source in Amrosievskoe police department . - The wounded Passenger withs was hospitalized in Snezhnov village . ">Militias , in turn, report of two victims.
- One militiaman was killed instantly with a gunshot wound to the head , another died in the hospital , he was shot in the heart – told to LifeNews the Donetsk People's Republic representative . P.S. me : Igor seems to have laid his hands on " Utes" to ! <p>">
Utes" ( GRAU index – 6P11 ) – Soviet 12.7mm heavy machine gun designed to engage lightly armored targets and firepower for exterminating live enemy forces and engaging aerial targets .
UPDATE: IMPORTANT ! ">" During the day, exchanging " pleasantries " with ukres .
We fired them "cliff " and PTSD (and not very successfully let ATGM ) – beat on the block between the Slavic and Kramatorsk . They retaliation " equate " Semenovka howitzers . Including – residential sector. We in the militia losses yet. They – I think there is . About all the famous militiaman with the callsign "Lynx " . <p>">" Alive "
<p>">" Garrison is small but very mobile and quite a battle-worthy . Ukres fail to take the city – it is exact. "
" Shots were , and struck or not – find out later . "
http://summer56.livejournal.com/