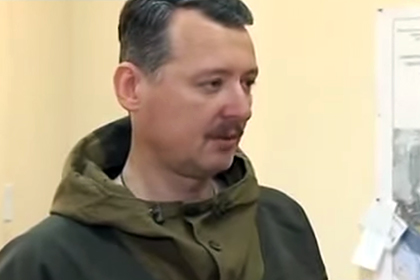 Igor Ivanovich Strelkov, the Minister of Defence of the Donetsk Peoples Republic, comments the situation around the town of Slavyansk:
"There's a relative lull so far. They have prepared and stand. They shoot through the environs with their machine guns, throw lighting and ordinary shells. They even 'suspend' in the sky the howitzer lighting shells (these burn much longer).
I don't worry much about Slavyansk, as we have a lot of men here and our defence is disposed in depth. What I am anxious about is Kramatorsk. There are not very much weapons. But there is life in the old dog yet! And the most important thing is that all the experience of Crimea and the current campaign merely cries out: Ukres can not WAGE WAR SERIOSLY. First, they are not able. Second, and most important, they don't want to, because the overwhelming majority of them have nothing to fight for. Including the majority of officers.
As for the rest… now I have no clear idea, how many of them have gathered here close to us. It seems, it's nearly all their army… at least, its battle-worthy part. But in fact, only 1000-1500 men would be able to take part in a street combat – only special forces and national guard ('Nazguard'). The rest merely wouldn't go there under any pretext. At best, they would fortify the territory."
Igor Strelkov estimates the quality of that 'battle-worthy part' of the Ukrainian army and it's chances in the streets of Slavyansk:
"After the recent combat between the 'Rightsecs' from the Nazguard and the internal troops in Starovarvarovka, taking into account the moods of the most of 'ordinary' military men, I am pretty sure that they would non bang us with 'everything still left' (and there is rather much left). And even if they would bang – then a considerable part of it will fly wherever by God's will – mostly into the sky.
And if 'Putin's falcons' would appear in the sky after all, then we would have hundreds of captives and defectors in a few hours, and thousands of them in a day. Anyway, they will fail to take the town quickly. Possibly, they will fail to take it at all, cause they'll be washed in their own blood."
About the volunteers:
"Well, the local men slowly draw to us… But most of them apparently wait until shells start to fall upon their heads. I personally persuaded them of evacuating their families and children, but no – when I have walked through the town today, I've seen lots of them…"
Igor Strelkov also commented the video of so called Dnipro battalion training in American style:
"Well-well. Tomorrow we'll see. If they dare. However… funny they are… foolish… they shout loud… like children."
Nevertheless:
"We are not going to 'chop' anyone intentionally. Especially because there are so many occasional people on the other side, brought there by force and having no motivation to wage war. If they attack, we'll hit back."