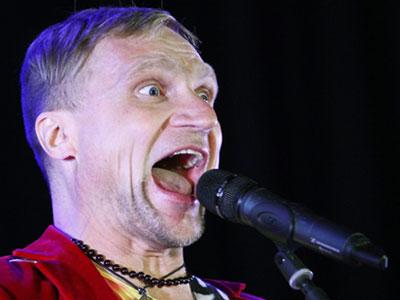 Leader of the rock band " Screams Vidopliassova " Oleg Violin knows how to stop the conflict between the Ukraine population east and west of the country. " Two languages ​​- it is hypocrisy. This weakness – to cover their ignorance , laziness and disrespect for the history and culture of some pseudo-democracy . According to the leader of Ukrainian rock groups , violence could be avoided if everyone in the country knew the language , its own history , listening to good music , go to concerts and read Ukrainian Ukrainian books . " To beat the muzzle on the streets every ten years , it is necessary every day, every minute to be alert. Plays alien music – turned off . Transmitted on television something alien – turned and wrote a statement for the media denied a license , – says Oleg Violin – And if people go to the barricades , and then visited by karaoke and sing " A white swan on a pond … " , then we need a lot of things to change in yourself . If we stop to sing karaoke " A glass of vodka " , "White Swan" and all the other masterpieces , we will not need Maidana . To the question of publication, how to " sew " the west and east of Ukraine , the musician has proposed the following : deny a license all the " anti-Ukrainian " channels . "If people , after watching the TV – St. George's grandmother , retired and geeks – go into the streets and kill people , it is a crime. We must solve this problem.
">http://russian.rt.com/inotv/2014-05-13/Lider-Voplej-Vidoplyasova-trebuet-raz – zinc
PS. This overgrown fool who speak frankly and misanthropic fascist slogans , apparently sincerely do not understand that Ukraine has not ruined the Russian language , not the "White Swan" , Putin did not even " St. George's grandmother kill people " , but above all such characters as uporotyh Violin and others like him who have tried their content is not the healthiest goals extend to the whole of Ukraine , which led to its explosive decomposition. And the longer they will come foam bear malice on the Internet or to kill unarmed people , the faster will be away from the territory of Ukraine. Because it is not a language and not an ethnic problem, it is primarily a problem of fascism, which hit a certain part of the population of Ukraine and led to civil war , from which actually run away from healthy people of Ukraine entire areas. It is not difficult to notice , despite all the cries of "freedom" , Ukraine celebrates the darkest form of rejection and suppression of dissent until the physical destruction, misuse of language and media culture wrong , in purified form , it is a further evolution of the views of Yushchenko – who does not think forUkrainian is an enemy .
">This kind of success "national Svidomo ."
" Violin Method " , it is certainly not the way to stop the violence on the remains of Ukraine. It is primarily a way to increase the number of corpses that will unavozhen short way Ukrainian fascism.
http://colonelcassad.livejournal.com/