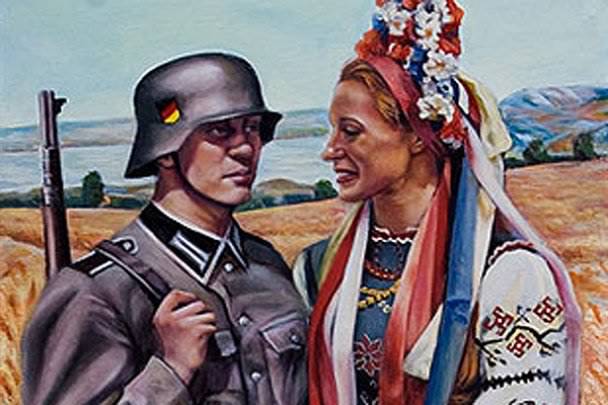 Good article
on
Boris
Yulina
formation
of fascism
in Ukraine.
Russian military historian Boris Yulin in his blog writes about the revival of fascism in Ukraine and Ukrainians themselves why do not notice it . In Odessa, the Nazis declared themselves Ukrainian patriots burned alive by those who did not consider them as such . In Kramatorsk troops who seized power by force in Kiev using Nazis killed those of its citizens who are not seen as legitimate power, these troops are sent . This is – fascism and its worst , nationalist form , Nazism . Yes , it looks that way. Many , quite sane people in Ukraine are puzzled – what Nazism ? There's no Nazism or fascism. Around live ordinary citizens . Where you saw the Nazis? Thus, a small handful of marginals .That's just the Nazis do not have horns and hooves , they are not smells of sulfur and they often do not know what they are – fascists . And it does not matter what was in the minds of people when the Nazis came to power. They hoped to stay away or then " ride " the Nazis in the elections , relying on the reins of world public opinion or solemn promises of the Nazis – in any case they will either Nazis or victims of the Nazis . Or they will kill , crush , maim citizens of their country and other countries , or they will be victims of the Nazis . And then the citizens of other countries , for the sake stop this plague , sooner or later break the back of these Nazis. And no one will be able to stay away . In Germany in 1933 voted against the Nazis half of the citizens of Germany. Less than ten years – and those who believed their civic duty by voting against the Nazis executed or simply sit on the sidelines counting – died at Stalingrad , spreading Nazism other nations . When the Nazis come – stop them . Otherwise you will or a Nazi, or a victim of the Nazis. Fascist society comprehensively and nobody will ever forget. Precisely because its inventor , Mussolini, and proudly called it "totalitarian ." Nazism in the society survives in several stages.
">1. First, there are ideas about the special mission of this nation , a handful of people with their symbols and rituals to get in packs like " football fans ."
Ideas of their people seem strange, but harmless . Well such that a handful of youths and petty bourgeois dream of the revival of the empire under the next room, looking for signs of God's chosen his or shout " Glory to Ukraine "? After Germany had been humiliated at Versailles , and Ukraine did not have independence. At this stage you can stop Nazism is very easy – just determined, mass rejection, refusal to recognize that Nazi ideas right to exist. But this step is successfully realized in Ukraine back in the 90s and early 2000s . After all, Ukraine is lacking national heroes , well, those that are not common with the Russian / Soviet and Ukrainian clean . And what's wrong with the protection of the Ukrainian language ? (though not all languages ​​, namely Russian ) . 2 . Here is already imposing Nazi values, which in the first stage got the right to life . They begin to call the main ideals and linked to patriotism. Carriers benefit , and those who – against disfranchisement and the stamp is not a patriot . What the Nazis said , beginning to be realized in society. And at this stage is drawn image of an external enemy , as a carrier of absolute evil . And at this stage Nazism covers the broad masses of society. At this stage you can stop the Nazi mass protests . They can make to change their mind , many sober " infected ." 3 . At this stage, convinced the Nazis still a bit , but they are based on a fairly broad public support . " Fighting for the good" and " putting things in order ," they break into power. It is this breakthrough gives them the opportunity to outlaw dissenters , hanging on them the label "traitor of the nation ." At this stage, the Nazis start dropping the mask , moving to intimidate their opponents. At the same time , the Nazis have little interest in different party disruptions in parliament , for all the same it will all be either diluted, or completely eliminated.Nazis democracy games irrelevant. At this stage you can stop the Nazis , using the fact that the Nazis even united , organized and energetic, but small. Nazism is not based on the will of the people and their interests, and prefers to steer people like a flock of sheep . This mass disobedience , self-organization , will not live under the Nazis – they allow escape from under their power. It worked in the Crimea , it was late and therefore let not fully work in Lugansk and Donetsk. If such a motion covers a large part of the country – the Nazi authorities and the country collapses knocks off this nightmare. If the motion covers a smaller part of the country – an uphill struggle and who knows who will win . 4 . And the Nazis in power, fully or partially controlling the power structures and achieving obedience to most of the country . At this point begins a tough fight against dissidents , have enacted laws that perpetuate the Nazi ideology in society. Society rigidly refashioned . And now there is no division into "us" and "them " within organizations and parties – now make the choice to make everyone in the country . "Who does not jumping – that Moskal ." Any resistance , attempt to stay "alien" to the Nazis suppressed by force and terror. Nazis at this stage will burn, drown , shoot their own citizens , declaring them "strangers ", " unsociable ." And those who expected to sit out – will bind the blood , causing kill "outsiders" , give relatives and friends to show " civic engagement ." It passed through Spain and Italy , is now undergoing Ukraine . It is this stage we see in Odessa and Kramatorsk. At this stage, no longer remains peaceful methods of struggle ( as in the third stage there is almost no "constitutional" ) . But still – Nazism can only stop people .Just is not enough now create their governments and government appointees and the resignation of the Nazis. Now stop Nazism can only force fighting with him on the barricades , creating a self-defense militia , seizing weapons, introducing military discipline in their ranks. And most importantly – not afraid to stand face to face with the Nazis , trying not to hope for others. You will drive " infected " who will think that not fighting for the Nazis , and for their country . You will be inundated with propaganda and false promises . 5 . Nazis , once in power , to reshape the society , the education system and the values ​​of the nation (which is already done) , will introduce a mutual responsibility , vlezut in the smallest details of your life. No wonder their company called "totalitarian" . And they will have to educate, educate your friends, family , children. Raise so that they will be with joy and a sense of duty to inform you that the house you are talking in Russian or not keep portrait Bandera. They form under him the whole structure of the state. At this stage win on their own can not Nazism . You can become a Nazi or the prospect of die defending Nazism .Or fight in the underground, undermining the Nazi regime , waiting for the inevitable 6th stage – the country's economic collapse and marginalization ideology. Fight , hoping to overthrow Nazism external enemies before it finally ruin the country and the people .
">But you save the fate of such a way that will make you kill your brothers in the Ukraine and Russia , and die on their hands , damn .
http://ruspravda.info/Pochemu-fashisti-zachastuyu-sami-ne-znayut-chto-oni–fashisti-4836.html – zinc
Editor's note: unfortunately we Nazism in Russia too, but it is still too early to lift his head . Now he is in the first stage and it happens all over Russia. Here is an example : I come to a Cossack from Rostov and ask who is your nationality ? he says I'm a Don Cossack . I speak as well ? Well, so I Don Cossack ! I say if I'm from Mordovia I also Mordovets nationality ?
">he says to me – yes that means you Moskal .
see the parallels ? In Ukraine, all of them Russian Muscovites and already we here in Rostov native Russian Muscovites for them . Although ethnicity differs only while we are from Transcarpathia to Vladivostok from Yakutia to Ruthenian we all Russian . and all of our roots with the Kiev and Moscow Russia. intelligence used by people who do not learn their history and powder brains compatriots.