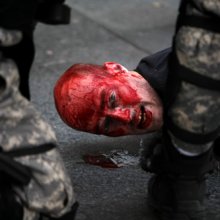 In Leningrad FSB building, "creative people" washed blood to protest against Russia's actions, read the FSB, in the Ukraine.
It is noteworthy , but it then why not have any desire to wash at the Embassy of Ukraine on May 2 , after the massacre of peaceful citizens of Odessa or May 9 after the massacre of peaceful and Mariupol Mariupol same police. <p>">As has been pointed out in this respect , some say so " creative people " , then why have a very selective vision when it comes to fascism , which they prefer to keep quiet or ignore.
There would be no blood to wash and take a shower cold , for enlightenment. ">Well, the action itself is very symbolic – " intellectuals " washes the blood on the rag , once the former flag of the united state.
It Svidomo Ukrainian intelligentsia nurtured over the years what is now happening in Ukraine , so now disintegrating country washes the blood in the natural sense of the word . So now it remains only creatively rethink and to broadcast .