Continue to

objectively

cover the course

referendums

in Lugansk and Donetsk

People's Republic

of State Sovereignty

.
russian only
http://vk.com/public70830331 -War-Live
http://www.voicesevas.ru/maps – Military Marker - to map the movement of troops Nazis
http://voicesevas.ru/mail.html -report on the situation in South-East
http://www.voicesevas.ru/stream – Stream live from the cities of South-East
https://www.youtube.com/user/GolosSevastopol/videos - our channel on YouTube
http://colonelcassad.livejournal.com/1548575.html – fundraiser for the Southeast
21-19
In Lugansk, started counting the votes.
21-18

21-16
Details of action fascists Krasnoarmeisk.
translate
we lay on the ground firing bursts.
Honestly just killed. why why? people are in shock a little parted.
pushed military killed. I have not seen. say those who have seen closer. two armored car cash collection with the military.
vehicle came with the military - they cry - not forgive the Nazis.
before the executive committee tried to stop the car in the Dnieper. one shot in the head. shoot over their heads.
Krasnoarmeisk battalion Dnepr. shoot at the crowd. One shot wounded one
Donetsk region . A referendum in the Donetsk region of 20:00 turnout was 71.4%. About this RBC-Ukraine Chairman of Central Election Commission of self-proclaimed " People's Republic of Donetsk " Roman Lyagin . " The turnout at the referendum Slovyansk at a given time was more than 70% in some villages turnout reached 80 % – CEC DNR ," – at the same time reported on Twitter DNR . Recall , May 11, 2014 in Donetsk and Lugansk regions separatists held referendums on the status of the regions. Polling began at 8:00 .
21-07
Euronews report on the referendum.
21-00
Closure referendum Slovyansk.
20-55
Victims of the Nazis in Krasnoarmeysk.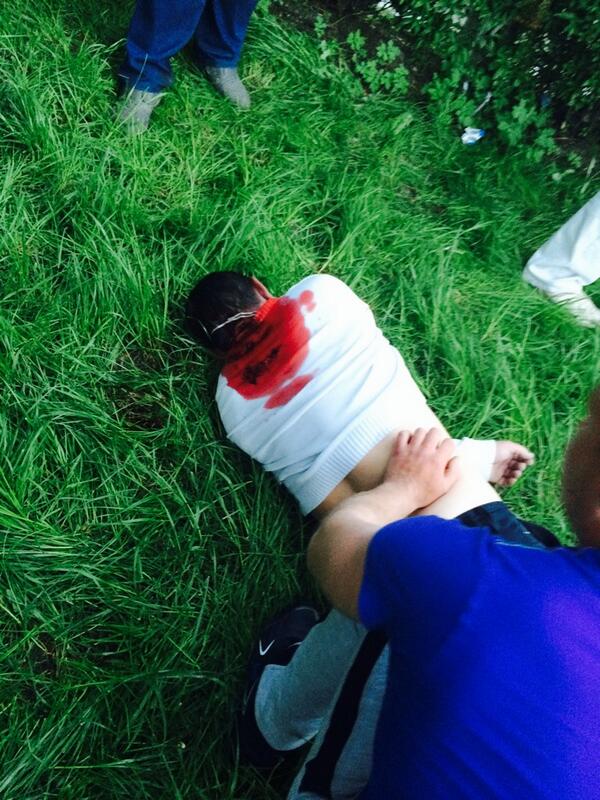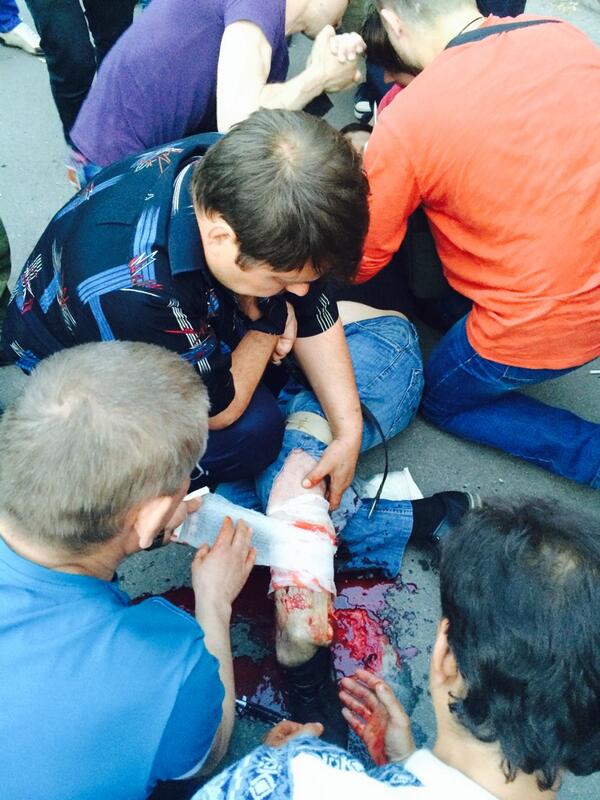 Wounded

.

Apparently

the bullet

shattered the

bone.
20-51




Over the air

"

Antimaydana":


In

Krasnoarmeisk

again

shooting,

reported

that the Nazis

killed one

resident

and

another

wounded

in the neck.




Fascists

day without

blood

can not.
20-47
poll in blockpost slavyanck
donetsk
lugansk
20-42




Meanwhile,

in the parallel

universe

brown

.
<p>">In today Slovyansk forbidden to sell alcohol decree Ponomareva .
">In order to humor.

<p>">Militias in confusion .. ADDRESSED TO THE EU and finished REQUEST FOR ASSISTANCE IN this impasse !)) ))) )))
While no photos Ljashko , recently was the only information that he allegedly locked in a basement militias .">According to unconfirmed information in Odessa 3 defected soldiers with machine guns .
It happened this morning in the village Chabanka Kominternivskyi district of Odessa region . Two recruits from Donetsk and Odessa one seized three automatic weapons ( AKS -74 ) with ammunition and fled in an unknown direction. Their colleagues argue that after the incident in Donetsk and Mariupol soldiers decided to avenge the dead countrymen and break towards the People's Republic of Donetsk .
20-25 lol

20-23




Roll-

plot in the village

thorn

under

Lugansk.
20-19




In Mariupol

turnout

according to

Life-News

was 70

%.
20-18
Spanish Communists
support the fight
against the
Ukrainian
fascism.
">At the moment, the turnout in the referendum was 80 % , this is the biggest indicator that has only been in the Donbas .

It is predicted that it will reach 90-95 % in some polling stations during extended until 23:00.
">WARNING !

">In Mariupol officially closed the polls.

<p>">Given the fact that the stations opened at 6 am , but not at 8 , then we can say that the referendum decides Mariupol .
">Activist Avtomaydana Dobrodomov May 9 killed in Mariupol
Among those killed May 9 in Mariupol has Avtomaydana activist Kiev – Rodion Dobrodomov . ">Information from shooting :
" Normally all . My Krasnolimanskaya company there, guarded. ">Kostiantynivka :
"The good news – in Kostyantynivka 2 BRDM ( armored reconnaissance on wheels with heavy machine guns – approx. " RV " ) my eagles captured . ">Krasnoarmiysk :
"Red Army , alas, is not under our control. Incidentally, in early 1943, my grandfather – Ivan Konstantinovich Rounov ( at the time – ml.leytenant company commander submachine ) spent a week there in the environment ( after a counterattack Manstein ) . Brought the remnants of the battalion. And , by the way , on ukrskom stock showed a mountain of rockets release from 1941 to 1945 . Even a couple of lend-lease caught. Flares are actively used here – in ukropskoy army disposable flares is not usual at all – they have to cover the area of flares , poor … "
19-59




Belozerskoye

,

Donetsk region

.
19-55




Sevastopol

support

referendum in

DNR

and

LC

.
19-54




Since

democratic

referendum

, then

there are those

who are against

.
19-52




According to

reports from the field

,

one of the highest

appearances

on

land

-

in Artemovsk

.
19-51
Invasion
GRU agents
in Donetsk.)))))))))))))
19-42




In

Krasnoarmeisk

Nazis

controlled

the city council

and the

police building

.

BMP

ride

around the city

.


There are victims

,

at

the City Council

fascists

beat people

with rifle butts

.
19-40
Trinity
district
.
Turnout
highest
in 23 years
.
19-38
I said yes

,

a brighter future

!

Without

fascism

!
19-36




Fascists

shoot

Krasnoarmeisk

.
19-35
19-31




Militias

captured

BRDM

in Mariupol

.
In Slovyansk have voted about 70 % of citizens.
<p>">After the polls closed in both republics Donbass ( 20.00 local time, 21.00 MSK ) men call to stay and defend their choice .
">With channel " Antimaydan "

Comment with maydanovskogo Site : In Dobropole Donetsk region on Lenin Square is two referendum.
So the referendum for the DNI is a huge place, more than a thousand people.
A referendum to join the Dnieper in two hours , I stood in line for as much as 4 people came .
Vote swamp.
18-59
Voting in
Leningrad.
18-55
May 9.
Ljashko
Androschuk
and
discuss
the prepared
bloody
provocation.
8-53
In DNR confirm the capture of the People's Deputy Ljashko
People's Deputy of Ukraine, the presidential candidate Oleg Lyashko detained activists in Donetsk region "DonetskPeople's Republic." About this RBC-Ukraine said one of the leaders of the DNI Andrew Purgin. "According to our information, in the Donetsk region detained a suspect in the kidnapping of citizens and mass extermination deputyLjashko" – said Purgin.
In general, the issue of Ljashko resolved when one of the parties to present a face of his.
18-51
mariupol.

<p>">APPEARANCE ON REFERENDUM in the Luhansk region – ALREADY 80 %
">This was stated by the leader of " People's Front " Alexei Chmilenko region .
"Turnout very high for a number of sections , for example Popasnjansky area – up to 90 %. ">Chmilenko also said that the militia managed to block armor in Novoaydarskom area and prevent its further progress towards Lugansk.
" We have built barricades , all blocked , blocked vehicles . In neighboring Donetsk region turnout is still lower than in Lugansk . Voting will take place until 21:00 Moscow time. In some cities – 23:00. http://vz.ua/news/32759-yavka-na-referendum-v-luganskoy-oblasti-80-organizatory – zinc
18-47
odessa now
18-35
Turnout at 18-00 GMT.
">From operational duty :
Settlement Selidovo . ">18-24
">Ukrainian presidential candidate , national deputy Oleg Lyashko detained in Mariupol , Donetsk militia proclaimed the People's Republic , RIA Novosti reported militia headquarters self Sloviansk Donetsk region of Ukraine .
Also in the Central Election Commission of Luhansk region RIA Novosti reported that the People's Republic of Donetsk militia told them about the arrest Ljashko in Mariupol about 15.00 (16.00 MSK ) .<p>">http://ria.ru/world/20140511/1007371094.html – zinc
">" Yes, there is such a detainee ," – said Ponomarev, answering the question of KAVPOLITA about whether he owns information about the detention of the leader of " Radical Party " .
">18-18
Trying to drive a stake through the junta.
18-13
Hi Kolomoiskiy from Mariupol.

makeevka.

simferopol.

donetsk.

">18-11
Turnout in the referendum on the status of the Donetsk region in Krasnoarmeysk was 77.8 %, the final data . Voting at polling stations stopped due to the fact that the city has entered the National Guard of Ukraine. The chairman of the Central Election Committee , Leonid Lyagin DNR . According Lyagina voted more than 47 thousand voters . Turnout was 77.8 %, " – RIA Novosti. At about 15:00 local time ( 16:00 MSK ) In Krasnoarmiysk fighters entered the National Guard of Ukraine five armored vehicles, combat vehicles , machine gunners. http://russian.rt.com/article/31456 # ixzz31Prjb1vn – zinc
18-09

Connection with the city of Donetsk region Krasny Liman restored , the referendum takes place there , said on Sunday a member of the election commission proclaimed the People's Republic of Donetsk Sergei Tretyakov . " Conducting a survey in the city is not in danger , although there have been attempts to Ukrainian law enforcement agencies to prevent the referendum ," – he said, according to ITAR -TASS. According to Tretyakov, troops after a firefight with the DNR " were forced to retreat ." He also said that the Red Estuary has suffered . ">18-03
">18-03
Turnout in the referendum on the status of Luhansk region was 78% to 16.00 (17.00 MSK ) , a spokesman said " the army southeast » Vasily Nikitin . <p>">He also noted that in Lugansk turnout has already exceeded 75%
">IMPORTANT INFORMATION
People are urged to protect their sites after closing at 20:00 . According to experts if the provocation and then they will be after the polls closed . And , in case of attack on the site will lose all results. ">17-51
Hand of the Kremlin ! ))) this is hand PUTIN)))))

17-49
Interview "hostages" in Makeyevka.)))
17-48

The Shocking Truth about the referendum: a man with a gun, makes the other person with a gun control how peoplewill vote in a cap and with a gun. Then the machines are transmitted ))))
17-47
The Nazis are trying to derail the referendum in Krasnoarmeysk.
17-45
In Mariupol voted 58%.
17-42
Referendum at gunpoint fascist machine.
17-40

On referendum Slovyansk http://m.kp.ru/daily/26229.4/3111924/
17-35
17-30 on media junta confirm Androshchuk penalty. By Ljashko - RT, Life-News and Russia-24 confirmed that thecaptured. The press service Ljashko still can not confirm or deny. Media junta generally silent. It was only a refutationof accomplice Ljashko Garmash.
17-34
At one of the sites Kranoarmeysk interrupted vote.
National Guard of Ukraine took control of city council and the city police department.
Representative of the headquarters of the national militia Artem confirmed LifeNews, objects that control the Ukrainian troops in camouflage uniforms and masks with guns in their hands . Siloviki , who introduced battalion "Dnepr" , announced to voters that according to the data available to law enforcement agencies, the building caught " separatists ." - I 've been in this town more than once served here – began his speech before the outraged residents representative of Ukrainian law enforcement agencies. ">In response, it sounded:
This enforcer replied that " will be even better ." He promised to leave the building and then tried to escape , but the crowd stopped him and demanded that his men lowered their weapons . ">- All other questions to ask their leaders .
">17-25
About how the Nazis prevented voting .
17-22

17-19

17-17
In the Donetsk region. turnout in the referendum was at 16:00 69.27% - DNR
Turnout in the referendum in the Donetsk region of 16:00 was 69.27%. About this RBC-Ukraine Chairman of Central Election Commission of self-proclaimed "People's Republic of Donetsk" Roman Lyagin.
17-16
Turnout in the referendum in the Donetsk region exceeded 50%, according to the CEC
17-06

17-05
Troops under junta Chyrvonaarmeiski.
According to information from Steshina – Fascist Irma contracted by humanitarian corridor not exchanged . ">17-03
Obviously, Donetsk and Luhansk be the People's Republic . What will happen next ? And further : the forces of the Ukrainian army , nat – Guard, " the right sector " and others – will be officially announced occupiers illegally in the territory of foreign states . Therefore , if you have brothers , sons , husbands or fathers as part of the Ukrainian army , Nat Guard , etc. ">- Go to the draft board walk on the square , go to the parliament on the maidan , yes anywhere, and – require that Kiev "power" of your relatives withdrew from South- East.
We now give a fitting rebuff to the invaders , but after today's referendum , we will not defend. We will attack , will destroy all those who in arms came to this earth . Plus, to help us come to tens of thousands of volunteers from Russia , Chechnya, Crimea , Israel, Serbia , and other places . You understand that your relatives who are now up in arms are in our land – will simply be destroyed ! Prisoners are not required. https://vk.com/feed?w=wall153588553_8853 – zinc
17-02
Pandemonium in Mariupol.
17-01
Referendum in Makeyevka.
">Armoured gone out Lugansk Novojdar , according to the CEC area

Armoured Ukrainian National Guard left the position in settlements and Happiness Novojdar Luhansk region , RIA Novosti reported member of the Central Election Commission of the referendum on the status of the area Lily Gorbunova .
According Gorbunova , local residents told the organizers held in Luhansk region referendum that Ukrainian armored Natsgvardii left in an unknown direction .
At the same time , according to a member of the CEC , despite the difficult circumstances and attempts to counter the National Guard , the referendum in the Luhansk region continues, and residents of the region to actively participate in it .
original – http://colonelcassad.livejournal.com/1582586.html