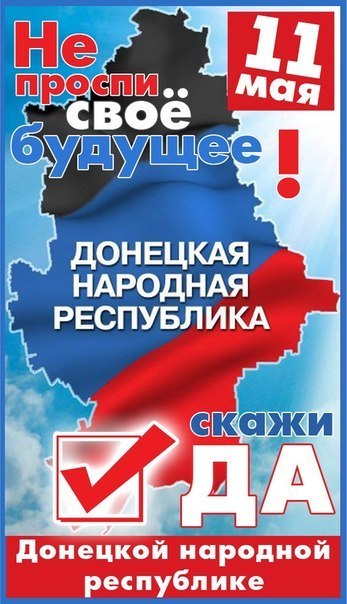 1. The DNI in LC and observed giant turnout that surpasses all expectations. 2 . From an organizational perspective , apparently done all that is possible under the current conditions, and this is enough for a successful referendum. ">3 . Grassroots referendum provided not even advertising, and especially actions of fascists in Odessa and Mariupol, which was told to the most apathetic people that live in the same country with the Nazis can not and should quickly leave the mongrel Ukraine.
">5 . Possible bloody provocations will only manifestation of impotent rage of the Nazis, as they disrupt the referendum will not succeed.
6. Clearly seen that people go to the land themselves , nobody is urging people with weapons in areas virtually none.Therefore, fascist media stories about " low turnout " and " vote at gunpoint " to be as funny as during the referendum in the Crimea.
">7. Social networks are now actively disseminate photos and videos from sites to prevent the Nazis hide their next defeat .
Thus, we can say that a de facto referendum held tomorrow and Donetsk and Luhansk People's Republic People's Republic will become independent states and Ukraine after the coup had lost not one, but three areas . And it will end is not yet …
original – http://colonelcassad.livejournal.com/1581603.html