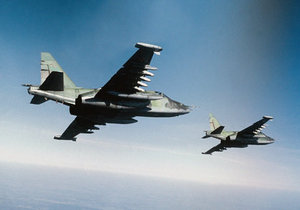 Ukrainian Air Force may have secretly received Su-25 attack and close-air support aircraft from third countries, according to Commander-in-Chief of the Russian Air Force, Viktor Bondarev.
"Of course, I do not know where Ukraine obtained all those Su-25s. They should have had 12-15 flight-capable aircraft at best by now, but in fact there is much more of them in the air"
According to Viktor Bondarev, there are two possible explanations for this.
"One - they are violating all possible rules and operation manuals with complete disregard to pilot safety, flying the aircraft that served well beyond their regular service limits. The other explanation is that someone quietly supplied them the aircraft and they are using them in a very harsh manner"
Besides, Bondarev considers the training level of Ukrainian pilots to be very low.
"Ukrainian flight crews have seen very little flight training, and hardly a day goes by without reports that the insurgents shot down one, two or even three Su-25s. This occurs due to very poor flying skills of the Ukrainian pilots"
He added that many hits could be avoided if the pilots were conducting proper evasive manoeuvres. "This is not being done, which suggests that the crews are in fact poorly trained. Aircraft is flown by whoever signed up"
Besides, as Bondarev noted, pilots may be paid on a per-mission basis. "By the way, they are paid $10,000 for each mission, for the lives of women, children and elderly"
Secret aircraft shipments from other countries may be confirmed by reports from Kiev, dated July 24. According to these reports, 9-10 jets were observed flying Southwest over the Poznyaki area of Kiev. One possibility is that these aircraft were received by Kiev from other countries.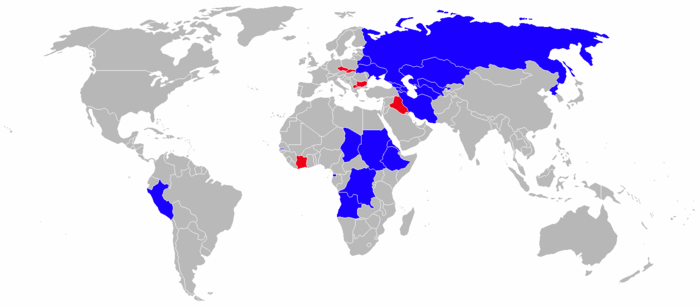 The above map shows the current (blue) and former (red) users of the Su-25 aircraft. From this map, it is possible to draw up a list of the likely candidates to supply the Kiev government with such aircraft from their airfields and storage bases. The aircraft could then be flown to Ukraine to participate in the operation against the Novorussia insurgents