Translator: Master Butch
Decision to bring out their subordinates to Russian territory was made by officers of Ukraine Army 72 Motorized Infantry Brigade and National Border Service due to absence of ammunition, provisions, fuel and clear orders as to what to do in conditions of encirclement.
"For two weeks we have been fighting off practically without ammunition and fuel. I hadn't had stores to feed my people for over two weeks. Even dry battle rations run out. Enlisted personnel worn out not so much of bombardments, as of despair of situation. Apart from commands "Hold out!" no other help received from operations control. Over the last week they even didn't care to respond – have buried us all", - so our agency cited major Vitaly Dubinyak, battalion commander.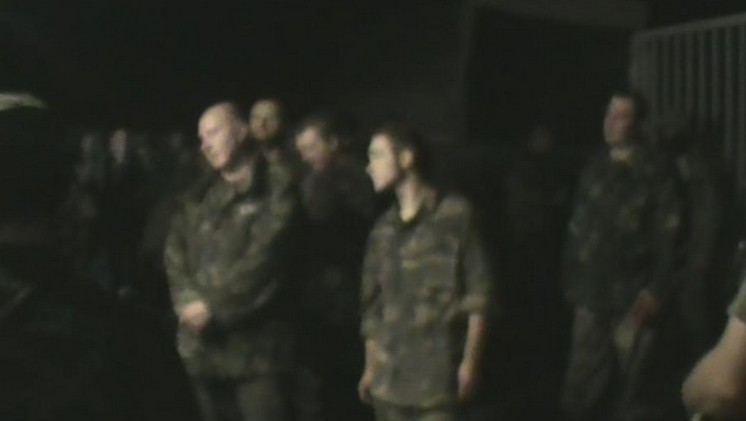 According to Dubinyak words, they had to leave their weaponry and armor at the Ukrainian side – "to save people was more important".
Besides general gratitude major Vitaly Dubinyak showed extreme astonishment at "brotherly treatment" of Ukrainian servicemen on part of the Russian side.

"To tell the truth, we didn't expect to be treated like that, in so a brotherly way. All those, who gave us orders from above, in reality, told lies about us waging war on Russia. Not a single Russian ever squinted at us – everyone understands, - in this great trouble we are only hostages of the situation",
- stated Ukrainian commander.
"Here we've been given medical checkup, medical care to the wounded, meals to eat, - he narrated on. We've had a wash first time for the month. We've been given clothes and place for rest. One thing I can tell for sure, all those who have passed through this massacre will never come in this slaughter again. I have saved lives of my guys, I told them: let them go fight themselves and send their sons to die. Enough of that. Since for them we no longer exist – no count on us", - rounded up Dubinyak.
Ukrainian battalion commander has also admitted that battle actions in South-East have turned into Civil War.

"I don't know how I'll look in the eyes of my died boys' mothers. I know for sure, this Civil slaughter has to be ended. I have seen enough of tears of local people here and sufferings of my men. Fed up with it. What matters – we are alive. All the rest will be considered when we come back home",
- he promised.
We do remind you that last night over 400 Ukrainian Army servicemen passed over to the territory of Russian Federation. After they appealed to Russian Border Service for asylum, they were let in through humanitarian corridor. Among UA servicemen were personnel of Ukrainian Border Service. For UA servicemen passed over to Russian territory a temporary camp has been set up.