Ukrainian authorities have accused Militants of volleying missiles at a column of refugees. The power of fire was so great, that nobody survived – people burned alive, as was stated by National Security and Defense Council of Ukraine. By a magic touch of Kiev, the information was immediately spread by largest western media. In spite of absence of a smallest bit of evidence the journalists at once accused the Militants of the tragedy. The Russian version of BBC site went to even more lengths: the corresponding material was illustrated by a "Grad" (volley missile launcher) photo with a Russian Army license plate. As real facts stand the shot was taken in April of 2014 in the course of combat exercises of Russian Federation Armed Forces in Volgograd region.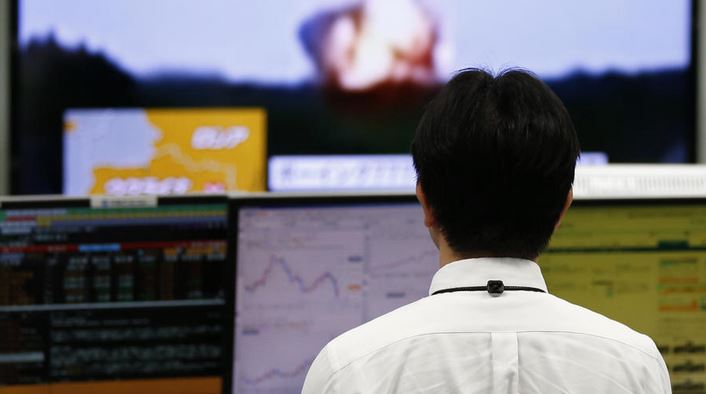 Unfortunately, this example is just one of the numerous intentional or occasional manipulations of evidence in Ukrainian events coverage.
"Russian column annihilation"
The situation takes much after events of August 15, when press-cutting service of Ukrainian president declared back-date of a partial annihilation of Russian armory column, which allegedly managed to break into Ukrainian territory. No evidence of existence of such a column and its destruction has ever been granted.
Worth to note is that Kiev had come to know of "armory from Russia" apparently from two British journalists' communications, who had written of Russian Army to break into Ukrainian territory "through a breech in the fence". All the rest of foreign correspondents present at the place and time had seen nothing. Federal Security Service of Russia had confirmed presence of mobile military groups of Border Surveillance acting exclusively within Russian territory.
"Best of all would have been if Ukrainian artillery had killed a phantom instead of refugees or their own servicemen" – observed a representative of Russian Defense Ministry major-general Igor Konashenkov. Later, the head of Russian Foreign Ministry Sergey Lavrov communicated that "approximately at the same time a Ukrainian military column had advanced in direction of Lugansk region presumably to cut off a rout of humanitarian aid delivery and that column was defeated by Militant Forces". "If episodes like that are presented as 'valorous victories" of Ukrainian Army we don't mind. Only do not blame us for that" – claimed the Russian Minister. However, contrary to publication in Poroshenko site, their opinions were not widely cited by media.
Sources in Social Networks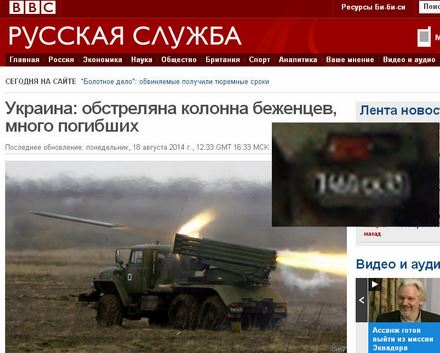 Last week western journalists actively discussed Russian Humanitarian Convoy and its possible contents. In spite of the fact, that anyone who had wished might have inspected the trucks' load, a version of possible provocation never put many of them at rest.
"Not only white trucks of humanitarian aid ride along the road to Rostov" – wrote BBC correspondent Steve Rosenberg in his Twitter. Close to military vehicle on a photo there was a white truck, only it had nothing to do with Humanitarian Convoy, and military trucks were moving down the road next to Ukrainian border, where full-scale battle actions were on.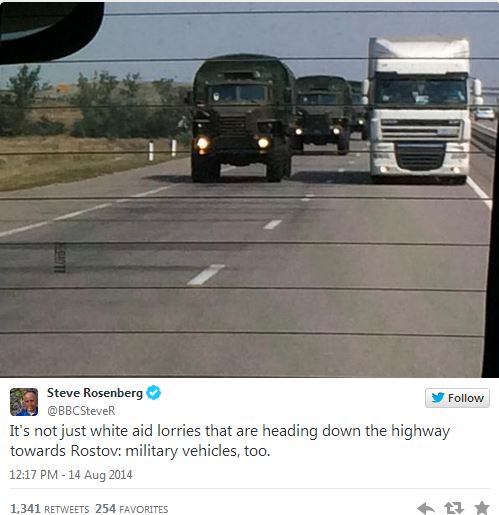 Attention to details is apparently not the point with this British Broadcasting Corporation journalist. Last week, in live air he related of having seen "shot a day earlier video where Crimean folks joyfully greeted Vladimir Putin as if he was a pop-star". At that, prior to this BBC material be ready for broadcast Vladimir Putin had never had any appointments in Crimea where he could have been greeted like that. Obviously the journalist took a three months old video, loaded to Internet the other day anew by Ukrainian media, for a fresh one.
"Militants steal personal belongings of aircraft crash victims"
In July, just another photo snatched out of context, Ukrainian media followed by Western media attempted to present as evidence of Militants looting. On the photo a militant soldier is scrutinizing a finger ring, which belonged to Boeing 777 passenger, crushed in Ukraine. The soldier was immediately accused of theft.
The photo appeared in the British newspaper The Daily Mail in the morning of July 22. The Editor judged the shot as "the evidence of looting" on the part of Militants, "stealing from the crush site the things that might be of utmost importance for investigation".
At last the video, a screenshot of which the photo was, has placed all dots above "I"s. The soldier didn't take the ring. He dropped in in the box along with other small items. The recording distinctly shows that militants did not steal things of the dead, they simply collected them to have them safe for investigation.
Unfortunately, most of the time there is little place for the other side of the story in the largest Media, particularly if it is the case with Ukraine.