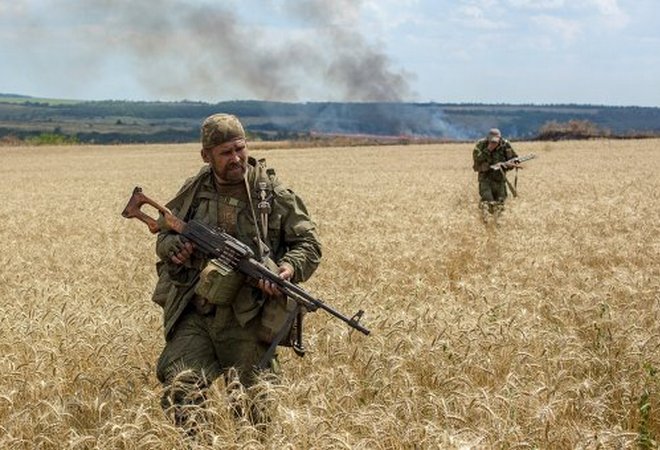 War in Novorossia (DPR&LPR) online, latest news of ATO (anti-human terrorist operation) today. Operational reports from zone of a war conflict in the South-East of Ukraine.
Video of events in the South East on the hosting Cassad-TV

07-40. Verkhnecalmiuss Filter Station got fired at by Ukrainian Forces (photo)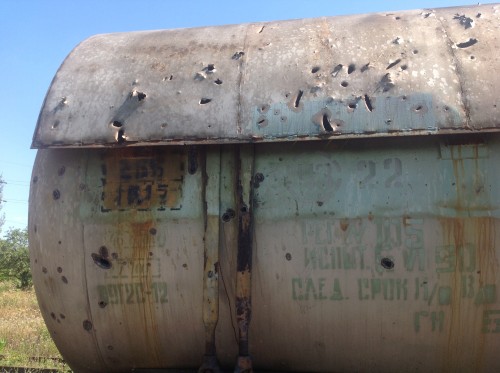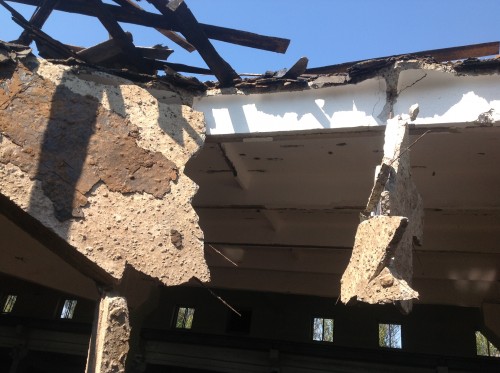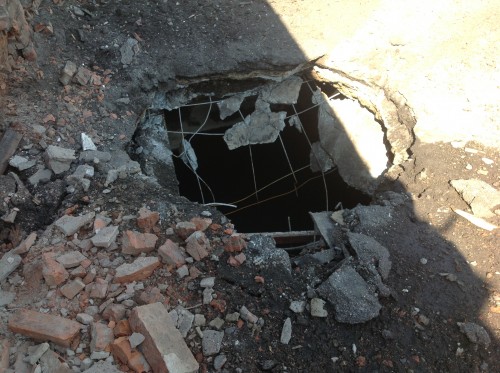 ---
07-10. Poroshenko assured negotiators from mass-meeting that very soon an operation to deblock Ilovaysk is going to start up.
---
06-24. As a result of UA bakery-plant bombardment one of the buildings was set aflame. Kievsky prospect, Donetsk.
---
05-48. Novoazovsk town, actually occupied without a single shot. UA fighters began to leave it beforehand (26.08), when northern and western outskirts got under fire.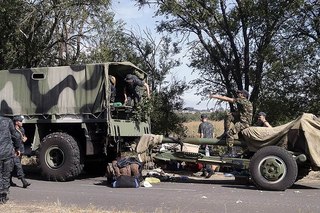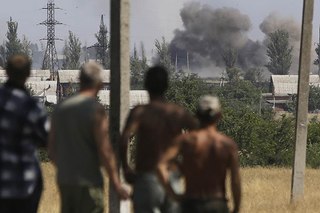 ---
05-30. In Novoazovsk, a Novorossia Army tank took position right next to the Road Police Station.
---
05-00. In Mariupol, in Eastern District, National Guard digs trenches, builds up fortifications…, sacs of sand and the like…, enforce their positions. Eyewitness related.
---
04-41. Ukro-media communicated: near village Znamyanka, Kirovograd region, several hundreds of UA servicemen blocked passage of 5-th Territorial battalion "Precarpathie" soldiers, who were heading to Ivano-Frankovsk region from ATO zone.
"A few minutes ago the servicemen cleared off the road, bordered trucks and buses. Before, there were some 200-300 men on the road. You can't tell Kirovograd men from Ivano-Frankovsk, all in camouflage, and who blocked the road. They didn't let us closer than 20 meters of the negotiating commanders of Army and 5-th battalion. Nearly smashed our cameras. The servicemen were very nervous and didn't want us to provoke the talks."
---
03-00. "Day-TV Donetsk" correspondent communication
"Journalists under fire.
At around 15-30 (Mosk), practically in the Donetsk downtown, Shevchenko blvrd, a minivan with journalists got under fire. Camera teams of a number of channels were coming back from Upper-Calmiuss water reservoir, where they were shooting videos of bombardments and destructions of that the whole region important object. As a result several men were wounded.
The minivan driver, notwithstanding his wound, on flat pierced tires managed to take the journalists beyond the fire range. The wounded had been delivered to Kalinin hospital, where they received medical aid. Minutes after wounded local natives began to come in.
Of minivan journalist passengers wounded were 3; one of their number was the driver."
"A "Zhiguli-6" car got under fire – two men and a lady with a baby on hands. All burnt alive. On the next street – a minivan – 5 journalists and a driver – three wounded. The driver – attaboy, -himself in blood all over, on flat tires, got all to the hospital."
---
02-35. A column of VML (volley missile launchers) "Grad" in the fields of Lugansk People's Republik (video)
---
01-55. At the Military Reg&Enlist Office in Lvov barricade of wheel protectors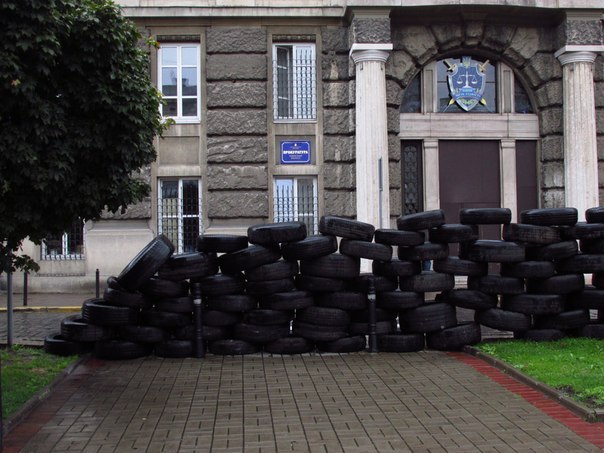 ---
01-30. Ukrainian Army block post in the vicinity of Mariupol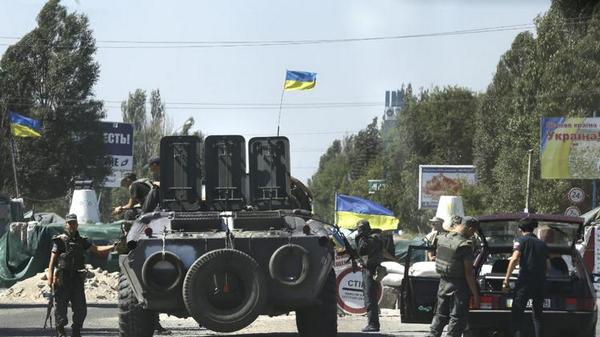 ---
23-57. Kharkov. In the area of Meat Factory something is burning, possibly an electricity distribution station KharEnergo.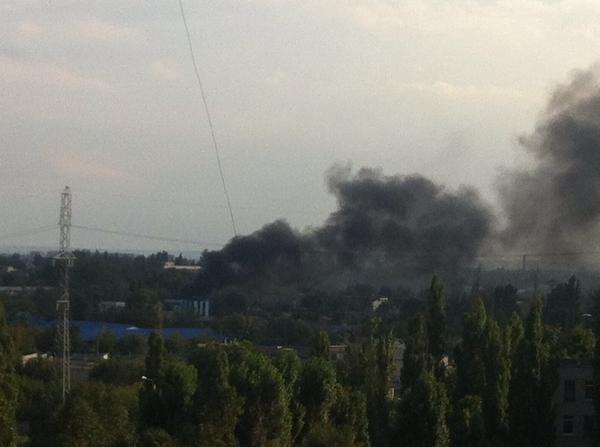 ---
23-50. Donetsk, Leninsky district. School №33 afire.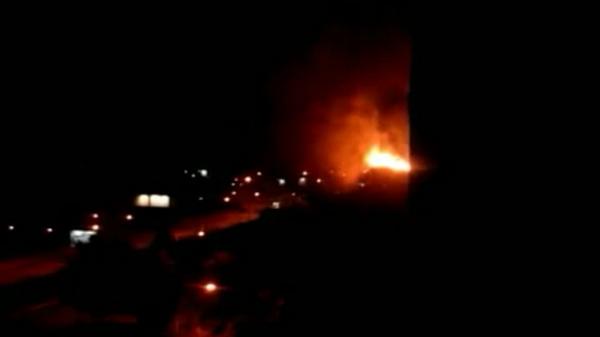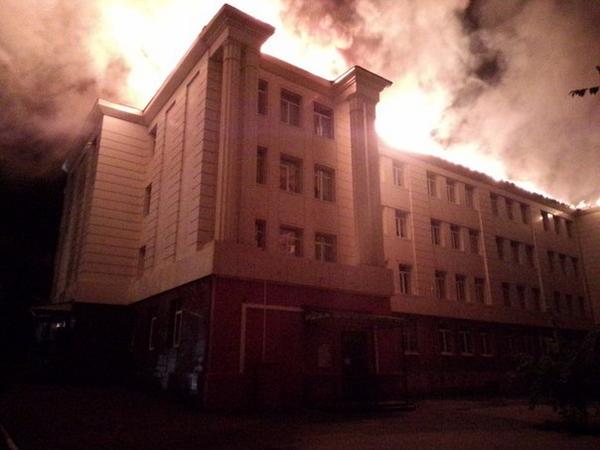 ---
23-45. Deserting is not only Ukrainian Army, but punitive battalions as well. So, Precarpathie 5-th Territory Defense battalion has done it, with full complement it abandoned zone of punitive operations and, with arms on hands, headed towards Delyatin settlement. The chasteners were stopped by UA special troops near Znamyanka village of Kirovograd region. Military authorities are negotiating with them…
---
23-00. A bombardment area. Shevchenko blvrd, Kalinin district of Donetsk, Novorossia.
Arts Palace.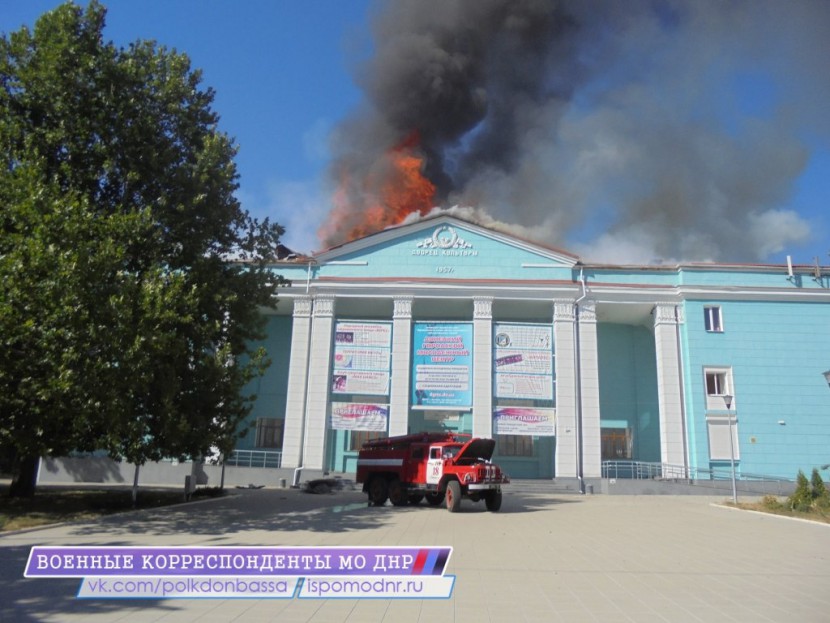 Shelling victim.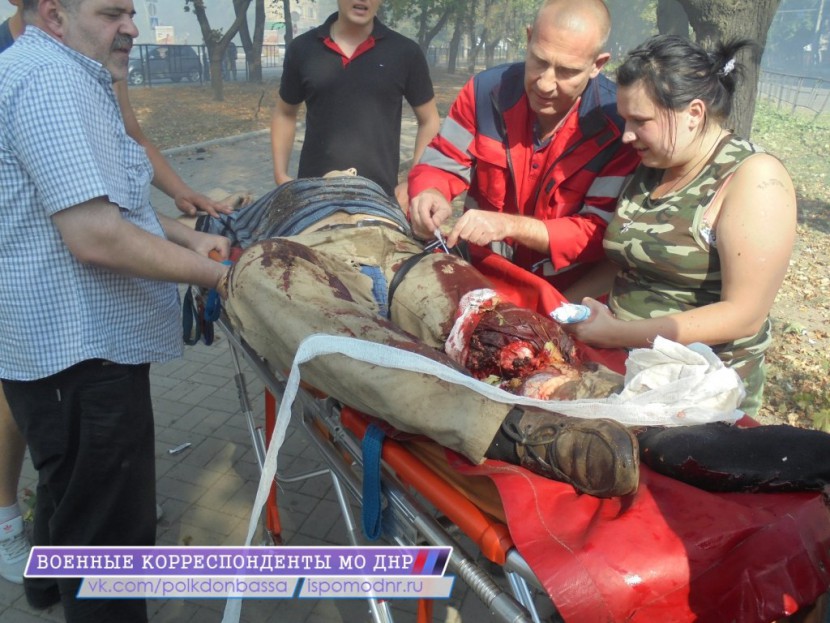 Burnt down car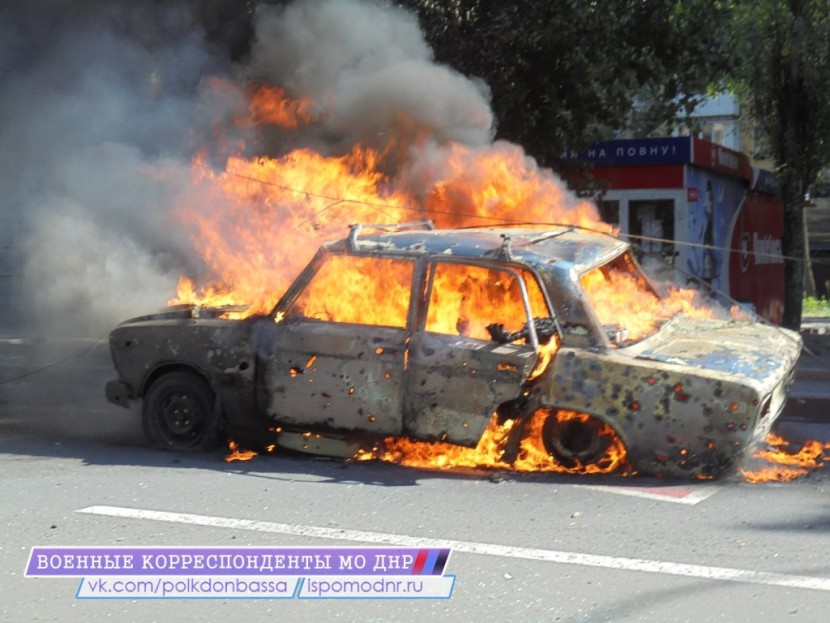 ---
22-53. Press release of Federal Security Bureau (FSB) of Russian Federation.
"Over 60 UA servicemen crossed over into Russian territory. FSB RF Border Guard authorities, guided by principals of humanism, decided to let them in and gave them a transit corridor."
---
22-47. LPR Militants gave captured UA soldiers over to their families.
---
21-34. UA servicemen, encircled under Ilovaysk, do not trust their Staff Commanders:
Thus, NG Commander Semenchenko declared claims of National Security and Defense Council speaker Andrew Lysenko that surrounded troops had received necessary aid, to be untrue.
" I'm just now watching the press-conference of this ATO-talker (Lysenko). The one who kind of phoned to Ilovaysk, and there was kind of aid… Well, what had been said – not true. Almost at all. Crap. All the rest on your conscience, Mr.Generals. Tomorrow at 10:00 at the General Staff Office. And fuck off all of you, fairy-tellers", - he wrote.
---
20-45. Novorossia Militant Army communication: In three Pockets encircled are at least 7 thousand UA servicemen. First Pocket is nearby Ilovaysk, second - near Lutugino and third – in Stepanovka. Among the surrounded are battalions "Herson", "Shakhtersk", Dnepr", "Donbass". In Pockets the Militants have blocked large amounts of weapons and equipment: over 40 tanks, 100 armor personnel vehicles, armor transporters, VML "Grad".
In the battle for Vodyanoe settlement (near T-0509 highway) the Militants have won.
---
17-00. Social Communications Committee of DPR:
Donetsk is still under fire.
In spite of obvious success in DPR Army offensive, Ukrainian Army keeps on shelling Donetsk. Just a few minutes ago Kalinin district had been volleyed, several mortar shells hit in Shevchenko Boulevard.
Special Squad "Varyag" advanced to the scene, the troopers chase the terrorists, who committed the assault, and also help to bring wounded out of the Kalinin Arts Palace, which is now burning. One shell smashed a car.
As a result of UA hitmen artillery shelling a number of buildings in Shevchenko blvrd set afire, the Arts Palace aflame, a number of people wounded, one gravely. After a shell hit a car burnt down – 5 persons died.
---
13-15. Ukrainian positions after artillery strike of 27.08.2014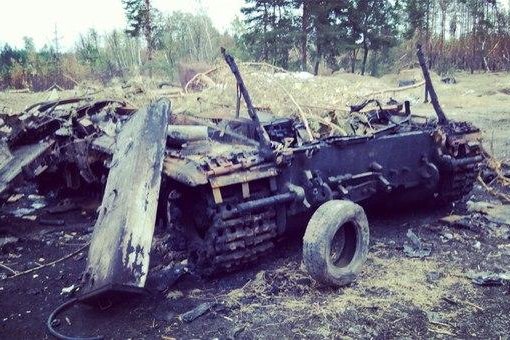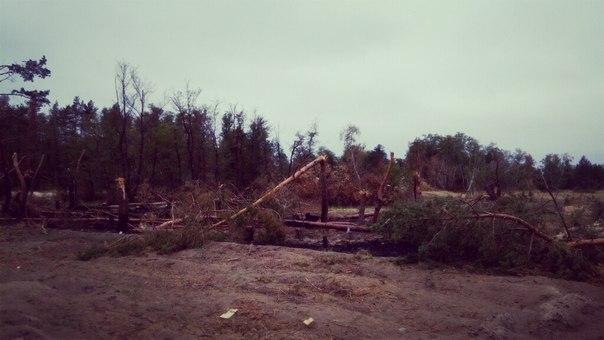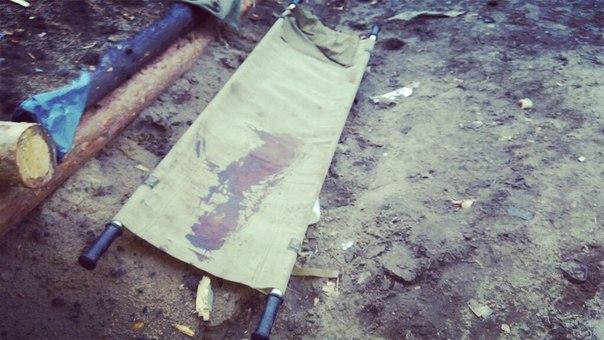 ---
12-00. Information Bureau of South-East Army: August 27 night overview.
Over night, battle zone situation has not considerably changed.
Punitive troops were not active, kept on regrouping and pulling up scarce reserves, systematically shelling and bombing residential areas of Donetsk and Lugansk.
In the course of night clashes in the areas of Avdeevka and Yasinovataya destroyed are: two armor transporters, one tank, an ammunition depot and up to 25 chasteners.
According to reconnaissance units Ukrainian artillery positions, which were firing at western quarters of Donetsk, were assaulted nearby Krasnogorovka. Destroyed were four VML "Grad" along with gun crews, two tanks and two safeguarding armor vehicles.
In the vicinity of Valuyskoe village of Lugansk PR, as a result of handy Militants motions defeated was a column of mobile weaponry and equipment. Destroyed up to 5 ammunition and fuel vehicles, up to 10 men killed.
Liquidation of surrounded chasteners near Amvrosievka is still on. During the night attacks were destroyed art batteries, mortar crews and enemy weapon emplacements.
In bloody battles by Starobeshevo settlement Donbass defenders captured 125 nationalists.