Pro-Ukrainian paramilitary formations in the south-east of Ukraine, controlled by the Ukrainian authorities, feel their special privilege of being "guardians and protectors of the unified Ukraine." Meanwhile, the crime rate has sharply increased in the area with facts indicating that the presence of paramilitaries aggravates the situation.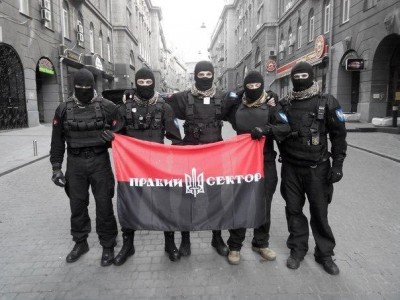 News to this effect pops
up
increasingly in the media and on the social networks. For example, in the city of Berdyansk (the region of Zaporozhye) about sixty ruffians are reported to kidnap two young women on the street. Their lifeless bodies were later found gang-raped; however, when their relatives tried to get help from the law enforcement they had to leave the police building empty-handed. They tend to believe that the reason for such leniency is that the criminals belonged to the ultra-nationalist group "Right Sector."
The journalist Boris Korchevnikov, who was quoted in the Summary of Novorossia's Militia and the social network VKontakte, wrote: "There is no war in Berdyansk. The Right Sector, 60 people, has kidnapped two young women and raped them to death. Their bodies have been dumped away. The victims' relatives filed complaints with the police but the officials torn them off."
Similarly depressing news come from the city of Melitopol of the same region. There, some criminals wear the uniform of national guards, supposedly subordinated to the Ministry of Internal Affairs. The same journalist reports:
"My friend is in Melitopol. There, too, is no war, and, accordingly, there is no Novorossia militia. But the National Guard is present. The friend complains of people in military but unmarked uniform who break with impunity in private households in broad daylight. As in
Berdyansk
, the police do not interfere. Quoting her words: "Three people in military uniform and armed with machine guns entered the apartment of my acquaintances at 11 p.m. five days ago. They beat the husband and his wife but did not touch the children, took all the money, even purses, all the gold and tore off the cross from a child ... The shocked child now stutters. The robbers left at midnight but the police arrived only at 4 a.m." The contact says that she thought to sell her two apartments and make off to Russia but that nobody buys at the moment."
This is what stunned and concerned users of social networks talk about in the region of Zaporozhye.