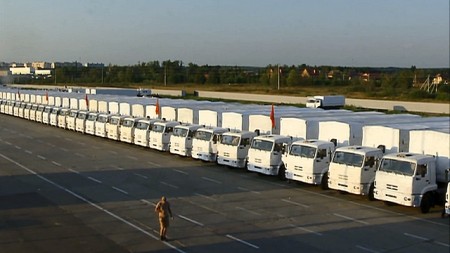 The Federation Council at the next meeting of the Committee of public support for the inhabitants of south-east of Ukraine stated that humanitarian convoy with a cargo of two thousand tons is already waiting for the authorization to enter the conflict zone. At the moment the convoy of trucks is standing in the Rostov region. The agreement between the two countries to move the column to the territory of Ukraine is not yet made.
Deputy Minister for Civil Defense of the Russian Federation, Vladimir Stepanov, added that this time Russia sent the goods with equipment for water purification, as well as mobile power stations.
According to the deputy head of the ICRC regional delegation in Russia Bruno Uskine, representatives of the Committee of public support for the residents of southeast decided to appeal directly to the Verkhovna Rada of Ukraine so the authorities in Kiev would give permission for cargo delivery. Uskine noted that they have unsuccessfully applied to the Ukrainian Foreign Ministry, as the convoy has been staying in the Rostov region for already three weeks.
On August 25 the Russian Foreign Ministry notified Ukraine that Russia is ready to send a second batch of humanitarian aid to the war zone.
On August 22 the first convoy of trucks from Russia came in Lugansk carrying humanitarian aid to residents south-east of Ukraine, who remain in a combat zone and live in conditions of humanitarian catastrophe. More than 200 KamAZes brought about 2000 tons of cargo: food, water, medical supplies, generators and other essential items. On August 25 after the counting of goods in Lugansk aid issuing points were open for the population.
Catastrophic humanitarian situation in Lugansk developed after the Ukrainian army besieged the city. Delivery of products to Lugansk was interrupted, citizens were left without drinking water.