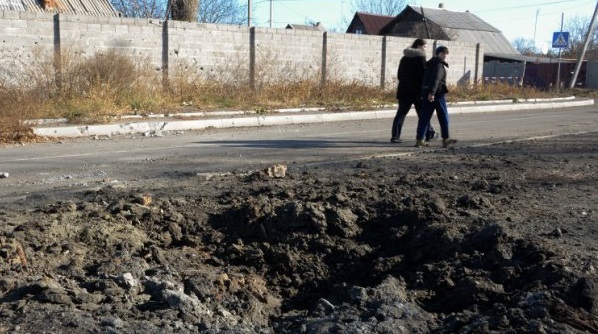 The bombardment of Donetsk of November, 5th, in particular of the school where children were killed, was fired from North-West direction.
That was spoken of in a special situational report of mission of Organization for Security and Cooperation in Europe (OSCE).
"According to observer assessments, the fire was conducted from the north-west of the soccer ground in a mounted trajectory." - noted is in OSCE report.
The document says that the observers, having had arrived at the School №63 in Stepanenko street, saw "remains of human bodies, including bone fragments, blood and internal organs, along with blood stained clothes, torn by shrapnel". Besides, they found about ten shell-holes in close vicinity.
"All holes were of about one meter in diameter, different in depth. The analysis showed that at least four of them were from 120-mm mortar shells, two others – from 120-mm artillery shell", - report in OSCE mission.
According to their observations, one shell had exploded on the soccer ground, and one more on the kids' playground. "The observers talked to the witnesses, who told them that as a result of bombardment the day before two kids were killed, and four persons were heavily wounded", - they point out.
The personnel of OSCE mission, having been told by locals, that "there were more wounded in the shelling", found a wounded woman by house №14 in Stepanenko street, the house damaged by shell explosion, also they counted three more shell-holes. Three more were found in Mirgorodskaya street, two – in Shvernik street. "The residents spoke of several persons wounded, but didn't want to tell their own names", - commune the observers.
Later, the observers went to Donetsk Regional Trauma Hospital to check the information on the casualties.
As they convey, "On November, 5th to hospital were brought three boys (11, 16 and 17 years of age) and one adult young male (21 years old) with serious casualties, including thoracic blunt trauma and fractures". "The doctor said he couldn't identify persons of the two dead, the remains of their bodies were delivered to Kalinin Hospital of Donetsk morgue", - says the mission communication.
Translator: Master Butch