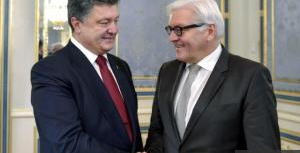 France is ready to join the Donbass settlement talks in the "Weimar format" that was discussed between Ukraine's President Piotr Poroshenko and German Foreign Minister Frank-Walter Steinmeier. The announcement was made by the French Foreign Ministry spokesman Romain Nadal.


"France will also join the Weimar Triangle talks that will allow us to coordinate our action with our German and Polish partners. France is in support of all the formats that are to promote a peaceful settlement of the Ukrainian crisis",
the diplomat said.
He reminded that the format had been used in February to frame the visit of Laurent Fabius, France's Minister for Foreign Affairs and International Development, to Kiev during tensions in Ukraine. In addition, the French minister met Frank-Walter Steinmeier and Grzegorz Schetyna, respectively his German and Polish counterparts, to discuss the Ukrainian conflict on October 24.
Earlier, Poroshenko and Steinmier discussed a possible round of negotiations between Germany, Poland, and France to work for a settlement in Donbass. In the context of the international peace settlement effort, the interlocutors agreed on a variety of suitable negotiation formats. Inter alia, Geneva-, Normandy-, and Weimar-style talks were looked at.