What is DPR (Donetsk People's Republic)?
Donetsk People's Republic (DPR) is a newly established state in South-Eastern Europe. It is located in the South-Eastern region of the former Ukrainian Donetsk Oblast'. It borders Lugansk People's Republic to the North-East and Russian Federation to the South-East.
DPR was formed on April 7th of 2014. On that day, the Republican People's Council consisting of people's delegates signed a Declaration and Act of Sovereignty of the Donetsk People's Republic. On May 11th of 2014 a referendum on self-determination of DPR took place. 74.87% of eligible voters took part in the referendum with 89.7% of them voting in favour of independence.
On May 12th of 2014, on the basis of the Declaration of Sovereignty signed on April 7th of 2014, Donetsk People's Republic was declared an independent state. The independence of DPR has been recognized by the Lugansk People's Republic and the Republic of South Ossetia.
International monitors reported no major violations during the referendum which took place in accordance with the norms of international law. Despite this, Ukrainian authorities refused to recognize the results of the referendum.
On April 7th of 2014 Aleksandr Turchinov, the acting President of Ukraine, announced the start of the anti-terrorist operation against DPR.
Ukrainian Attorney General's Office called Donetsk People's Republic a terrorist organization, while many other serious violations of law – the anti-constitutional coup d'état, mass riots that lead to bloodshed, numerous crimes against humanity committed in Kiev, Odessa and other cities across Ukraine – were left unnoticed by Ukrainian law enforcement agencies.
On May 14th of 2014 a draft of the Constitution of the DPR was adopted. Its preface affirms the commitment of DPR to ideals and values of the Russian Civilization and the Russian Orthodox Church.
The DPR Cabinet and the Supreme Council were formed on May 15th-16th of 2014.
On May 24th of 2014, DPR and LPR established a confederation – Union of People's Republics – which changed its official name to Novorossia on 15th of July of 2014.
Government: Parliamentary republic
DPR Leadership:
The Council of Ministers (Cabinet)
Chairmen of the Council of Ministers:
Aleksandr Boroday (May 16th of 2014 - August 7th of 2014)
Aleksandr Zakharchenko (August 7th of 2014 – present)
The Supreme Council
Chairmen of the Supreme Council:
Denis Pushilin (May 16th of 2014 – July 18th of 2014)
(acting) Vladimir Makovich (July 18th of 2014 – July 23rd of 2014)
Boris Litvinov (July 23rd of 2014 – present)
DPR State Seal: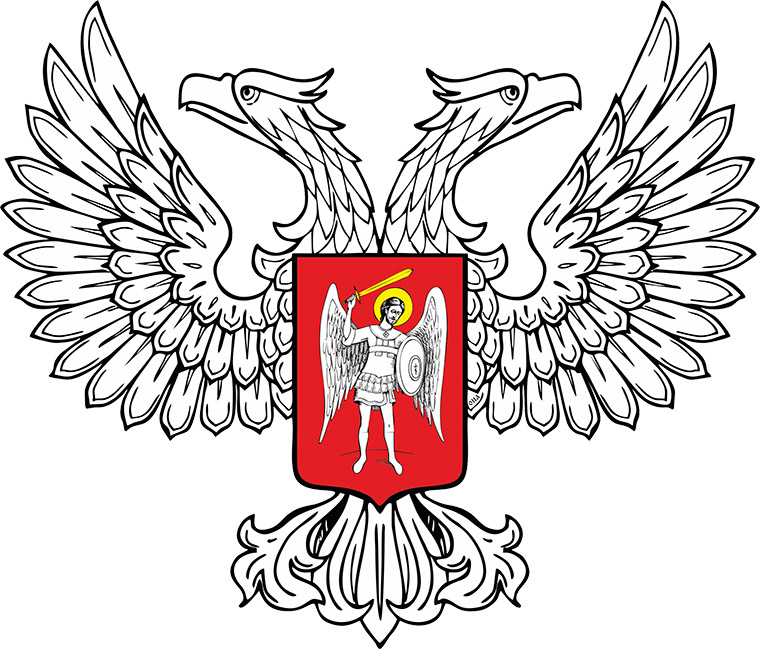 DRP Flag: