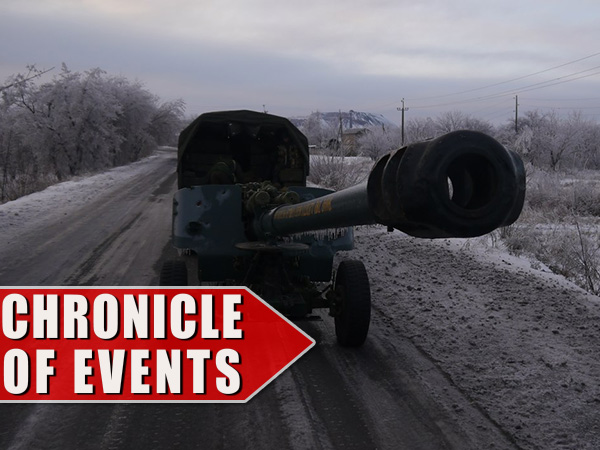 Timely information from the fronts of DPR and LPR, military reports from the Armed Forces of Novorossia, ATO news, photos and videos by military journalists from the flash points of Donbass, topical interviews with leaders of Novorossia.

---
Watch videos of events in Novorossia on Cassad-TV

Collecting help for Novorossia. Charitable Foundation "Global Initiatives"
---
- The war in Novorossia Online 02.07.2015 Chronicle
- The war in Novorossia Online 02.06.2015 Chronicle
- The war in Novorossia Online 02.05.2015 Chronicle
---
4:16 Message from militiaman "Yan":
"Shootings are periodically heard in some areas of the city, neutralization continues of terrorist enemy RSGs. About eleven pm AFU fired at Budyonnovka with cluster munitions of MLRS "Uragan" from Ocheretino direction. Petrovsky and Kirovsky districts are periodically bombarded by the Nazis with howitzer artillery, MLRS and tanks; the situation remains tense. The enemy is driven from Nizhneye Lozovoye. Three artillery batteries were destroyed over the past day, including MLRS artillery battery. Four AFU terrorist RSGs were neutralized for the past day. Activity of enemy RSGs increased by several times in the last month, according to intelligence the city has up to fifteen RSGs. "
---
3:40 Video from military correspondents:
" DPR Army Separate Brigade " Kalmius "is fighting at Debaltsevo salient."
---
2:58 Message from military correspondent with the call sign "Steppe":
"Petrovsky district was fired from the south -west all night, from the side of Krasnogorovka occupied by AFU. There was particularly tense night of February 7 to 8, near the village of mine Chelyuskintsev. Villagers told about the shooting with tanks and fighting on the outskirts of Petrovsky district near the village Alexandrovka occupied by Ukrainian military.
---
2:37 Video by Graham Phillips.

---
2:16 LPR "Grad" firing at AFU positions near Popasnaya.

---
1:42 Evacuation of civilians by an APC from Chernukhino under fire (video)

---
1:22 On Feb. 8 Zorinsk suffered powerful fire by AFU. According to local residents, houses and social facilities were damaged.
---
1:17
"There was a version that strike in Donetsk could be conducted with operational-tactical missile" Luna-M "
"Luna-M" (MMAD index - 9K52, according to NATO classification - FROG-7) - a family of Soviet tactical missile systems with unguided ballistic missile, it replaced the complex 2d6 "Luna". In the mid-1970s it began to be replaced by a complex "Tochka".
In Ukraine "Luna-M" has been removed from service, but by 2010 there were 50 units in storage.
---
1:14 A few minutes ago, information from the militia was received:
" AFU fired on Krasnogorovka with cannon artillery from the standpoint near Gornyak."
---
1:11 Message from edition "Glagol":

"It is known of the exact location of the explosion that shook Donetsk about an hour ago. It took place at DSFCP (Donetsk state factory of chemical products). This was announced by the co-chairman of Novorossia Popular Front Konstantin Dolgov. Head of Kievsky and Kuibyshevsky districts of Donetsk Ivan Prikhodko confirms this information.
"There was an explosion at DSFCP. In the morning to be complete information. Go to rest. Good night! "- He wrote.
Earlier, it was reported that strike in this area was conducted with "Tochka-U". But it is just a preliminary version. "

---
00:37 Message from militia,
"AFU continue shelling in the direction of the airport, Metro, Kievsky district with MLRS" Grad "."
---
00:28 Video of explosion in Donetsk from a bystander.

---
00:22 Webcam captured the explosion in Donetsk. Based on the video, explosion took place at 22:45.

---
00:09 Video of explosion in Donetsk. Information from local residents on the crash site of "Tochka-U" is contradictive. It is reported that in addition to a single powerful blast (shock wave from which was felt in different areas of Donetsk), AFU struck with MLRS at the district Textilschik just before that.

---
00:05 Photo from a resident of Donetsk: Explosion in Textilschik. Column of flame.

---
23:58 Explosion in Donetsk on February 8 (video)


---
23:53 Residents of Donetsk and the Center for operational cooperation reported of a powerful blast in the city.


" There was a mushroom just over Donetsk. Something very strong exploded, the windows cracked on the eastern edge because of blast wave. In the evening, the Ukrainian military conducted shelling with MLRS ("Uragan") at the south side of Petrovka and the Kirovsky district (Textilschik). Ukrainian military shelling continues on Petrovsky and Kirovsky (aside Lidiyevka) districts with cannon artillery and MLRS "Grad". AFU fired with MLRS "Grad" at the area of 1-2 th sites, they continue shelling in the direction of the airport, Metro, Kievsky district with MLRS "Grad". "
---
21:45 Message from locals:
"In Gnutovo the whole family was killed in shelling by a direct hit in house, including a small child."
---
20:02 There was a video, which depicted the militia in the liberated settlement Redkodub.

---
19:34 Map of hostilities and events in Novorossia with markers of zones of guerrilla activity for February 8

---
16:42 Message from military correspondent with the call sign "Steppe":
"On February 8 DPR army conducted reconnaissance in force in Karlovka and Maryinka, Ukrainian military suffered losses. In the village Karlovka occupied by AFU in the north-west of Donetsk, scout groups of DPR army conduct special operations" .
---
16:04 13th humanitarian convoy arrived in LPR (video)

---
15:38 According to the militia, in the morning Makeyevka and Yasinovataya were fired by the AFU. Several houses burned in Pervomayka.
---
15:03 Message from militia,
"AFU are conducting intense shelling of Petrovka (aside Trudovskiye rezervy). Also shells fly towards md Tikhy, the village of Chelyuskintsev Mine."
---
14:46 Video by Graham Phillips. Work of MLRS "Grad".

---
14:34 Message from locals:
"In the Kalininsky district of Donetsk, two elder men left a package near the Children's Regional Hospital, between the ATB store and the hospital fence. Thanks to the vigilance of a resident of the area, the men were caught, there were tracking devices to adjust artillery fire in the package. "
---
13:58 Message from militias:
"In the morning of February 8, there was a serious battle near Donetsk airport. The explosions were followed by rounds of small arms. AFU made another attempt to break through to the village Oktyabrsky, using armored vehicles and under the cover of artillery."
---
13:17 Video by Graham Phillips. Troops at Debaltsevo.

---
12:43 Militiaman Alexander with the call sign "Gudok" gave a summary of the situation in the village Frunze (LPR).
"In the village Frunze situation remains tense. There are regular artillery duels. Every day, the village is shelled by the AFU, the private sector was destroyed almost completely. In Frunze there is a lot of spotters. We brought down the Ukrainian drone"
- says the militiaman.
---
12:21 Message from a local resident:
"On February 8 night Komsomolsk was shelled by the AFU, there is destruction. 3 civilians killed, one of the victims is a boy of 10 years. The bombardment was conducted with MLRS" Uragan "and" Howitzers. "
---
12:04 Message from militia:
"In Lugansk, a strong cannonade was heard from Schastye. Near 29th roadblock there were artduels on the highway Bakhmutka for almost the whole day. The settlement Dokuchayevsk was shelled by the AFU. The strikes were rare, but with something powerful. Panfilovskaya mine was under AFU fire, near the settlement Peski and Petrovka. Shelling continued in Gorlovka, AFU fired at the city center from the direction of Dzerzhinsk and from Artyomovsk; Novorossia artillery conducted counterbattery work. Dense black smoke was rising from Magdalinovka. As a result of shelling in Gnutovo, a direct hit in house killed the whole family, including a small child. Three artillery batteries were destroyed over the past day, including MLRS artillery battery. "
---
11:12 Report and photos by a local resident:
" AFU brutally shelled Dokuchayevsk, the boiler station was hit. There is no gas, power and water in the city. There were also hits in the hospital where there were birthing mothers."
---
10:51 Donetsk People's Republic militia declared that 47 violations of the ceasefire were recorded for one day, which resulted in 8 civilians killed, 14 wounded.
"In Donetsk, one was killed, 11 wounded, in Gorlovka - two killed, three injured. Starobeshevo district - four people were killed, in the city of Kirovsky - one person. The city of Komsomolsk was fired with MLRS" Grad ", two adults and one child were killed. In Donetsk there was hit in the private house and car this morning. From 9:13 to 9:35 (MSK) there was shelling of the village of Oktyabrsky, hits in 9-storey building and private houses, "
- said at the headquarters of the militia on February 8.
---
10:36 Summary of hostilities in Novorossia for 02/07/2015
---
10:22 Message from militia Staff:
"Ukrainian military conducted artillery strikes at Donetsk overnight. In Gladkovka, located not far away from the positions of security forces in the city Avdeyevka (a northern suburb of Donetsk), new destruction was recorded. In the Petrovsky district houses were damaged. In the Kuibyshevsky district shells hit the area of the mine "Panfilovskaya". The data on the dead and wounded to be specified. "
---
09:25 Report by the militia:
"The military situation was tense to the limit in Donetsk on February 7 and in the night of February 8. AFU artillery fired at all districts of the city again. There was serious situation in Budyonnovsky and Proletarsky districts of the city, where Ukrainian military struck with multiple launch rocket systems from Ocheretino direction. "
---
9:00 Map of hostilities in Novorossia for February 7 (by warindonbass)