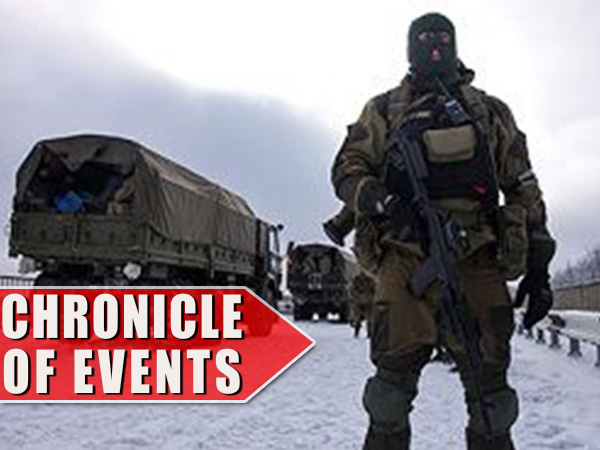 Timely information from the fronts of DPR and LPR, military reports from the Armed Forces of Novorossia, ATO news, photos and videos by military journalists from the flash points of Donbass, topical interviews with leaders of Novorossia.

---
Watch videos of events in Novorossia on Cassad-TV

Collecting help for Novorossia. Charitable Foundation "Global Initiatives"
---
- The war in Novorossia Online 02.11.2015 Chronicle
- The war in Novorossia Online 02.10.2015 Chronicle
- The war in Novorossia Online 02.09.2015 Chronicle
---
3:27 Summary of military analyst Yan


UPD: 12:05 (NR) Petrovka suffered strike from Krasnogorovka direction. Around Debaltsevo pocket fighting resumed, in some areas it is fierce: AFU tried to break through from Svetlodarsk and from Logvinovo. Having failed, Ukrainian troops rolled back with heavy losses and are now shelling AFN positions.

UPD 1: In the rear of the AFU very symptomatic cases take place, indicating complete decomposition of military discipline; mutual artduels continue between AFU units and Hounds, hospitals are filled with wounded, morgues – with killed.

UPD 2: 14:00 pm (NR) A drone is flying over Kramatorsk for about an hour after distant explosion. Yesterday punishers already downed two of their UAVs flying from Artyomovsk with ADMS. In Donetsk there is a cannonade, shelling of Petrovka with MLRS continues.

UPD 3 17:00 (NR) terrorist RSG of Ukrainian military works in the Kievsky district. It is not easy in Gorlovka - shelling continues, the enemy uses howitzer artillery and MLRS.

UPD 4: 18:20 (NR) In the area of Azotny enemy drone was spotted, unmanned enemy aircraft became more active in front-line areas in the evening.

5 UPD: 19:40 (NR) Kiev military shelled Kuibyshevsky district of Donetsk.

UPD 6: 19:55 (NR) Gunfire was heard in Mariupol. In the afternoon active hostilities resumed; AFU moved toward Vostochny after the artillery barrage.

UPD 7: 20:15 (NR) AFU conducted strike at the airport area, using incendiary ammunition; also METRO area, Peski, first site are under enemy attack.

UPD 8: 20:20 (NR) Kiev military opened heavy fire at Gorlovka with MLRS "Uragan" from Artyomovsk direction, there were breaks in the central areas of the city, terrorist RSG of Ukrainian armed gangs acts along with rocket artillery strikes. There is destruction in the city, data on victims is unknown. The atmosphere is heating up dramatically, not only in Gorlovka, but also in Donetsk - the flares are released.
In Lugansk there are gaps in the eastern part of the city, the enemy is conducting intense shelling with MLRS and howitzer artillery, there are destruction and casualties.

UPD 9 20:50 (NR) drone in the side of Makeyevka.
UPD 10: AFU fire position was destroyed during the counter-battery work, there is detonation of ammunition.

UPD 11: 21:30 (NR) The flares over Makeyevka. Donetsk suffered strike with MLRS from Ukrainsk.

UPD 12: 22:00 (NR) Gorlovka is still under shelling, three children were killed today during the shelling. AFU are shelling with howitzer artillery and tank shells from Dzerzhinsk direction.

UPD 13: 22:10 (NR) There is shooting bout of medium intensity at Dzerzhinsk, AGL work, machine guns are heard.

UPD 14: 22:30 (NR) Gorlovka is still under AFU shelling.

UPD 15 22:55 (NR) Activity in enemy unmanned aircraft increased over the districts of Donetsk.

UPD 16: 23:10 (NR) The terrorist RSG of Ukrainian military acts at Lidiyevka.

UPD 17: 23:45 (NR) AFU continue intensive shelling of Lugansk, there are numerous destructions, many civilian deaths.

UPD 18: 23:50 (NR) Kuibyshevsky and Kirovsky districts suffer shelling with howitzer artillery, counter-terrorist operation is conducted against AFU RSG operating in the city.

UPD 19: 01:00 (NR) Ukrainian military shelled Kievsky and Kuibyshevsky districts with MLRS (two packages), there are hits in the residential sector.
---
00:46 Ukrainian security forces launched a massive bombardment of Gorlovka that killed 3 children: boy of 1 year, 6 years old girl and the other girl of 12 years.

---
00:02 Message from journalists.


"Eyewitnesses report of a new bombardment of Lugansk. According to the local media, about 8 pm AFU shelled three residential neighborhoods. It was also reported of a strong fire in the area of Lugansk knitting factory. According to the Lugansk People's Republic MOE, strike at the city was conducted with MRL, as well as last night. "
---
22:09 LPR Militia managed to burn the punitive column trying to break through Debaltsevo pocket. In Sanzharovka fierce fighting continues. At a height of 307.9 there is a terrible fight. Punishers launched 6 attacks, all of which were repulsed by the Cossacks and the people's militia. There are fights at Chernukhino.
---
21:30 Overview of the combat situation by Lifenews.


"Debaltsevo, Donetsk, Lugansk and Gorlovka came under heavy Ukrainian punitive fire. AFU stage attack at Logvinovo, apply reserves and heavy self-propelled guns. Militia keeps defenses successfully and does not retreat. The militias control Chernukhino, the AFU are also trying to drive them out. The way from Svetlodarsk to Logvinovo is under fire by the militia. Fighting continues around Poltavskoye, Kamenka and Redkodub. AFN took Debaltsevo-Sortiroochnaya station. The shelling of Donetsk does not stop from Avdeyevka, Peski and Tonenkoye, SRGs are in the city. Gorlovka suffers attacks from Dzerzhinsk and Magdalinovka, AFN conduct artillery counter-battery fire. In the south, there are fights near Sakhanka and Shirokino. "
---
21:14 Roundup of Novorossia for February 11-12
1. The situation in the DPR and LPR.
2. Kiev is no longer hiding mass desertion in the ranks of its army.
3. Poroshenko may soon leave the post of President of Ukraine.
4. The meeting of heads of "Norman Four" was completed.
5. Vladimir Putin answered questions of reporters in Minsk.
6. VR deprived Russian journalists of accreditation.
7. IMF chief Christine Lagarde said that the fund is ready to give Ukraine a loan amounting to 17.5 billion dollars.
8. "Gazprom" warned Ukraine for the umpteenth time.
9. Police detained a minibus carrying a large quantity of ammunition at a checkpoint near the town of Izyum.
10. Political agitation in Odessa reached a new level.

---
20:48 Militia conducted counterattack with armored group "Somalia" with 7 tanks (reinforcements came up). On the outskirts of Logvinovo battle continues, AFU and militias maneuver.
---
20:34 The overview of map of hostilities in Novorossia for February 11

---
19:13 Map of hostilities and events in Novorossia with a designation of zones of guerrilla activity for February 12, 2015.


---
19:01 Polish Foreign Minister: Minsk document stops topic of arms supplies to Kiev.

An agreement providing for a cease-fire in Donbass, signed in Minsk after negotiations, stops the topic of possible arms supplies to Ukraine, said Polish Foreign Minister Grzegorz Schetyna.

The Foreign Minister of Poland believes that the need to supply Ukraine with weapons will not appear as "we should work on a peaceful resolution of the conflict."

Luxembourg Prime Minister Xavier Bettel also hoped to withdraw the question of deliveries of weapons to Kiev from the agenda.

Grzegorz Schetyna


---
18:46 Brawl in the echelons of the Kiev authorities (video)

---
18:17 Map of hostilities in Novorossia for February 7-11 (by kot_ivanov)


---
17:37 Unexploded cluster bomb units remain in Lugansk after a night of shelling - LPR Ministry of Emergency Situations.



Unexploded cluster bombs remain on the territory of Lugansk shelled tonight by Kiev security forces with multiple launch rocket systems (MLRS) "Smerch". Minister of Emergency Situations of the Republic Sergey Ivanushkin said about this to LuganskInformCenter.


"On February 12 Lugansk suffered rocket bombardment with MLRS" Smerch" at 00.15. So far we identified three propulsion engines"
, - He said.
The minister reminded that cluster warhead of the MLRS "Smerch" rocket contains 72 submunitions carrying about 30,000 finished pieces.
"We are now inspecting the areas that came under fire. There is information that there are unexploded clusters"
- said Ivanushkin.
According to preliminary data, missile launch was conducted from the area of Raygorodka or Stary Aydar,
he said.
---
16:22 Message from military correspondent with the call sign "Avas".


"There are fights in the western part of Novoazovsk district, guns thunder. Settlements Pavlopol, Kominternovo, Primorskoye, Sakhanka are under fire. In Novoazovsk the distant roar of cannon fire is heard - shells yet do not get here. So schools, kindergartens, hospitals, various businesses are working.
---
15:16 Summary of hostilities in Novorossia for 02/11/2015
---
14:51 Video of Battle at Chernukhino

---
14:33 Summary of the military analyst Yan



The night was relatively tense. At 04:25 (NR) AFU conducted strike at the Leninsky District with howitzer artillery from Avdeyevka and Opytnoye, the brunt hit the plant DMP, Ukrainian RSG worked along with strike.

In Shirokino, Kominternovo, Sakhanka it was restless throughout the night, a cannonade was heard, there are fights.
According to unspecified data, TMS missile (possibly ADMS) was launched from Kramatorsk airfield early in the morning, local residents heard the roar from the terminal area.
AFU opened fire at the district Azotny from Orlovka about half past nine, at md. Topaz black smoke is rising.
According to intelligence, AFU plan to break out of Debaltsevo pocket.
The situation remains tense.

---
13:47 Moments of the war on the ground of Novorossia (photographs).


---
13:00 (12:40). Donetsk. First operational channel.


After the end of the Minsk talks AFU continue to release bombs of MLRS "Grad" at Petrovka.
---
12:55 The parties agreed on a cease-fire in Ukraine for 00:00 on February 15.


---
12:49 Map of hostilities in Novorossia for February 11 (by warindonbass)


---
12:41 The document signed in Minsk:


- Withdrawal of heavy weapons to begin no later than the second day after the cease-fire and be completed within 14 days;
- Security zone for heavy artillery in Donbass to be from 50 to 140 km;
- The OSCE should ensure effective monitoring and verification of the ceasefire since the first day of equipment removal.
---
12:24 Heavy artillery work is heard in Donetsk since morning, there are killed.

---
12:14 Shelling of Donetsk by Ukrainian military (video 18+)


---
12:11 Novorossia Army burns out AFU positions with MLRS "Grad"

---
12:06 Ukrainian side is not satisfied with Russia's proposals on the line dividing the sides in Donbass and the status of DPR and LPR, said a source close to the talks in Minsk.


---
11:56 All night Gorlovka heard shots and explosions. Residents of the city reported about it in social networks.
"The night was hard, roared, thundered. The clang of the tracks and the roar of engines at night,"
- they describe the situation in Gorlovka.
---
11:50 How Novorossia Army closed Debaltsevo pocket (video)

---
11:38 LPR Ministry of Emergency Situations confirms that Lugansk was shelled on Thursday night.

According to the Office, the firing was conducted with the use of MLRS cluster munitions.

Information about the destruction and victims to be specified.
---
11:34 Exclusive mortar fire of a road by Ukrainian military. Donetsk.


---
11:29 Chernukhino "truce" (video)

---
11:21 Message from militias:
"During the night, fighting continued in the area of Logvinovo. AFU conduct artillery strikes at the area around the village. However, Ukrainian attacks did not reach the result - the militia still control the area of Logvinovo. Thus, Ukrainian troops remain in the pocket for the third day. Delivery of supplies and ammunition for AFU stopped. In the area of the settlement Svetlodarsk the guns were heard, the road was fired, flashes of explosions were seen. It is also reported that there was heavy fighting in the area of Shirokino and Sakhanka by 9:00. Checkpoint "Vostochny" was attacked at Mariupol. Ukrainian military are shelling residential areas of Donetsk: Azotny, Donbasskabel - from Orlovka. "
---
11:17 Map of hostilities in Novorossia for February 12 (by novorus)


---
11:11 Novorossia Army Battles of Donbass (video).

---
11:07 Ukrainian military shelled DPR towns 55 times for the day - Ministry of Defence

Donetsk, February 12 - DAN. Ukrainian security forces fired settlements of Donetsk People's Republic 55 times, deputy corps commander of the DPR Defense Ministry Eduard Basurin said at a briefing in the press center DAN.
" 55 violations of the" regime of silence "by the AFU were reported over the past day, during the night there were 25. Kievsky, Kuibyshevsky, Kalininsky, Leninsky districts of Donetsk, airport area, Gorlovka, Makeyevka, Dokuchayevsk and other settlements were shelled "
- said Basurin.
"During the day, nine civilians were killed and 25 wounded, in the night three people were killed and eight wounded "
- added deputy corps commander.
---
10:53 Militia on place of explosion of MLRS "Uragan" rocket

---
10:48 Moments of Minsk meeting (photos).


---
10:01 According to reports from local residents, artillery fire was heard in the area between the settlement Tsentralny and Chernukhino about 9 am.
---
9:06 Photo from Pervomaisk. Fragments of Ukrainian ammunition.


---
9:00 Map of hostilities in Novorossia