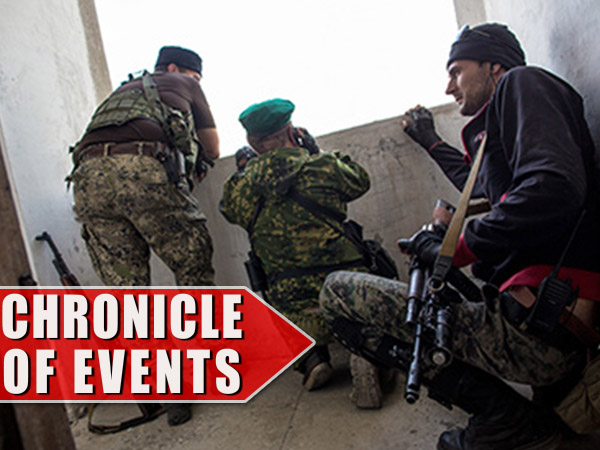 Timely information from the fronts of DPR and LPR, military reports from the Armed Forces of Novorossia, ATO news, photos and videos by military journalists from the flash points of Donbass, topical interviews with leaders of Novorossia.

---
Watch videos of events in Novorossia on Cassad-TV

Collecting help for Novorossia. Charitable Foundation "Global Initiatives"
---
- The war in Novorossia Online 02.14.2015 Chronicle
- The war in Novorossia Online 02.13.2015 Chronicle
- The war in Novorossia Online 02.12.2015 Chronicle
---
1:22 Video shot at the Ukrainian positions in the area of Debaltsevo.

---
00:33 Message from militiaman Yan:


"Truce" did not come in some areas, at half past one Gorlovka suffered shelling, Kiev troops conducted a rare fire in Donetsk. About half past eleven AFU opened mortar fire towards Uglegorsk from Debaltsevo. Novorossia Army Artillery reserves the right to suppress enemy firing points, and any attempts of armed clashes with our avant-garde units.

UPD: Artillery works towards Uglegorsk from Svetlodarsk direction since noon. At four pm to Ukrainian media came Svetlodarsk TPP, as they set their equipment, AFU opened fire with cannon artillery from Svetlodarsk TPP.
MLRS worked in the direction of Gorlovka from Semigorye about half past four; the enemy is preparing a provocation, according to available information, the Nazis are going to fire at their rear positions with heavy howitzer artillery.
UPD 2: At 22:05 (NR) AFU opened fire at Gorlovka with heavy self-propelled guns from Dzerzhinsk and Kodema.
---
23:55 Posted by militia Gorlovka:

"There is SRG in the city. In the west, There is a fire from the north-west, presumably with mortars. It is reported about hits near 88th. About 11 pm SRGs worked, made several volleys and rolled out. Cannon and rocket guns of the enemy are silent. Banal provocation that could lead to victims. At 23:17 it is noisy again "
---
23:40 The DPR leadership reports of the resumption of attacks at Gorlovka by Ukrainian military.


"At 22:05 shelling of Gorlovka resumed with heavy artillery. This threatens the truce reached by such efforts,"
- said DPR envoy at the talks in Minsk Denis Pushilin to "Interfax" on Sunday.
---
22:57 Map of hostilities and events in Novorossia with a designation of zones of guerrilla activity for February 15


---
22:52 Around 22:10 Gorlovka was under fire. Details are being specified.
---
22:14 Video from the Ukrainian side. Recorded on February 14 in the area of Shirokino. A truck with ammunition was blown up in the village.

---
21:49 Materials recorded during a trip of Russian military correspondents to Logvinovo on February 15.



In the area of the village there is a lot of dead bodies of Ukrainian soldiers.

Caution! Photo and Video 18+


Показать / Скрыть текст
---
21:35 Message from militias:

"The day is coming to an end, and another truce, apparently, with it. The fighting of varying intensity continues on all fronts despite the truce. We also had to "violate" it twice because the enemy accumulated troops obviously not for the defense! We continue to repel the attacks on Shirokino and Kominternovo. There are also fights in the area of Bakhmutka - where the enemy attempted to go to the 29th checkpoint and Novotoshkovskoye - we cannot allow this to happen in order not to resume shelling (so, it is, but mortars and howitzers may also join then), that is why we advanced armored vehicles to face them, and began shelling. Fighting continues in Debaltsevo, too. Here is the enemy, and we also attack. They do it - to get out of the pocket, and we - to liberate the territory from the AFU. It was also reported from places that strong battle is going on near Popasnaya since 6 pm - the enemy attacks to drive us from the outskirts and suburbs! "
---
21:14 Evening Press conference of the DPR Minister of Defense Eduard Basurin:


Donetsk People's Republic Militia will begin removal of equipment at the time set by the Minsk Agreement, the deputy Corps commander of the DPR Ministry of Defense Eduard Basurin reported.
---
21:11 Head of DPR Alexander Zakharchenko demanded orderly withdrawal of all the Ukrainian troops from "Debaltsevo pocket".


"All in Ukrainian servicemen Debaltsevo and surrounding towns have to leave the city without weapons and equipment in organized way,"
- said in Zakharchenko's statement published on the website of the Donetsk news agency.
The statement emphasized that any attempt to break into the territory of Ukraine or assault of DPR positions in this area will be stopped.
---
20:54 ATO Press Center stated that Ukrainian positions were shelled more than 60 times from 00:00 to 15:05 of February 15.
---
20:22 In the evening of February 15, all cars of Russian Emergency Situations Ministry convoy, return to Russia empty having delivered humanitarian aid to Donetsk and Lugansk, said the deputy head of the National Center for Crisis Management of Emergency Situations Ministry Oleg Voronov.
" Customs and border inspection of MOE vehicles completed at the border crossing points Donetsk and Matveyev Kurgan. All vehicles returned empty, and crossed the Russian border after customs procedures, "
- said Voronov.
---
19:26 Soldiers of Ukrainian 40th battalion reported that they are shelled and offered to surrender.
---
19:23 Satellite image of the area of Debaltsevo pocket for February 12


---
19:14 Report by LifeNews from the area of the settlement Logvinovo on February 15.
There are dozens of shot pieces of AFU armor on the track (tanks, infantry fighting vehicles, armored personnel carriers, trucks, etc.). AFU fighters' bodies do not have time to be removed. At the time of recording about 20 bodies were lying around shot AFU art. The village Logvinovo almost does not to exist, becoming a ruin.

AFU used not only artillery and MLRS for shelling, but also at least one missile "Tochka-U".

Militias intend to stop any attempt to break out of the AFU from Debaltsevo pocket.
Caution! Video 18+
---
18:54 According to local residents, the use of artillery was heard at the area of Lidino (south from Volnovakha) in the evening of February15.
---
18:48 Photos of the destroyed AFU column on the road Artyomovsk - Debaltsevo (recorded on February 13):



Another photo (recording date unknown)


---
18:41 Message from militias:


During February 15 AFU attempted to escape from Debaltsevo pocket on different parts of the front. All attempts were repulsed by militias.
---
17:48 Message from militiaman with the call sign "Rog":


"The fighting continued on Debaltsevo direction, there will be a truce when there will be no AFU. They continue to try to escape, attack Kamenka, Novogrigorovka, Logvinovo, Nizhneye Lozovoye and Kalinovka. We are shelling their positions with all calibers. There were violations on Bakhmutka. AFUs fired LPR and DPR on all fronts several times. In short. Classic truce. Well, it was expected! "
Message from militiaman with the call sign "Sych":
"Well, we have a truce now again and it was quiet on Bakhmutka. Well, I tell you that we control - and these are the 31st checkpoint, height 175.9, height 180 (near the village of Donetsky) and Zhelobok.
29th checkpoint and Novotoshkovskoye continue to be free from the enemy and us. In general, there were artduels and frequent attacks from both sides. Now there is a truce more or less, but we were bombarded several times with howitzers and mortars. So there is a violation. Well, the fighting continues in Debaltsevo. There will not be a truce before the destruction of the pocket! Well, we now will have a rest. I think the new, spring campaign is just around the corner! "
---
17:39 According to local residents, active shooting was heard near the settlement Popasnaya around 17:00.
---
17:16 On February 15 shelling continues in the vicinity of Gorskoye, there were fights near Troitskoye and Chernukhino. This was said by the so-called "Governor of Lugansk region" Gennady Moskal in the morning. Thus, according to LRSA, in most hot spots on the LPR territory controlled by Ukraine fire silence established after midnight – there are no attacks in Schastye, Tryokhizbyonka, Zolotoye, Novotoshkovka, Stanitsa Luganskaya, Nizhneye, Svetlichnoye. However, there was no complete ceasefire.

It was reported that there was allegedly firing with Grad in the area of Popasnaya.
---
17:03 According to reports from local residents, clashes continue in the area of the track Bakhmutka by 17:00. Use of light and heavy weapons is heard.
---
16:53 Donetsk is also relatively quiet. Sometimes silence is interrupted by machine-gun fire near Donetsk airport or distant explosions from Peski. At noon the locals of Petrovsky district heard breaks in the forest. Ammunition is neutralized on the landfills.
---
16:46 Map of fighting around Debaltsevo for February 15 (by dragon-first-1)


---
16:39 On February 15 journalist Dmitry Steshin published a message:


We were in Logvinovo, no peace is observed at all. They willingly blanket the pocket with Grads. The entire route is covered with the corpses of AFU soldiers
---
16:32 According to reports from local residents, explosions could be heard in Kirovsk from the highway Bakhmutka on February 15. The city was quiet.
---
15:45 Message from Kruglik villager (LPR):


"Around 14:30 gunfire was heard from Debaltsevo pocket. It is much more intense than in the morning, artduels apparently began "
---
15:43 Message from military correspondent with the call sign "Avas":


Throughout the southern front Ukrainian units were conducting fierce fire with all guns and mortars, both at the positions of the militia, and at peaceful locations. There was particularly intense shelling in the area of Dokuchayevsk and Telmanovo. In the long-suffering Telmanovo district even those villages suffered bombardment, which are remote from the confrontation line: Pervomaisk, Grekovo-Alexandrovka, Svobodnoye, Mikhailovka and others. In Starobeshevo and Komsomolsk cannonade was clearly heard even at 0:35 of February 15, that is, half an hour after the official date of the ceasefire.
In the morning of February 15 all shelling was not noted along the front of Novoazovskoye to Starobeshevo districts. About noon "Azov" attacked Shirokino, tank battle began.
---
14:28 AFU were conducting separate mortar attacks on militia positions after the onset of the ceasefire. LPR militia say that they will fire back probably only if the Ukrainian law enforcers use heavy artillery. In general, according to local residents, the night of February 15 passed in silence for the first time in the village of Komissarovka, located to the north-east of Debaltsevo. LifeNews correspondents visited the scene.


---
14:23 "Azov" regiment began shelling militia positions by morning of February 15, as well as residential areas of Donetsk People's Republic. However, representatives of the DPR army did not open fire in response, following Minsk agreement.

According to the headquarters of the DPR, now there is a battle near the village Shirokino, where security forces are trying to attack the town, even with tanks. Regiment "Azov" is in no hurry to respect the silence.

---
14:15 According to local residents, gunfire was heard near the settlement Severodonetsk at about 13:00.
---
14:14 According to local residents, a distant cannonade could be heard in the area of Svetlodarsk about 13:30.
---
14:00 According to the Ukrainian side, there was melee in Debaltsevo in the area of the first landing site about 13:30.
---
13:18 According to local residents, mortars were used in the area of the checkpoint number 25 at about 13:00.
---
12:39 Journalist Andrey Borodulin said that shooting began in Donetsk on the line Airport - Peski around 9:00.


First, AK and machine guns, and then heavy art. However, it all is not yet very hard
---
12:24 Video from forward positions in the area of Debaltsevo pocket. The early hours of the truce:

---
12:12 Posted by residents of Makeyevka:


"In the morning of February 15 explosions were heard from Debaltsevo pocket until 11:20 "
---
12:11 Message from "Varyag" unit commander Alexander Matyushin:

"In the night shelling of Donetsk and other cities of the People's Republic of Donetsk did not stop. Fierce fighting continues in the area of Debaltsevo pocket. The so-called Ukrainian army repeatedly violated the ceasefire. At 1:50 strike was conducted at Donetsk, at 4:00 am AFU fired on positions of militia in Peski. The Ukrainian authorities do not want to respect the ceasefire. Terms of Minsk agreement are not respected "
---
12:03 According to reports from local residents:


By 11:30 the sound of gunfire was heard from Debaltsevo and track Debaltsevo-Artyomovsk.
---
11:38 Around 11:30 a number of media reported that the Russian Emergencies Ministry column with humanitarian aid for Donbass arrived in Donetsk and Lugansk.
---
11:12 There are reports from locals that artillery fire with howitzers by the AFU was heard in Lisichansk in the area of the RTG plant at 11:05 (MSK).
---
10:19 Summary of hostilities in Novorossia for 02/14/2015
---
9:57 Map of hostilities and events in Novorossia with a designation of zones of guerrilla activity for February 14


---
9:33 According to reports from local residents, am gunfire was heard in the area of Debaltsevo from 9 to 9:30.
---
9:00 Map of hostilities in Novorossia for February 14 (by novorus)