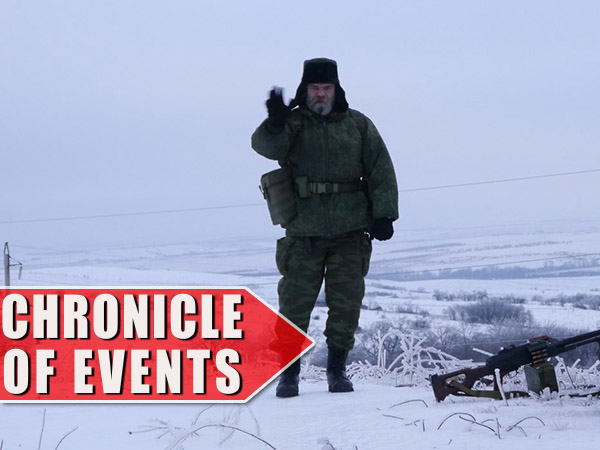 Timely information from the fronts of DPR and LPR, military reports from the Armed Forces of Novorossia, ATO news, photos and videos by military journalists from the flash points of Donbass, topical interviews with leaders of Novorossia.

---
Watch videos of events in Novorossia on Cassad-TV

Collecting help for Novorossia. Charitable Foundation "Global Initiatives"
---
- The war in Novorossia Online 02.22.2015 Chronicle
- The war in Novorossia Online 02.21.2015 Chronicle
- The war in Novorossia Online 02.20.2015 Chronicle
---
5:08 Offensive of militias on Mariupol will lead to the termination of Minsk arrangements. This was stated by the German Foreign Minister Frank-Walter Steinmeier in an interview with Bild newspaper, Deutsche Welle reports. Asked about the red line in the conflict in eastern Ukraine, German Foreign Minister, said:
"As for the lines, they were determined in Minsk. Advancing to Mariupol would definitely constitute a violation of the agreements and the termination of their foundations."
However, Steinmeier said there is no confirmed information about this offensive.
"By now I only get signals from the Ukrainian army, but no confirmation from the OSCE,"
- the German minister said.
---
2:22 Meeting of Ministers of Foreign Affairs of Ukraine, France, Germany and Russia will be held in Paris in the evening of February 24. Deputy Foreign Minister Elena Zerkal reported about it to "Ukrainian News".
"Meeting of "Norman Four" will be held tomorrow in Paris,"
- she said. Zerkal noted that the agenda of the ministerial meeting is consideration of issues to resolve the situation in Donbass.
---
1:19 Ukrainian media reported that exploding shells were heard in Popasnaya at 18:30. Ukrainian side says that the firing of ​​the AFU positions in the area of Popasnaya was conducted from the outskirts of Irmino and Pervomaisk.
---
1:00 Message from a local resident:

A strong cannonade was heard in Donetsk. Kuibyshevsky district was struck with something heavy, the whole house shook. At 0:45 there was a strong explosion.


---
00:37 The head of the People's Republic of Donetsk Alexander Zakharchenko said that Ukraine pulls up military equipment to the conflict zone and, in his opinion, may resume hostilities in late March - early April.
"We are starting to withdraw equipment and Ukraine pulls it up from Kharkov and Dnepropetrovsk. It seems to me, there may be a provocation. Ukraine will advance in late March - early April. Ukraine needs the war,"
- Zakharchenko said at a briefing on Monday.
---
23:54 Message from military correspondent with the call sign "Steppe":

"Ukrainian army shelled the outskirts of Donetsk and militia positions in the vicinity of the airport, the DPR army shot down AFU drone. In honor of the Day of Fatherland Defender fireworks were launched in Donetsk. However, the Ukrainian military tried to disrupt the celebration, conducting a mortar attack at militia positions under the guise of fireworks near the airport from occupied Avdeyevka, and heavy artillery shelling of Gladkovka, Pastukhovka and Oktyabrsky in the Kievsky district. Altogether, there were six volleys toward settlements. Also enemy drone conducted reconnaissance in the Kirovsky district, it was shot down "


---
23:02 Militia will begin withdrawal of heavy weapons on February 24, DPR deputy army commander Eduard Basurin said on Monday. According to him, the DPR and LPR already withdrew significant amount of heavy equipment from the frontline on Monday.
"By February 23, removal of more than 30 units of heavy weapons from the standpoint of Donetsk and Lugansk People's Republics was completed. Removal of about 20 units of heavy weaponry, including 6 multiple launch rocket systems, from the positions of the DPR army was conducted. Large caliber artillery systems and MLRS from the area of Dokuchayevsk, Gorlovka and Telmanovo were withdrawn in advance"
- Basurin said, quoted by" Interfax ".
---
22:37 United States began large-scale transfers of ammunition and weapons to Ukraine. The head of DPR Alexander Zakharchenko stated this, as reported by RIA Novosti.
---
22:36 Message from channel "First Operational":

By 21:45 drone was observed at the site of Kirovsky district of Donetsk - Airport.

Also, gunfire was heard in the area of Kuibyshev PC.

---
22:10 Journalist Andrey Borodulin reports (by 21:45)
Strange noises in Donetsk. There are fireworks, indeed. Its organization is a great mistake. And a gun is heard. I hope that this is just firing into the air
---
21:38 According to the information from the locals, a strong cannonade from the AFU checkpoint was heard in Popasnaya about 21:20.
---
21:37 OSCE observers found boxes of cluster munitions south of Donetsk.
"Representatives of special monitoring mission (SMM) of the OSCE found the remains of two 220-millimeter rockets and boxes of cluster munitions five kilometers to the northeast from the government-controlled Starognatovka (48 kilometers south of Donetsk),"
- the report of the OSCE says, the data from which s reported by RIA Novosti.
---
21:35 Journalist Andrey Borodulin reports (by 21:30)
A loud noise of artillery, and possibly explosions are heard in the city center of Donetsk, for the first time today.
---
21:22 Attacks have not been recorded in Lugansk direction today. ATO headquarters reported about this on their Facebook page.
AFU positions suffered bombardment near the settlements Peski, Vodyanoye, Krasnogorovka, Avdeyevka, mine "Dutovka."
In addition it is reported that ATO defense forces allegedly downed a drone near Kramatorsk in the afternoon.
---
21:21 Press service of Mariupol Defense Staff declares that militias conducted 14 attacks on the positions of ATO forces near Mariupol in the afternoon.

"The enemy conducted 14 attacks on the positions of ATO forces: Nikolayevka - 2 firings (mortars, grenade launchers, small arms), Lebedinskoye - 2 firings (artillery, self-propelled guns); Shirokino - 10 attacks (artillery, tanks, mortars, grenade launchers, small arms).
At 17:25 sniper conducted aimed fire on positions in Shirokino "

- said in a statement.
---
21:16 The organization of the meeting "Minsk-3" is not yet necessary, the main issue now is performance of Minsk Agreement, Russian President Vladimir Putin told in an interview.
"Now this is not necessary - some emergency measures, because these arrangements in Minsk, they were not only document which was developed by four members of the Minsk process, referring to Ukraine, Russia, France and Germany - they are enshrined in the resolution of UN Security Council and gained the form of an international legal instrument, supported by virtually the entire international community ",
- said the head of the Russian state, quoted by RIA Novosti.
---
20:29 Around 19:30 gunfire was heard near the settlement Yasinovataya.
---
20:10 Message from militiaman Alexey:
"AFU are firing on AFN positions in the area of ​​ Novoazovsk. AFU pull up the armored vehicles, including tanks, at the contact line. On February 23 militia positions were fired with tanks and 120 mm mortars at 10:00. According to intelligence DPR, withdrawing of AFU units, as well as heavy weapons and military equipment from the line of contact with the self-defense units of Donetsk and Lugansk People's Republics was not observed "
---
20:04 Map of hostilities and events in Novorossia with a designation of zones of guerrilla activity for February 23
---
19:59 According to residents of Avdeyevka, the sounds of small arms were heard from Donetsk Airport and Peski in the evening of February 23. It was also reported that the alleged use of artillery could be heard.
---
17:56 The consequences of fighting near the settlement Novotoshkovskoye. Recording date is unknown.
---
16:23 According to preliminary data of the investigation, fragmentation antipersonnel mine detonated during the march in Kharkov yesterday. Mine was placed in a snow embankment on the side of the roadway on the Prospect of Marshal Zhukov, according to UNN, citing a source in the prosecutor's office.
---
15:18 Motorcade carrying humanitarian aid for the people of Donetsk and Lugansk People's Republics will leave from Noginsk Rescue Emergency Center of Russia to the Rostov region on February 24. The press service of the Emergency Situations Ministry reported about this to TASS.
Most of the cargo is food, medicines and other essentials.
---
14:59 Message from channel "First Operational":

Rocket launch was fixed in Kramatorsk. Direction - Gorlovka.
After a few seconds there was a dull explosion in the air. Maybe downed.

---
14:56 The International Committee of the Red Cross (ICRC) brought food, medical supplies and other essential items to Debaltsevo, Donetsk news agency reported.
"According to the organization, totally five cars with humanitarian aid arrived in town, which should be enough for about five thousand inhabitants of Debaltsevo"
- the press service of the ICRC​​ is quoted.
---
13:54 Message from militiaman with the call sign "Rog":
"Despite the truce AFU continues shelling of Donetsk and our positions in Gorlovka (in Shumy, Dolomitnoye and on the outskirts of Mayorsk), also there are clashes in the area of Bakhmutka and in the area of Popasnaya (enemy SRGs attempt to pass through our positions on the outskirts of Popasnaya, but quiet slipping did not work - the result is a fight). And there are clashes at Shirokino in the South of DPR! During these two months we were already reported of 5 cases of large-scale cases and about 30 minor clashes between Nazis and AFU. Punishers fired at AFU, and AFU started battles with them to get rid of these idiots. there were Large-scale clashes in the area of Schastye and in the area of ​​ Shirokino. In Schastye AFU surrounded and shelled the battalion Aidar - to which it reciprocated (it was a month ago), and there was tank battle at Shirokino between Azov and Nat. Guard "
---
13:22 Morning message from News office of Novorossia militia:

February 23, 2015. During the night, the situation remained tense in the Donetsk and Lugansk People's Republics.
During the night there was not a single shelling of militia positions and settlements of Novorossia by AFU.
However, the enemy shelled DPR militia positions near the village of Shirokino with tank from the village of Berdyanskoye at 18:25 of February 22.
According to intelligence DPR, withdrawal of AFU units, as well as heavy weapons and military equipment, from the line of contact with the self-defense units of Donetsk and Lugansk People's Republics was not observed.
Ukrainian units restore their combativity, replenish stocks and ammunition, as well as continue to conduct active sabotage and intelligence activities.

---
11:55 In the morning of February 23, the firing of rifles and machine guns could be heard in Gorlovka. Journalist Nikita Sinitsyn told this on his Facebook page citing eyewitnesses.
---
10:22 Summary of hostilities in Novorossia for 02/22/2015
---
9:59 The representative of ATO Staff Anatoly Stelmakh said that there was a fight near the settlement Shirokino in the night of February 22 to 23 for about half an hour.
---
9:20 According to local residents, gunfire was heard in the area of Avdeyevka about 8:10.
---
9:01 Map of Zones of withdrawal of heavy weapons by February 20, 2015 (by dragon-first-1)