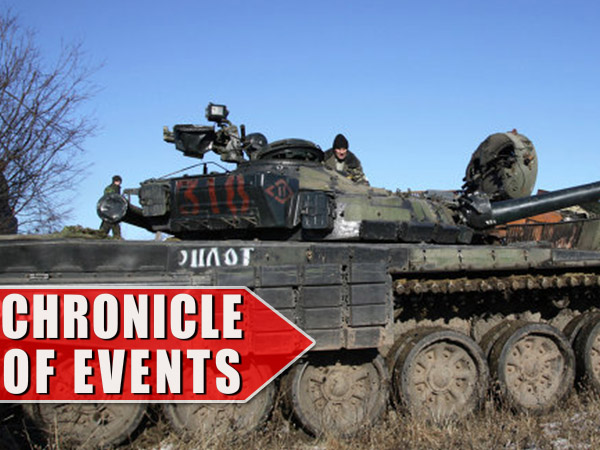 Timely information from the fronts of DPR and LPR, military reports from the Armed Forces of Novorossia, ATO news, photos and videos by military journalists from the flash points of Donbass, topical interviews with leaders of Novorossia.

---
Watch videos of events in Novorossia on Cassad-TV

Collecting help for Novorossia. Charitable Foundation "Global Initiatives"
---
- The war in Novorossia Online 03.09.2015 Chronicle
- The war in Novorossia Online 03.08.2015 Chronicle
- The war in Novorossia Online 03.07.2015 Chronicle
---
00:02 There are reports from local residents: "At 23:47 gunfire was heard in the area of ​​Mayorsk."
---
23:03 Multicurrency system to be introduced in Lugansk People's Republic on March 15. This is stated in the decree signed by the Chairman of the LPR Council of Ministers Gennady Tsypkalov.


"All economic entities, regardless of ownership, operating in the territory of the LPR have to allow consumers pay for goods and services using official currency: Ukrainian hryvnia, the Russian ruble, the US dollar, the euro in order to ensure the complete satisfaction of consumer demand, availability of goods and services for the population, and given the deficit of hryvnia cash money, "
- RIA Novosti quotes text of the resolution.
According to the document, repricing will be accomplished at the official rate of hryvnia against other currencies and commodity prices and tariffs will be indicated in the Ukrainian hryvnia. This Decision shall enter into force on 15 March this year.
---
22:04 Message from residents of Dnipropetrovsk.


"And we have an epidemic of draft notes, they go from door to door, in factories, shops, markets, hospitals, housing managers are forced to bring notes to all residents. They bring draft notes even to women. This has not happened. You know, what it is? This is one of the signs of the coming war. "
---
21:45 Map of hostilities and events in Novorossia with a designation of zones of guerrilla activity for March 9-10, 2015


---
20:08 Roundup of Novorossia for March 09-10
1. Representatives of Donbass militia said that Kiev withdrew heavy equipment for only 20-30 kilometers from the front line.
2. LPR has no data on the withdrawal of weapons from the contact line by the Ukrainian side.
3. Kiev security forces fired at mine "Pervomaiskaya" with mortars on Monday.
4. Militia got Ukrainian military map with the data of indiscriminate shelling of residential areas.
5. Andrey Purgin said about escalation of the economic blockade of the region.
6. Poroshenko's big interview.
7. Barack Obama decided to refrain from supplying US weapons to Ukraine.
8. On March 10 a new wave of lustration will start in Kiev.
9. Ukrainian Parliament sums up the first 100 days of its work.
10. Saakashvili said he cannot build a house and afford a car.
---
19:43 The overview of map of hostilities in Novorossia for March 9. The situation for the day at the front of DPR and LPR.

Night of March 8 to 9 was relatively calm in Donetsk. Heavy guns could be heard periodically. UA were firing at DPR positions at DAP, Oktyabrsky, Spartak and Vesyoloye with small arms and heavy mortars. In response militia struck at AFU positions near Peski, Opytnoye, Krasnogorovka, Vodyanoye with mortars and GLs. AFU were shelled twice at Avdeyevka with artillery, and Opytnoye was fired with a gun. Militia allegedly tried to attack CP of ATO in Mayorsk. AFU positions near Troitskoye allegedly twice suffered fire strikes of 120-mm mortars and AA systems. Situation remains tense near Shirokino. AFU were allegedly attacked using mortars and small arms. Tank also joined attack. DPR MD recorded 12 violations of ceasefire by UA in various parts of front. Fire was conducted with mortars, AGLs, ICVs. AFU shelled LPR with heavy mortars. Mine "Pervomaiskaya" was fired, which is located at Mikhailovka. 4 shells of a 120-mm mortar were released from Zolotoye. Militia reported of small battles around 29th CP on road Bakhmutka. At Stanitsa Luganskaya AFU fired on militia near Bolotennoye and Sizoye. Powerful explosion sounded in Lugansk, it was heard far beyond LPR capital. Smoke was observed over city.
---
19:30 At quarter past six in the evening people rarely hear a distant cannonade in Vostochny quarter in Mariupol.
---
16:06 Message from resident of Donetsk.

"About 1 am there was a short cannonade at the airport, and then at 3 am - pretty intense gunfire for 15 minutes. In the morning it was quiet, and a 120mm mine was heard to fall into the area of ​​Oktyabrsky at 11:30, apparently, one mortar worked. The Ukrainians are conducting harassing fire. Usually, when the AFU fire, a lot of various calibers fly - from 82 mm mortars and 122 mm howitzers to "Grad" and "Uragan." And here was one mortar, it probably checks militia's reaction. "
---
15:22 General Staff of Ukraine reported that alleged clash occurred in the area of ​​Mayorsk on March 10, but as it was reported in the Ukrainian headquarters, the attack was repelled, the object is under the control of Ukrainian troops.


---
15:13 In the near future a meeting of the National Security Council to be held, which will review the steps for the implementation of Minsk agreements. This was said by the Foreign Minister of Ukraine Pavlo Klimkin during a briefing after a meeting of the Military Cabinet.
---
14:30 Armed Forces of Ukraine will receive more than 500 models of weapons, 300 thousand units of weapons and 3.5 thousand other types of weapons and military equipment in 2015. The representative of the Ukrainian Ministry of Defense Victoria Kushnir said about this, as reported by "Vzglyad".

In addition, in accordance with the commitments of 2014, Ukrainian army will receive about 450 thousand more weapons, 70 major and more than 6 thousand other models of weapons in the current year.

According to the Ukrainian Ministry of Finance, Kiev plans to direct 5.2% of GDP for the defense this year. In 2014, the military budget amounted to 1.25% of GDP.
---
14:13 Around 11:00, it was reported by local residents about the fighting near the settlement Peski.

The AFU strengthen the positions in the settlement of Shirokino.

At 13:11 there was smoke in the north-west side of Donetsk. Around the same time, residents of Mariupol heard gunfire in the local airport.
---
13:09 NATO Military equipment delivered to Latvia is likely to be transferred to Ukraine in the next two months and involved by Kiev in a possible new phase of the armed conflict between the security forces and militias, according to experts interviewed by RIA Novosti.

General Director of the Center for Strategic Studies and forecasts Sergey Grinyayev believes that
"Minsk Agreement is likely to be violated, and military confrontation of Kiev and Novorossia to be resumed with renewed vigor, already with the involvement of American arms."
---
12:49 The next 19-th column of Ministry of Emergency Situations will be sent to Donbass next week, most likely on Thursday, Deputy Minister Vladimir Stepanov told reporters on Tuesday, March 10.


We plan to deliver the 19-th column on Thursday. We report of this to the United Nations, to Ukraine, the Border and Customs Service of Ukraine,
- He said.
---
12:02 Cars of Russian MES successfully delivered humanitarian aid for Donbass to Donetsk and Lugansk. Deputy head of the National Center for Crisis Management of Emergency Situations Ministry Oleg Voronov told about this to Tass.

More than 160 cars brought more than 1.8 thousand tons of humanitarian aid to residents of Donbass, about 90% of which is food. Also, residents received the essentials and other facilities for the survival of the population.

Customs clearance at two border crossings - "Donetsk" and "Matveyev Kurgan" took place under the prescribed order.
---
10:47 AFU violated the ceasefire 17 times last day. This was reported by DPR Ministry of Defense on March 10.


"17 violations of the ceasefire were recorded during the day. This night - three (two times at the airport in Donetsk and village Spartak), "
- the source said, adding that the shelling of residential areas was not observed.
The Defense Ministry added - the fire was conducted with mortars and automatic mounted grenade launchers.
---
10:30 Video of consequences of attacks. Place and date of recording is not specified, presumably Debaltsevo (video)

---
10:13 Summary of military events in Novorossia for 03/09/2015
---
9:11 UN stands for integrated efforts on demining and disposal of unexploded ordnance in Donbass, where operations were conducted. This is stated in a weekly report of the UN Office for the Coordination of Humanitarian Affairs (OCHA) published on March 9, "TASS" reports.
---
9:07 Map of hostilities and events in Nocorossia with a designation of zones of guerrilla activity