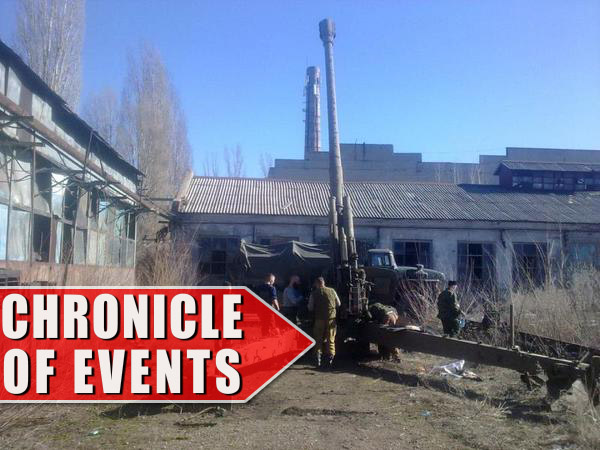 Timely information from the fronts of DPR and LPR, military reports from the Armed Forces of Novorossia, ATO news, photos and videos by military journalists from the flash points of Donbass, topical interviews with leaders of Novorossia.

---
Watch videos of events in Novorossia on Cassad-TV

Collecting help for Novorossia. Charitable Foundation "Global Initiatives"
---
- The war in Novorossia Online 03.10.2015 Chronicle
- The war in Novorossia Online 03.09.2015 Chronicle
- The war in Novorossia Online 03.08.2015 Chronicle
---
4:30 Head of the People's Republic of Donetsk Alexander Zakharchenko ordered to provide the market with domestic products.


If we increase our agriculture, we will ensure a product independence from Ukraine
- the head of DPR said at a meeting with the heads of cities and districts on Wednesday.
He reported also about the plans for the control of fishing activities.
---
2:51 Another explosion rocked in Odessa.

As specified in the press service of the regional department of the Interior Ministry, according to police, the explosion happened in the business center "Admiral" in Krasnov street. At the same time it is noted that no voluntary organizations, which have become the aim of such attacks, do not work there after a similar explosion in December.


Odessans heard the sound of an explosion at about 0:40 (local time). It was clearly heard Fontanskaya road, Segedskaya(street), however, residents of the microdistrict "Vuzovsky" woke up, too
- The report says.
---
22:45 Report by the channel "Novorossia first operational":


By 21:00 fire is conducted in Donetsk with incendiary shells at Putilovsky district, area of the shopping center "Metro", Panfilovskaya mine terricone, 2nd site, the eastern edge of the settlement Peski from the settlement Peski.
---
22:31 Message from militiaman with the call sign "Varyag":


For the past day there were no particularly difficult situations in Donetsk. AFU continue to provoke the militia opening fire on their positions. Truce is not particularly felt in the village Shirokino, there is constant fighting.
---
21:49 Press Officer of sector "M" in the area of ​​ATO Oleg Sushinsky said that the positions of ATO were allegedly fired near the settlement Shirokino with mortar shells three times.
---
21:32 Liberated village Nikishino - Life after the Hell

---
20:47 Lugansk People's Republic is in talks to supply coal to Russia, the head of LPR Igor Plotnitsky said.


Today there are new negotiations. And not only with Ukraine, but, first of all, with Russia. We expect the first results in the near future. Ukraine's sinking economy is not so interesting for us
- Plotnitsky told to reporters on March 11.
---
20:34 Map of hostilities and events in Novorossia with a designation of zones of guerrilla activity for March 11, 2015


---
20:13 Roundup of Novorossia for March 10-11
1. The staff of the OSCE and the Red Cross were fired at the airport in Donetsk.
2. The authorities of the DPR declared their readiness to exchange prisoners according to the formula of "all for all."
3. Ukrainian security forces violated ceasefire for more than 400 times after the signing of peace agreements in Minsk.
4. Lutugino plant became state-owned company of LPR.
5. People's Council of LPR intends to consider recognizing the independence of Abkhazia.
6. The Verkhovna Rada of Ukraine called the United Nations for strengthening of sanctions against Russia and providing Kiev with weapons.
7. The US Senate Committee on Foreign Affairs discussed implementation of Minsk agreements.
8. Fox News analyst Bob Scales: US should help Kiev to destroy as many Russian soldiers as possible.
9. Several armored vehicles Saxon had an accident in the Kiev region.
10. Mayor of Kiev was bombarded with eggs and firecrackers in Kharkov.
---
19:57 The United States Government decided to supply modern armored vehicles Humvee and drones to Ukraine. It is reported by AFP news agency, citing an official source in the White House.

Ukrainian edition "Mirror of the Week" makes clear that America will give Ukraine a few drones systems Raven, 30 terrain armored vehicles Humvee, as well as 200 SUVs.

---
19:06 Message from a resident of Schastye.


We have firefight with small arms and mortars since 6 am today. There became more soldiers. Equipment moves up to us periodically.
5 tanks arrived the day before yesterday. But I do not know, whether they remained in the city or went further to Stanitsa. And, in general, here became more equipment. AFU move by SUVs and minivans now. It is said that there are small skirmishes all along the line. People are quietly hoping that the militia would come soon to our city and drive the Ukrainian security services out of it
---
17:33 DPR Army reflects National Guard assaults in Shirokino. Minsk agreement has long been respected at Mariupol and in Shirokino only by militias. Ukrainian punishers are constantly shelling militia positions, do not hesitate to destroy civilian houses with mortars and tanks. DPR Army soldiers reflect assaults on their positions by the punitive battalions, the National Guard and the AFU. Militia military correspondents recorded fighting in the village on March 10, 2015. Militia told about the clashes and showed burnt equipment and destroyed houses.

---
16:58 According to the local residents:


Yesterday, 03.10.15, the AFU withdrew SPGs under the supervision in the villages Mirnaya Dolina and Loskutovka (LPR). Local residents report that the SPGs with a cannon diameter "like a bucket" were returned and spread in these villages immediately after the OSCE observers left. There is no withdrawal of heavy weapons by AFU. Apparently hidden force accumulation being prepared.
---
16:23 Information and Analytical Center of the NSDC declares that Ukrainian positions were allegedly fired near the settlement Avdeyevka and Opytnoye with rocket-propelled grenades three times after midnight.
---
14:38 Message from militia.


Today Ukrainian occupation troops violated Minsk agreement on a cease-fire. City Zolotoye and mine "Pervomaiskaya" in LPR were shelled with mortars and self-propelled artillery guns (SPGs) about eight in the morning. The incident is considered as a provocation by the Ukrainian army, they expect to cause fire respond, accusing the AFN of violation of the armistice. By chance, none of the people was hurt. Mine was damaged that can lead to flooding
---
12:11 Defense Ministry of Donetsk People's Republic reported:


Last night settlements of republic were shelled by Ukrainian artillery 9 times. day ceasefire was violated by the Ukrainian side 16 times during just the past
- MD told.
The fire was conducted at settlements Shirokino, Peski, Gorlovka and Donetsk airport with mortars, anti-aircraft and small arms.
---
11:37 Around 10:00 am (MSK) Svetlodarsk residents heard a powerful cannonade. It is reported that the sounds were presumably heard from Tsarskoye Selo or Luganskoye. Locals say that is like a melee, but they hope that there are some exercises or clearance.
---
11:13 According to the local residents:


Around 10:00 (MSK) distant explosions were heard, which were presumably conducted from Mayorsk or Artyomovsk track.
---
11:02 According to the residents of Lisichansk, artillery fire was heard at 7:30 (MSK). It is presumably conducted from the settlement Zolotoye.
---
10:07 Summary of hostilities in Novorossia for 03/10/2015
---
9:01 Map of hostilities and events in Novorossia with a designation of zones of guerrilla activity