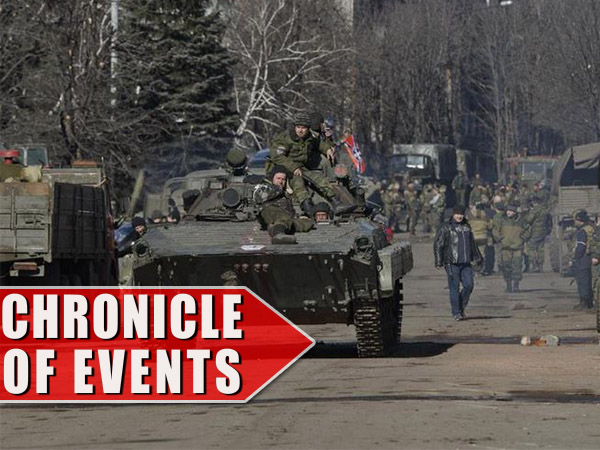 Timely information from the fronts of DPR and LPR, military reports from the Armed Forces of Novorossia, ATO news, photos and videos by military journalists from the flash points of Donbass, topical interviews with leaders of Novorossia.

---
Watch videos of events in Novorossia on Cassad-TV

Collecting help for Novorossia. Charitable Foundation "Global Initiatives"
---
- The war in Novorossia Online 03.18.2015 Chronicle
- The war in Novorossia Online 03.17.2015 Chronicle
- The war in Novorossia Online 03.16.2015 Chronicle
---
1:33 On March 20 Ukraine will start consultations on the UN to send peacekeepers to Donbass, Ukraine's Permanent Representative to the UN Yury Sergeyev reported.

"We received instructions to this, and starting tomorrow (Friday) we will begin formal consultations with the secretariat on the format and mandate (of future mission),"
- Sergeyev said, quoted by Tass.
---
00:12 Kyiv security forces fired at the bridge connecting the LPR and Ukraine, as reported by TASS with reference to the LPR MOE.

"They were shooting from the village Bolotennoye controlled by Ukrainian law enforcers. The fire was conducted with tanks and heavy mortars, "
- the agency said. The shelling of the bridge over the river Seversky Donets happened about 19:00 on Thursday.
---
23:12 The car and the "Somalia" battalion commander Givi were fired in Makeyevka.

---
22:32 The overview of map of hostilities in Novorossia for March 18.

---
22:10 Message from journalists.

" There is a shooting fight near Mariupol. This was reported by the press service of punitive regiment" Azov ". Fighting with small arms lasts in Shirokino for about an hour. "Azov" and Ukrainian soldiers from other units are holding the positions,"
- the statement reads.
Press officer of "Sector M" Oleg Sushinskiy said that fighting resumed near Mariupol after a night of calm.
"To date 5 attacks were recorded,"
- he said.
"Small arms are used in battle, rocket-propelled grenades and 82 mm mortars."
Previously head of the center "Defense of Mariupol" Roman Sokolov said that Ukrainian armed forces and the Army DPR opened mutual fire in Shirokino this morning. At 8:20-8:30 shelling was conducted with 82 mm mortars. At 9:15-9:25 fire was opened with small arms.
---
21:02 During March 19 the ceasefire was violated 37 times, from 6 am to 7 pm. It is reported by the press center of the ATO.

It is reported that mortars and rocket launchers were allegedly used against the forces of ATO 20 times, tanks - 4 times, small arms - 15 times. AFU positions near the settlements Krasnogorovka, Opytnoye, Peski came under fire.

At 10:45, 17:20 and 18:05 AFU positions near Avdeyevka were allegedly fired with a tank.

At 13:15, 16:00 and 18:00 120-millimeter mortars struck at the AFU positions near the settlement Peski.

On Mariupol direction AFU positions in the district Shirokino were fired5 times during the day, and on Artema direction - positions were fired near the settlement Luganskoye and Mayorsk.

On Lugansk direction positions were bombarded near the settlements Sokolniki, Stanitsa Luganskaya and Tryokhizbyonka.
---
21:00 Roundup of Novorossia for March 18-19, 2015

1.Another ceasefire violations recorded in Donbass.
2. The city Konstantinovka held funeral ceremony in memory of eight year old girl Polina.
3. Instructors from the US will hold training for 780 Ukrainian servicemen in the near future.
4. Moscow commented on the law on the special status of Donbass adopted by the Verkhovna Rada.
5. The number of dissatisfied with the policy of the Yatsenyuk's Cabinet is growing in Kiev.
6. Activists of "Euromaidan" prevented citizens from holding of a peaceful protest against public transport fare increases in Odessa.
7. Karyakin: Lugansk miners fight better than AFU.
8. Ukraine sent an appeal to the EU to introduce peacekeepers.
9. Poroshenko signed a law "On special order of the local government in some areas of Donetsk and Lugansk regions."
10. Poltorak: The number of AFU troops will increase to 250 thousand people.
---
18:07 Logvinovo after fights. Photo materials (exclusive).

---
17:26 In memory of the killed children of Donbass (video)

---
15:18 Convoy of Russian Emergencies Ministry, having delivered humanitarian aid to Lugansk, went back to Russia, the National Center for Crisis Management of Emergency Situations Ministry reported.


"Unloading of vehicles finished in warehouses of Lugansk, and now they moved back to the state border,"
- the source said.
Unloading of trucks in Donetsk continues.
---
14:45 Press Centre of Mariupol Defense Staff declares that positions of ATO forces were fired twice near the settlement Shirokino in the morning of March 19.

It is reported that 82-millimeter mortar was used from 8:20 to 8:30, and firearms - from 9:15 to 9:25.
---
13:54 Unloading of humanitarian convoy from the Russian Federation began in Makeyevka.

More than 200 volunteers are involved in unloading. Social movement "Young Republic" and the Ministry of Youth and Sports of the DPR organized their work.


"Today 81 trucks with humanitarian aid for Donbass arrived in Donetsk People's Republic. It consists of educational literature for Novoazovsk schools, food and personal care products for the Union of Donbass Veterans. Medical supplies were also delivered for the representatives of the Russian Red Cross, food for the Donetsk National University. In addition, we received peas today for sowing campaign".
---
13:52 Salaries and pensions will be paid in rubles in the People's Republic of Lugansk. LPR leader Igor Plotnitsky said this, as reported by the correspondent of IA "Novorossia", during the visit to Krasny Luch.


"Public sector wages and pensions will now be paid in rubles,"
- Plotnitsky said.
---
13:41 Instructors from the US will begin to train the National Guard of Ukraine.

US Vice President Joe Biden promised that the US military will begin training soldiers of the National Guard of Ukraine very soon. He pleased President Petro Poroshenko with this news in a telephone conversation, adding that the armed forces of Ukraine (AFU) will soon receive the first American armored vehicles, according to "Rossiyskaya Gazeta".

---
13:34 Summary of hostilities in Novorossia for 03/18/2015
---
11:43 DPR Defense Ministry: Donetsk, Gorlovka and Spartak are again under AFU fire.

Ukrainian military violated the ceasefire28 times over the past day. Donetsk, Gorlovka and village Spartak came under fire.

As reported today to Donetsk news agency in the Ministry of DPR, Spartak was fired with mortars 10 times, with automatic grenade launcher once, with anti-aircraft system once, security forces also released one anti-tank guided missile.

Outskirts of Donetsk were shelled 14 times. The Kuibyshevsky district was shelled with mortars and automatic grenade launchers eight times, and four firings at Donetsk airport were recorded - three times with mortars, and once with anti-tank guided missile.

In addition, fire was once opened at Gorlovka with small arms.

There is no information on casualties among the civilian population.
---
11:23 British military instructors started training soldiers of the Ukrainian army in Nikolayev, the British Broadcasting Corporation reported on Thursday.


According to it, 35 Britons train Ukrainians in defensive tactics and first aid.

As stated earlier by British Defense Secretary Michael Fallon, military experts will present four "short-term" courses - medicine, logistics, intelligence ("analysis of the tactical level") and infantry training.
---
9:01 Message from militia.

"Ukrainian army violated the ceasefire18 times during the day. Villages Oktyabrsky, Spartak, Vesyoloye and Putilovskaya Roscha were under AFU mortar fire. Abakumov mine was also shelled with artillery. In the settlement Shirokino skirmishes between AFN and AFU continue, the hospital of Novoazovsk received three wounded. In Stanitsa Luganskaya two Ukrainian soldiers were blown up on an unknown explosive device. In the town Raygorodka near Slavyansk (territory temporarily occupied by Ukrainian security forces) the explosion of Ukrainian landmine killed a teenager. Ukrainian media reported that Warsaw agreed to transfer about 300 units of T-72 tanks to Kiev, upgraded in line with NATO standards and named PT-91. "
---
9:00 Map of hostilities and the humanitarian news of Novorossia with the guerrilla zones for March 17 – 18, 2015