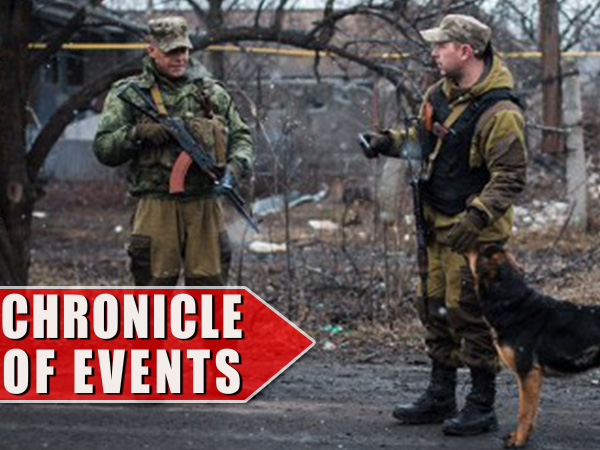 Timely information from the fronts of DPR and LPR, military reports from the Armed Forces of Novorossia, ATO news, photos and videos by military journalists from the flash points of Donbass, topical interviews with leaders of Novorossia.

---
Watch videos of events in Novorossia on Cassad-TV

Collecting help for Novorossia. Charitable Foundation "Global Initiatives"
---
- The war in Novorossia Online 03.23.2015 Chronicle
- The war in Novorossia Online 03.22.2015 Chronicle
- The war in Novorossia Online 03.21.2015 Chronicle
---
1:54 Message from militiaman with the call sign "Sych".


"Today I realized that I overpraised command. AFU (up to a company) attacked our troops near Sokolniki with the support of the mortar fire. The command decided to play strategists (they were probably bored), gave the order – to encircle. There were a lot of experienced fighters, not freshmen who would have just be trained and sent to the front. So, a platoon of Cossacks began encircling the enemy, and then 3 AFU ICVs broke forth, and the whole platoon was caught between a company and 3 AFU ICVs + mortar fire. They were saved by "Northerners" - 2 tanks which suddenly appeared from Sokolniki. The first salvo of the tanks - and minus 1 ICV, 2 others – on their heels, and a platoon of Cossacks - away from a line of fire. Tanks went back to the village, the AFU company left, having lost 7 fighters killed. But we almost lost 30 soldiers. ICVs just would have shot them on the open field, the command should think tactical AFU moves ahead and send support immediately. It rehabilitated itself only by the fact that it sent help of 2 tanks from a reserve in time, and allowed to release 40 mines at the enemy with mortars. During the day, in general, it was more or less quiet. 20 attacks today, not counting small arms. Basically, infantry fighting vehicles and BRDMs. Debaltsevo operation has shown very much, including our failures. Now there are tactical exercises in the rear with both recruits, who are tens of thousands, and "dodgy" fighters. There is reshuffling in command. Another half a month to pass, and we will have the right to be called a sort of an army. Now there are only a harmonious center of the fronts, units and the army of two Republics created."
---
1:40 The international rating agency Moody's downgraded the sovereign credit rating of Ukraine from "Caa3" to "Ca", maintaining a negative outlook, according to a press release of the agency.

The press release notes that a key factor for the downgrade is the likelihood of significant losses by external private creditors of the country as a result of the government's plan to restructure the majority of Eurobonds issued.
---
00:47 The battle in Peski, video by the AFU. Date of recording is unknown.

---
23:32 Despite the resolution of Congress, Obama did not give weapons to Ukraine.

The conflict in Ukraine should be solved by diplomatic means, the US president continues to believe.
On Monday, the US House of Representatives overwhelmingly passed Resolution H. Res.162, urging President Barack Obama to begin deliveries of lethal weapons to Ukraine.
Despite the pressure by the Congress, Barack Obama once again refused to arm Kiev, according to "Ukrinform" referring to their correspondent. Position of the Government of the United States was voiced on Tuesday by US State Department spokeswoman Jen Psaki at a news briefing, who stated:

"Our focus has been supporting Ukraine and pursuing a diplomatic solution that respects Ukraine's sovereignty and territorial integrity,"
adding:
"But nothing has changed as it relates to our decision making in this area."
According to Psaki, the government takes into account the position of the US Congress voiced in the resolution, but continues to hold the view of the need to only peaceful solution to the crisis in Donbass.
---
23:01 According to the channel "Novorossia first operational", there was a shooting battle in the area of ​​Peski by 22:15.
---
22:55 Overview by military correspondent "Samur".
After midnight of March 24 Ukrainian army units began to advance from Avdeyevka to the area adjacent to Donetsk airport. They opened fire at positions of the militia.

Command of militia forces decided to lure the enemy away from the original line of attack. The maneuver was successful. Ukrainian military reached places where construction of a bypass highway had been started in peacetime.

Here AFU units were viced. Ukrainian military losses amounted to 23 people killed and dozens injured (data need to be checked - Ed.)

Defenders of Donetsk have two people killed, the number of injured - 20 people.
---
22:22 According to the Ukrainian side, positions of the so-called ATO forces were allegedly fired 16 times during the day. This is stated by the press center of ATO in Facebook.


"Militias (ed.) struck at Shirokino from 10:35 to 11:20, and from 10:50 to 12:10 at our positions near Staromaryevka with 120-millimeter mortars. Also Ukrainian strongholds near the villages Novosyolovka and Nikolayevka were under fire of mortars, grenade launchers and anti-tank weapons"
- the statement reads.
At the direction of Donetsk militias allegedly fired at Avdeyevka with a tank at 5:30. Sounds of strikes with 120-millimeter mortars were heard three times at Peski and once at Granitnoye.
"On Artema direction militias (eds.) allegedly clashed with our military near the settlement of Mayorsk at 12:30. ATO soldiers drove militias (eds.) from the Ukrainian positions by successful tactical actions,"
- the headquarters said.
On Lugansk direction a stronghold of the so-called ATO forces near Sokolniki was allegedly fired twice with small arms and mortars.
---
21:52 The overview of map of hostilities in Novorossia for March 23.

---
21:41 DPR militia keeping the defense near the village of Peski reported that AFU continue shelling them with mortars and small arms. Ukrainian security forces continue to hold a large part of the village and several heights around.


---
21:21 US are already supplying weapons to Ukrainian armed forces, the head of the People's Republic of Donetsk Alexander Zakharchenko says.


"America already supplies weapons. For example, we have seen American ammunition in Debaltsevo, and this is a lethal weapon - he said at a briefing. - And every day NATO aircraft lands in airports of Dnepropetrovsk, Zaporozhye, Kharkov."
Zakharchenko said that Ukraine returns the heavy equipment to the line separating the sides of the conflict.
"Ukraine has not withdrawn the equipment. It brings it back, the withdrawal was to form",
- he said.
---
21:04 Roundup of Novorossia for March 23-24, 2015
1. Ukrainian military violate the ceasefire.
2. Demining of farmland is conducted in Donbass.
3. Head of LPR: Even if the coalition will be headed by Kolomoisky, we would hardly come his way.
4. The VR Speaker signed a decree on recognition of Donbass regions as occupied.
5. SBU suspects Kolomoisky's subordinates of financing gangs.
6. MPs of Verkhovna Rada of Ukraine proposed to create a commission to investigate the activities of the Prime Minister Arseny Yatsenyuk.
7. Poroshenko: There were nearly 30% of deserters in the first wave of mobilization.
8. The IMF intends to solve Ukraine's debt problems at the expense of Russia.
9. US Congress asks Obama to send weapons to Ukraine.
10. Ukraine will stop buying gas from Russia on April 1.
11. Advisor to the head of the Ukrainian Interior Ministry called "American aircraft in the Black Sea Navy" for airstrikes on Donbass.
---
20:28 Report and photos by Alexander Zhuchkovsky.


"Ukies, say cheese to our drones. I want to show the partial results (all results are not shown for operational reasons) our drones collected for folk, that is your, money. This is the area of Shirokino and deeper towards Mariupol (There is the regiment" Azov "). The week-old pictures show a part of Ukrainian self-propelled guns and tanks, which had to be withdrawn from the front line according to " Minsk Agreement ", but in reality they are still here shelling militia positions every day."
---
17:42 Facts of AFU crimes shown in Europe.

---
16:50 Message from militia.


AFU are moving equipment and manpower to the confrontation line. At night landing of six helicopters at once was observed in the area of phenol plant (Dzerzhinsk, district of Gorlovka). Two more tank companies arrived in Dzerzhinsk. There was a fight in the area of Gorlovka. AFU were firing from three directions: Yuzhnaya mine (Dzerzhinsk), Shumy and Mayorsk. The fire was conducted with KPVT, AA-mounts, Utyos, RPG-7, AGLs, small arms and tanks. Around midnight, two companies of Novorossia Army soldiers were alerted.
---
16:39 Report by Cassad-TV from the destroyed frontline village Shirokino, where positional battles have been continuing for last few weeks.


---
15:48 Message from Novorossia militia News office by the evening of March 23, 2015


During the day situation remained tense in Donetsk and Lugansk People's Republics.

According to DPR intelligence, AFU continue to use the "truce" to strengthen defensive positions along the line of contact with the militias, to regroup and resupply of arms and military equipment, as well as to replenish stocks and re-arm units at the front edge.

Despite the work of the OSCE mission in the People's Republics of Donbass, the Ukrainian troops continue to conduct attacks on the territory of Novorossia.

During the last day 51 cases of the use of weapons were recorded, 35 of which is mortar shelling, 6 - tank armament and infantry fighting vehicles, 3 - antitank guided missiles, and seven attacks with small arms, including sniper rifles:
with small arms militia holding ground in the vicinity of the village Spartak were fired from Avdeyevka at 07:55 and 10:30 with armament, at 10:40, 12:10, 12:55, 17:15 and 18:20 with mortars, at 11:30 with anti-tank guided missiles, and at 12:25. At 08:00 same positions were fired with anti-tank guided missiles from the mine "Dutovka."
At 08:40 defensive lines at Spartak were fired with sniper weapons from the runway of Donetsk airport. At 10:05 mortar attacks were conducted at these positions fifteen times from village Opytnoye, and at 10:30, 12:50 and 17:45 there was fire with tank arms and infantry fighting vehicles;
at 08:20 militia positions on the eastern outskirts of the village Shirokino suffered mortar fire from the village Vinogradnoye. At 09:10, 11:05 and 15:50 the same positions suffered mortar fire from the western outskirts of Shirokino, and at 19:10 - from Mariupol. At the same time small arms fire was conducted on the defensive line in the area of Shirokino from the boarding house "Kramatorsky";
at 09:10 the militia defending in the town Gorlovka were fired with small arms from the mine "Yuzhnaya";
positions of the People's Militia near the village Vesyoloye were fired six times from 10:45 to 20:00 with mortars, at 11:10 with anti-tank guided missiles, at 12:05 and 12:20 with small arms, and at 21:30 with armament from the village of Peski;
at 11:50 DPR militia positions near the village of Peski suffered mortar fire from the city Avdeyevka;
at 18:55 lines of defense of the national militia in the town of Gorlovka were fired with small arms and at 21:30 with mortars from the village Shumy.
---
14:28 Russian Emergencies Ministry is ready to send another aid convoy for Donbass on March 26.


All the prospective plans are approved. We plan to continue providing aid and support to people in eastern Ukraine. We plan to deliver food, medicines, daily necessities, as well as special cargo - seeds and fertilizers for field work,
- Minister of Emergency Situations Vladimir Puchkov reported to RIA Novosti agency today.
Additionally, it is planned to deliver books and textbooks for students and children in Donbass who have to learn in the most difficult conditions. In addition, the minister added, the cargo will include materials for the renovation of housing and social facilities.

"There are not only building materials, but also supplies for water, energy and utilities,"
- the head of the Ministry of Emergency Situations said.
---
12:59 From the message of a militiawoman with the callsign "Kima".
Ukrainian security forces continue to violate the truce systematically firing at militia positions. In the night of March 23 to 24 Ukrainian army shelled the outskirts of Donetsk again. The fire was conducted from Peski, the area of ​​the airport was shelled. AFU used mainly heavy machine guns and AGLs. There was fighting with small arms in Peski.

There is unremoved AFU equipment in localities Granitnoye and Volnovakha.

Ukrainian artillery is active in Peski and Avdeyevka, including "Grad".
---
12:44 Video by Lifenews under the project "Shelled Donbass." Dokuchayevsk from bird's-eye view.

---
12:12 Video by Gennady Dubovoy. All that remained of the Putilovka bridge in Donetsk.

---
11:55 Ukrainian military conducted a machine gun fire in Peski. Date of recording is unknown.

---
11:11 Video by Gennady Dubovoy. Ruined temple of the Holy Iveron Monastery near the airport of Donetsk.

---
11:01 Summary of hostilities in Novorossia for 03/23/2015.
---
10:56 Defense Ministry of Donetsk People's Republic recorded more than fifty violations of the "Silent Mode" by the Ukrainian security services last day, two militiamen were killed and five injured as a result of attacks on the territory of the Republic, the press service of the defense department reported to DAN today.


In just a day 51 cases of shelling by the Ukrainian security forces were recorded, including 41 violations in the direction of Donetsk, five violations - in Gorlovka and Mariupol directions,
- the representative of the DPR Ministry of Defense said.
In particular, there were 35 mortar attacks, four tank shells firings and 12 gunfires,
- the Defense Ministry specified. -
Two militiamen were killed and five wounded.
---
10:20 Ukrainian security officials reported of eight cases of ceasefire violation by the militia of Donbass since Monday evening, according to the press center of the special operation on its page in Facebook.


Two cases of the silence violation were recorded from midnight to 5 am (March 24),
- the statement reads.
According to the press center, settlements Peski, Avdeyevka, villages Leninskoye and Shirokino were under attack in the night of March 23 to 24.
---
9:00 Map of hostilities and the humanitarian news of Novorossia with the guerrilla zones for March 22-23, 2015