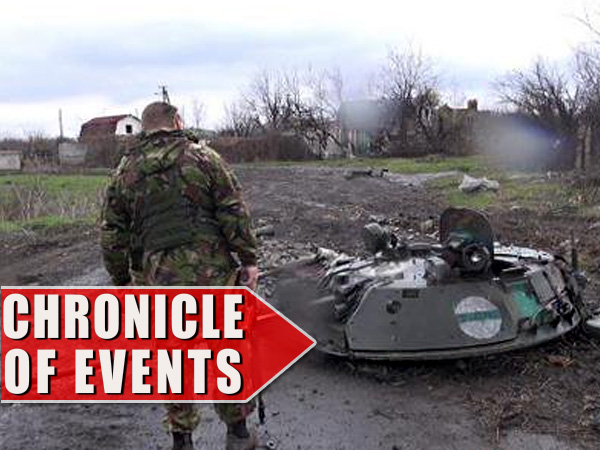 Timely information from the fronts of DPR and LPR, military reports from the Armed Forces of Novorossia, ATO news, photos and videos by military journalists from the flash points of Donbass, topical interviews with leaders of Novorossia.

---
Watch videos of events in Novorossia on Cassad-TV

Collecting help for Novorossia. Charitable Foundation "Global Initiatives"
---
- The war in Novorossia Online 04.25.2015 Chronicle
- The war in Novorossia Online 04.24.2015 Chronicle
- The war in Novorossia Online 04.23.2015 Chronicle
---
23:15 April 26. Shelling of Novoluganskoye village.

---
22:29 As "Voice of Sevastopol" learned, AFU fired at Novoluganka (Novoluganskoye) near Gorlovka about 22:00. There is a hit in the house. No casualties are reported.


---
22:15 04/26/2015 Donetsk, shelling of Kievsky district in the area of ​​the plant Tochmash at 18:30.

---
21:44 Map of hostilities and the deeds of mercy in Novorossia with the guerrilla zones for April 25-26, 2015


---
20:36 News-Front military correspondents came under fire near Shirokino on April 26

---
18:52 DPR militia recorded almost 60 cases of shelling by the AFU over the past day.

---
16:58 At noon there were clashes between demonstrators, the disaffected with falling living standards in Ukraine, and local self-defense at the rally in Zaporozhye.

---
16:07 militiamen firing with PTRD.
---
9:44 "Donbass" AFU battalion SUV destroyed during the night shootout.


---
9:01 Map of hostilities and the humanitarian news of Novorossia with the guerrilla zones for April 24, 2015