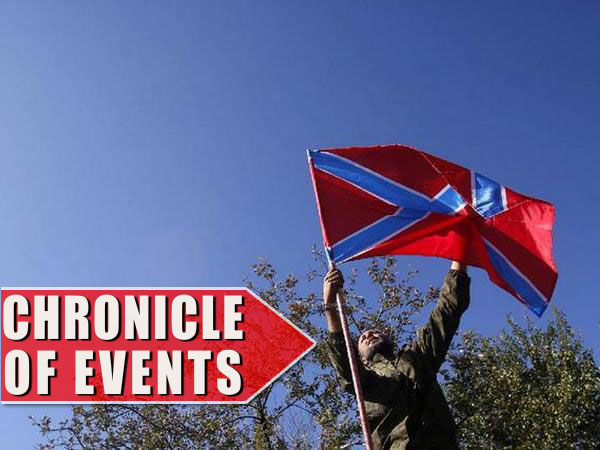 Timely information from the fronts of DPR and LPR, military reports from the Armed Forces of Novorossia, ATO news, photos and videos by military journalists from the flash points of Donbass, topical interviews with leaders of Novorossia.

---
Watch videos of events in Novorossia on Cassad-TV

Collecting help for Novorossia. Charitable Foundation "Global Initiatives"
---
- The war in Novorossia Online 06.04.2015 Chronicle
- The war in Novorossia Online 06.03.2015 Chronicle
- The war in Novorossia Online 06.02.2015 Chronicle
---
23:02 Map of hostilities and the humanitarian news of Novorossia with the guerrilla zones for June 04-05

---
22:36 Roundup of Novorossia for June 04-05, 2015
1. The situation in the DPR and LPR over the last day of June 04-05, 2015
2. The Defense Ministry refuted Poroshenko's words of Russian troops in Ukraine again.
3. Kiev authorized the placing on foreign weapons of mass destruction in Ukraine.
4. UN Security Council to meet in emergency session on Donbass
5. The European Commissioner: it is unacceptable for EU to constantly fund Ukraine.
6. Head of Kiev police came under lustration.
7. Ambulance with the wounded Ukrainian law enforcers could not pass through Dnepropetrovsk.
8. Yatsenyuk climbed on armored personnel carrier in front of the Americans.

---
21:19 As "Voice of Sevastopol" found out, there was the battle near the settlement Schastye and Vesyolaya Gora with mortars and small arms as of 21:10.

---
20:36 AFU cleaning up the village Maryinka

---
20:06 Residents of Donetsk reported to the editor' office of "Voice of Sevastopol" that there is a fierce battle to the south east of Volnovakha with the use of all types of small arms, including mortars, with the support of artillery, including self-propelled guns and MLRS as of 19:55.

Ukrainian security officials attacking militia positions in the direction of the village Starolaspa from the standpoint at the village Starognatovka through Belaya Kamenka.

---
18:04 Edition of "Voice of Sevastopol" received information that Ukrainian law enforcers fire on Logvinovo with heavy cannon artillery from positions in Svetlodarsk-Luganskoye as of 17:55.

---
15:42 Donetsk, the moment of the shelling of the market Sokol. Video by a bystander.

---
14:11 Salvos in Donetsk, the video from 06/05/15

---
13:44 Terrifying bombardment of the village Telmanovo in Donetsk People's Republic by Ukrainian punishers.

---
13:26 Village Sokolniki in LPR. Fighting intensified by Kiev security forces

---
12:21 The network has video from the cabin of the downed AFU helicopter MI-24, which conducted a reconnaissance flight over Lugansk in August last year.

---
12:02 The deputy corps commander of the DPR Defense Ministry Eduard Basurin reported that:


"Telmanovo and Dokuchayevsk were fired with artillery and MLRS" Grad ". Telmanovo was shelled from Granitnoye. "
As of 11:30 the representatives of the DPR Ministry of Defense, OSCE and the Joint Center for Control and Coordination of the ceasefire observers visited the place of the baby's death.
---
9:29 Shelling of Donetsk. The area of ​​the airport. Video from 06/04/2015

---
9:00 Map of hostilities and the humanitarian news of Novorossia with the guerrilla zones for June 3