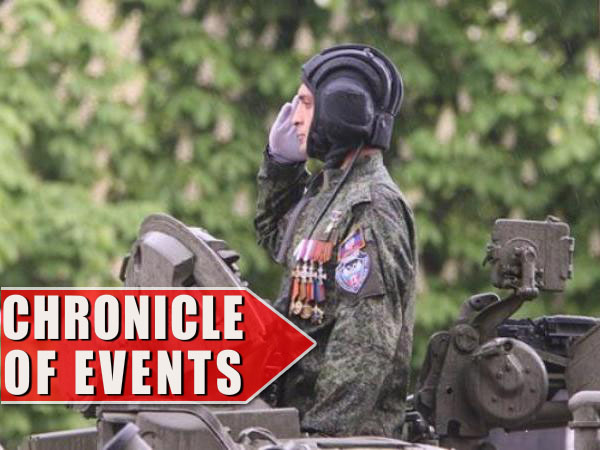 Timely information from the fronts of DPR and LPR, military reports from the Armed Forces of Novorossia, ATO news, photos and videos by military journalists from the flash points of Donbass, topical interviews with leaders of Novorossia.

---
Watch videos of events in Novorossia on Cassad-TV

Collecting help for Novorossia. Charitable Foundation "Global Initiatives"
---
- The war in Novorossia Online 06.08.2015 Chronicle
- The war in Novorossia Online 06.07.2015 Chronicle
- The war in Novorossia Online 06.06.2015 Chronicle
---
4:47 At 3:10 there was armed clash in the area between the settlement Pervomaisk (LPR) and Popasnaya (territory temporarily under the control of Ukrainian law enforcement officers). AFU used small arms, mortars, multiple rocket launcher systems.

---
4:07 Terrifying shelling of r/w station in Donetsk on June 8 thwarted all the talks of a truce (video)

---
3:56 Donetsk, Kremlyovsky St. 41-a – hit of the incendiary projectile (photo)

---
2:12 It became known from sources in the militia that they managed to hit positions of the AFU (including ammunition) near the station Dyleyevka (Dzerzhinsk) as a result of deterrence of fire.


---
1:09 There are reports that the cars cannot drive up to the fires which occurred after the AFU shelling of Donetsk because of ongoing shelling.

Video by Graham Phillips from fire site in the village Oktyabrsky, filmed with the UAV.

---
00:58 Around 21:00 of June 9 military correspondents' group got to the village Oktyabrsky, Donetsk, and videotaped the effects of artillery fire by Ukrainian security services.

---
00:38 The shelling of the village Oktyabrsky with incendiary shells on June 9 (photos)

---
21:18 Fight at Donetsk airport on June 9, 2015 (video)

---
20:51 The results of Ukrainian security forces' shelling of Oktyabrskaya mine village in Donetsk.

Kremlyovsky Prospect, 23, 25 (June 9).


---
20:32 Roundup of Novorossia for June 08-09, 2015
1. The situation over the last day in the DPR and the LPR.
2. Donetsk and Lugansk offered Kiev a special legal regulation.
3. Carpenter: There would be rather "pocket" at Lvov than Minsk-3.
4. Ukraine broke five agreements with Russia.
5. Ukraine may shoot down Russian planes in case of delivering aid to Transnistria.
6. A fire at a tank farm near Kiev.
7. Yatsenyuk: Ukraine will return control of Crimea and Donbass.

---
20:10 At 19:15 fire occurred on Victor Isakov Street in Donetsk, as a result of direct exposure of Ukrainian missile. There were no casualties.

---
20:01 At 19:30 AFU conducted shelling of the village Lozovoye (Donetsk). Photos by local residents.

---
19:29 Photo by the witness after the shelling of Donetsk.

View from md. Textilschik.

---
18:47 Map of hostilities and the humanitarian news of Novorossia with the guerrilla zones for June 8-9


---
18:12 Residents of Gorlovka tell that SBU questions people who have left for the social benefits to the Ukrainian side. Intelligence personnel asks questions "where there is a militia equipment" and makes copies of all documents (video)

---
17:24 Humanitarian convoy of Russia EMERCOM heading to Donetsk, got in an accident in the Voronezh region. 5 people were injured and several cars damaged.


---
17:18 Ukrainian security forces ICV firing on DPR militia positions (Video)

---
15:54 AFU soldiers fighting in the streets of Maryinka (video)

---
15:43 New proposals for amendments to the Constitution of Ukraine were sent today to the Contact Group by representatives of Donetsk and Lugansk People's Republics. This is stated in a joint statement of LPR and DPR envoys Denis Pushilin and Vladislav Deynego.

---
15:13 In the afternoon of June 8 shelling of Gorlovka started. Locals claim that the firing was conducted from Dzerzhinsk.

---
11:40 A message came to the edition of "Voice of Sevastopol" from Svetlodarsk eyewitness, the city is temporarily occupied by Ukrainian law enforcers.

The report said that am gunfire was heard in the area of Svetlodarsk, from Skelevoye, at 5:08 of June 9. Breaks were heard from the north-east side of Uglegorsk TPP, then fire was opened in response. According to the eyewitness, there are AFU positions both at Skelevoye and TPP. At 5:20 gunfire subsided.


---
10:01 Informed sources in the militia reported to "Voice of Sevastopol" that there was fire at the AFU checkpoint located near the settlement Luganskoye at 5:00.

Witnesses captured smoke that rose above the position of the security forces. Details are being investigated.

---
9:16 Map of hostilities and the humanitarian news of Novorossia with the guerrilla zones for June 6-7