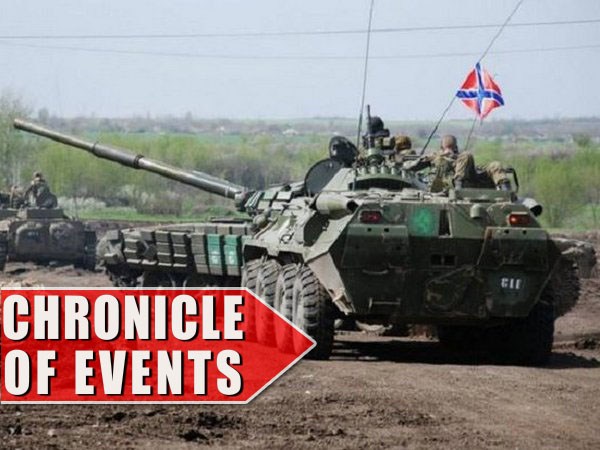 Timely information from the fronts of DPR and LPR, military reports from the Armed Forces of Novorossia, ATO news, photos and videos by military journalists from the flash points of Donbass, topical interviews with leaders of Novorossia.

---
Watch videos of events in Novorossia on Cassad-TV

Collecting help for Novorossia. Charitable Foundation "Global Initiatives"
---
- The war in Novorossia Online 06.18.2015 Chronicle
- The war in Novorossia Online 06.17.2015 Chronicle
- The war in Novorossia Online 06.16.2015 Chronicle
---
4:43 The positions of the 28th AFU Brigade in the locality Maryinka after the cross-fire (photos)


---
3:06 AFU heavy artillery regularly opens fire on positions at the roadblock 31 (Photos)

---
2:22 Press Service of the National Guard of Ukraine said that the NG prepared ICV group to participate in the "ATO".


---
21:55 Tactical group "Somalia" under the command of "Givi" is fighting in Donetsk airport (video)

---
21:49 Map of hostilities and the humanitarian news of Novorossia with the guerrilla zones for June 17-18, 2015


---
18:43 Residents of Donetsk sent a photo of the smoke rising after AFU firing (17:00) at the area of Putilovsky bridge.


---
17:03 The shelling of the Kievsky district of Donetsk on the eve, June 18 (Video)

---
15:44 The effects of the shelling of Donetsk by AFU (video)

---
13:56 In the night AFU fired at "Somalia" unit using tanks and 120mm mortars (video)

---
13:39 Ukrainian battalion "Tornado" commander Ruslan Onishchenko educating his soldiers in very rude terms, chastising them for long "weekend" and expecting respect.

---
9:44 In the night of June 17, 2015 there was a powerful explosion on the outskirts of Donetsk, which was seen even 40 km from the epicenter. The diameter of the crater is 30 meters, and the depth is 10 meters. There are ruins within a radius of 200 meters.

---
9:09 Map of hostilities and the humanitarian news of Novorossia with the guerrilla zones for June 15-16, 2015