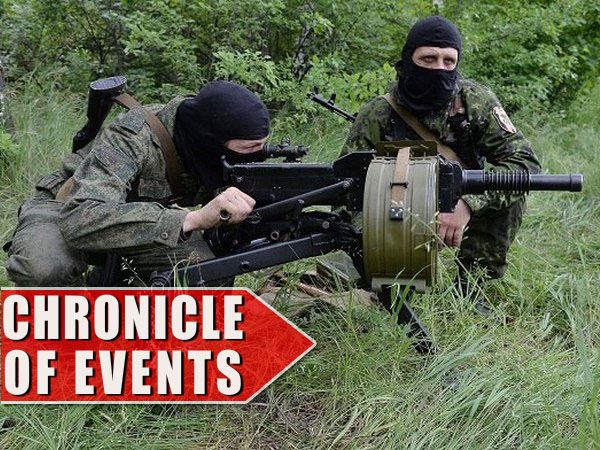 Timely information from the fronts of DPR and LPR, military reports from the Armed Forces of Novorossia, ATO news, photos and videos by military journalists from the flash points of Donbass, topical interviews with leaders of Novorossia.

---
Watch videos of events in Novorossia on Cassad-TV

Collecting help for Novorossia. Charitable Foundation "Global Initiatives"
---
- The war in Novorossia Online 06.22.2015 Chronicle
- The war in Novorossia Online 06.21.2015 Chronicle
- The war in Novorossia Online 06.20.2015 Chronicle
---
5:32 Ukrainian security forces fired on the militia car with AGL (video)

---
2:27 A resident of Donbass in the ruins of his house destroyed by a recent AFU fire.

---
23:35 Map of hostilities and the humanitarian news of Novorossia with the guerrilla zones for June 21-22, 2015


---
22:34 Destruction after AFU firing, Putilovka, the Kievsky district of Donetsk. Photos taken in June 2015.


---
21:27 Around 21:20 a loud explosion was heard in the settlement of Novgorodskoye (the positions of AFU).


---
20:41 The combat power of the DPR army increases together with the training of its fighters. Tactical exercises of DPR "Berserker" (Video)

---
20:09 Roundup of the day for June 22-23, 2015
1. The situation over the past day in the LPR and the DPR.
2. Taruta: There are military options to resolve the situation in Donbass.
3. The Minister of Social Policy of Ukraine Pavlo Rozenko admitted that he is in shock.
4. "If a bullet in the forehead, then a bullet in the forehead." Yatsenyuk and his party want the death penalty and a visa-free regime with the EU.
5. Yanukovych: revolution in 2014 is "the tragedy of the Ukrainian state."
6. Kiev is trying to speed up the examination of cases on Crimea by the ECHR.
7. The more radical the better: Gontareva to dismiss 50% of the NBU employees.
---
13:02 DPR SWAT "Olkhon" in action (video)

---
11:16 The Center of Recovery Management reported that another 31th humanitarian convoy from the Russian Federation is expected on June 25. The cargo will include 580 tons of food and medicines.


---
10:32 After a night of shelling in Donetsk, in the Petrovsky district, a man was injured as a result of a direct hit in a private house on Borisovs street, 9a, he received injuries and bruises, his condition is satisfactory.

There is also damage to the houses on Sokolovsky Street. Ukrainian security officials, according to preliminary data, used mortars and small arms during shelling.


---
9:37 Map of hostilities and the humanitarian news of Novorossia with the guerrilla zones for June 19-20, 2015