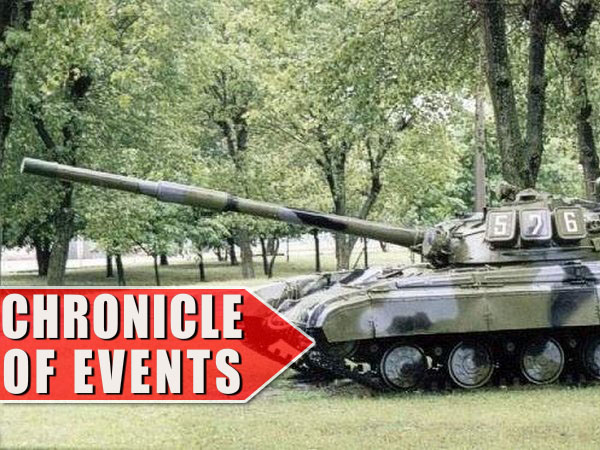 Timely information from the fronts of DPR and LPR, military reports from the Armed Forces of Novorossia, ATO news, photos and videos by military journalists from the flash points of Donbass, topical interviews with leaders of Novorossia.

---
Watch videos of events in Novorossia on Cassad-TV

Collecting help for Novorossia. Charitable Foundation "Global Initiatives"
---
- The war in Novorossia Online 06.28.2015 Chronicle
- The war in Novorossia Online 06.27.2015 Chronicle
- The war in Novorossia Online 06.26.2015 Chronicle
---
21:05 AFU hide 152-mm guns 2A36 "Giatsint-B" at the front line


---
20:58 Kalmius. The training in mine-explosives craft.

---
19:52 Roundup of the day for June 28-29, 2015
1. The situation over the last day in the DPR and the LPR.
2. Amnesty International confirmed the facts of torture by volunteer battalions.
3. The Ukrainian army has canceled serviceable weapons for sale - "Azov"
4. Yarosh met with representatives of the Estonian National Defense League.
5. The General Staff of Ukraine demands to increase the cost of the army.
6. Yatsenyuk: After 10 years, Ukraine will provide itself 100% with natural gas.
7. Biryukov: Military equipment is not enough, we fix "old stuff".

---
19:45 Local residents reported that settlement Dokuchayevsk was shelled with mortars, self-propelled guns, D-30 by the AFU at 19:20 of June 29.


---
19:38 It became known that gunfire was heard in the village Yasinovataya at 18:50 of June 29.


---
17:58 Consequences of shelling Gorlovka

---
17:25 Graham Phillips: Shelling in DPR.

---
17:03 As it became known, settlement Alexandrovka was fired by the AFU with a tank at 16:40 of June 29.


---
16:51 Local residents reported that Trudovskiye village suffered a massive fire by the AFU from the village Maryinka at 16:40 of June 29. The fire was conducted with small arms and tanks.

---
16:14 Donetsk: AFU do not stop shelling Donbass

---
14:29 Battalion "Olkhon" conducted military exercises with the use of armored vehicles

---
13:27 Map of hostilities in Novorossia for 06.27-28.2015


---
9:00 Military and humanitarian map of Novorossia for June 26-27, 2015