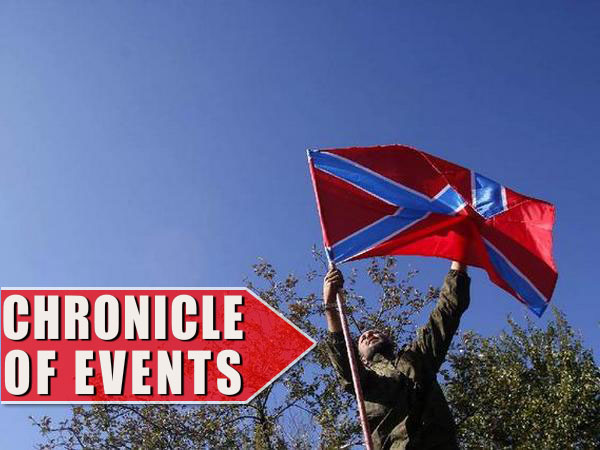 Timely information from the fronts of DPR and LPR, military reports from the Armed Forces of Novorossia, ATO news, photos and videos by military journalists from the flash points of Donbass, topical interviews with leaders of Novorossia.

---
Watch videos of events in Novorossia on Cassad-TV

Collecting help for Novorossia. Charitable Foundation "Global Initiatives"
---
- The war in Novorossia Online 07.01.2015 Chronicle
- The war in Novorossia Online 06.30.2015 Chronicle
- The war in Novorossia Online 06.29.2015 Chronicle
---
20:38 Eyewitnesses reported that the Ukrainian checkpoint near the settlement Volnovakha is closed, and there was a fight near the settlement Beryozovoye as of 18:43.


---
20:29 Roundup of the day for July 01-02, 2015
1. The situation over the last day in the DPR and the LPR.
2. DPR introduced a special regime of self-government.
3. The State Duma proposed to denounce the agreement on the border with Ukraine.
4. SBU is going to return Donbass by "touching the hearts of local residents."
5. Mykola Azarov: The Constitution makes Poroshenko Latin American dictator.
6. Russia received from the Netherlands a draft report on the crash of MH17 near Donetsk.
7. The explosion in Odessa.
8. "CyberBerkut" posted on the Web documents about the crimes of Ukrainian security officials.
---
19:39 July 2 was a year since Ukrainian law enforcers inflicted airstrike on settlement Staraya Kondrashovka. Stakhanov commemorated the victims of the airstrike.

---
18:01 Places of shell hits and destruction of private houses, the stories of Sakhanka local residents, all this testifies to the fact that the AFU plan to wipe out the settlement.

---
17:22 "Viking" 1 battalion of Slavyansk team received replenishment. All volunteers are residents of Donbass. They came at the behest of the heart, and there is the whole truth about what motivates them in their simple words.

---
15:28 The events of the night (from June 1 to 2) in the direction of Mariupol.

At 23:55 there was a dense battle in the village Shirokino. After a short break, at 00:22 there was fighting again with small arms, mortars, AGLs. Eyewitnesses claim that artillery participated in the battle. The fighting did not abate until 3:00 at night.

At 5:30 there was rumble of hardware in md. Vostochny in Mariupol.


---
14:16 After 20:00 of June 1 a massive fire was opened on Gorlovka from the positions of AFU. Ukrainian security officials deliberately hit the residential areas of the city, where there is no militia.

---
13:54 Witness from Dzerzhinsk, which is under the temporary control of the AFU, took video of the Ukrainian security forces firing on Gorlovka. The shelling took place on June 1.

---
12:29 Militia return fire with AGL in the battle in the area of Donetsk (video)

---
11:36 The press service of the LPR People's Militia reported that fire was opened on Pervomaisk with 82 mm mortar from the AFU positions near the settlement Katerinovka at 10:30.


---
9:10 Life and War. Gorlovka on the line of fire (video)

---
8:23 Map of hostilities and the humanitarian news of Novorossia with the guerrilla zones for June 30, 2015