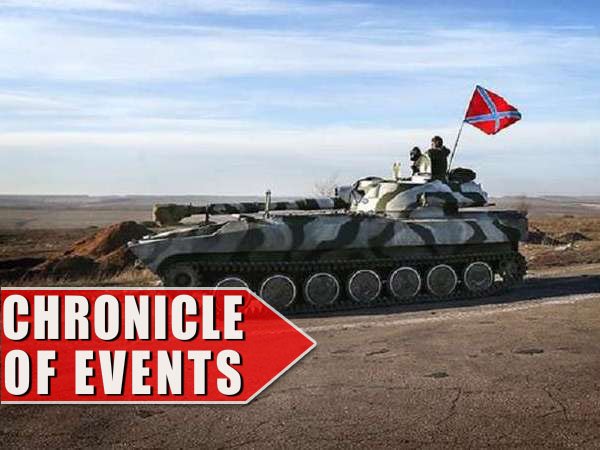 Timely information from the fronts of DPR and LPR, military reports from the Armed Forces of Novorossia, ATO news, photos and videos by military journalists from the flash points of Donbass, topical interviews with leaders of Novorossia.

---
Watch videos of events in Novorossia on Cassad-TV

Collecting help for Novorossia. Charitable Foundation "Global Initiatives"
---
- The war in Novorossia Online 07.02.2015 Chronicle
- The war in Novorossia Online 07.01.2015 Chronicle
- The war in Novorossia Online 06.30.2015 Chronicle
---
20:01 Roundup of the day for July 02-03, 2015
1. The situation over the last day in the DPR and the LPR.
2. OSCE observers will not go to the elections in Donbass without the consent of Kiev.
3. The United States condemned the DPR plans to hold local elections.
4. Verkhovna Rada to recalculate foreign currency loans at the old rate.
5. If not shelling, then cold: Kyiv will not give gas to Donbass.
6. Semenchenko can lose the parliamentary immunity.
7. Semenchenko threatens Kiev war criminals with the US and EU penalties.

---
18:49 DPR Army soldiers returned fire with mortar at the Ukrainian checkpoint on July 2, 2015 (18+)

---
17:53 DPR. Shooting battle near the settlement Alexandrovka on July 2, 2015 (18+)

---
14:19 Ukrainian military shelling a house in Shirokino

---
12:41 Map of hostilities and the humanitarian news of Novorossia with the guerrilla zones for July 1- 2, 2015


---
10:32 AFU bombing settlement Sakhanka and Pavlopol from Mariupol.

---
8:53 Map of hostilities and the humanitarian news of Novorossia with the guerrilla zones for June 30, 2015