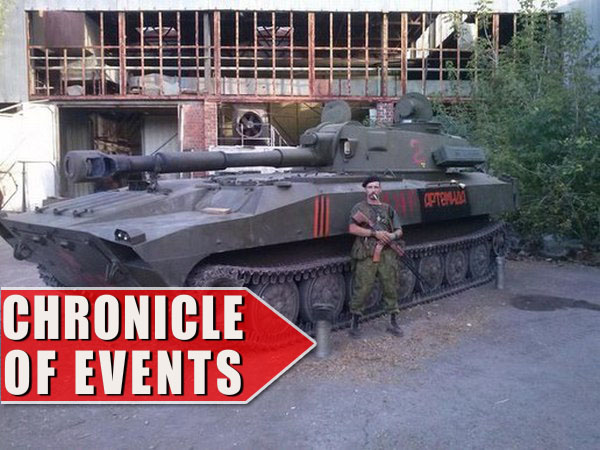 Timely information from the fronts of DPR and LPR, military reports from the Armed Forces of Novorossia, ATO news, photos and videos by military journalists from the flash points of Donbass, topical interviews with leaders of Novorossia.

---
Watch videos of events in Novorossia on Cassad-TV

Collecting help for Novorossia. Charitable Foundation "Global Initiatives"
---
- The war in Novorossia Online 07.07.2015 Chronicle
- The war in Novorossia Online 07.06.2015 Chronicle
- The war in Novorossia Online 07.05.2015 Chronicle
---
20:40 People gathered for a rally on Chkalova St. 33 in Avdeyevka against the AFU military placing in a residential area of ​​the town.


---
20:02 Roundup of the day for July 07-08, 2015
1. The situation over the last day in the DPR and the LPR.
2. Results of the meeting of the contact group in Minsk.
3. Dismissed Ministry of Transport official demanded a million from Saakashvili.
4. The Verkhovna Rada intends to ban the word "Russia".
5. Petro Poroshenko repealed the acts in the field of European integration for the past years.
6. Netherlands proposed the creation of the UN tribunal for the culprits in the collapse of Malaysian "Boeing".
7. Trade unions accused Saakashvili of violating the laws of Ukraine.
8. Poroshenko: Russia and Ukraine are two different universes.

---
19:19 Clearance in the locality Oktyabrskoye

---
17:33 Users posted a photo of US combat helicopters Black Hawk landing at the international airport of the Lviv city. There are 4 combat vehicles in the photo taken on July 7.

---
14:15 Telmanovo. The consequences of the shelling. 07/07/2015


---
11:19 The so-called head of the Lugansk RSA G. Moskal reported on July 8 that a clash occurred between the Ukrainian military and LPR fighters near the settlement Luganskoye at 22:00 of July 7. The losses were not reported of.

Also, the report says that "KAMAZ" with four Ukrainian military was fired in the area of ​​Lopaskino (15 km from Tryokhizbyonka) on July 7. All of them were injured with varying degrees of severity, one of them died in hospital soon afterwards.

---
9:05 Map of hostilities and the humanitarian news of Novorossia with guerrilla zones for July 5 – 6, 201