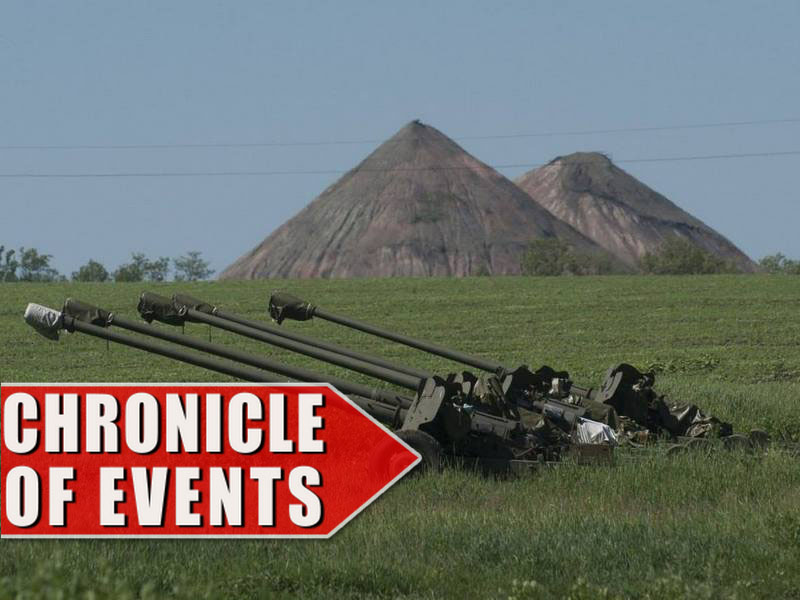 Timely information from the fronts of DPR and LPR, military reports from the Armed Forces of Novorossia, ATO news, photos and videos by military journalists from the flash points of Donbass, topical interviews with leaders of Novorossia.

---
Watch videos of events in Novorossia on Cassad-TV

Collecting help for Novorossia. Charitable Foundation "Global Initiatives"
---
- The war in Novorossia Online 07.16.2015 Chronicle
- The war in Novorossia Online 07.15.2015 Chronicle
- The war in Novorossia Online 07.14.2015 Chronicle
---
20:09 Roundup of the day for July 16-17, 2015
1. The tragedy in the skies.
2. The situation over the past day in the DPR and LPR.
3. Nuland: Ukraine has fulfilled the obligations under Minsk Agreement.
4. Australian authorities are going to check the authenticity of the militias' recording after the "Boeing" had fell.
5. Ukraine wants to send the trains to Crimea again.
6. Kolomoisky sued the "Naftogaz Ukraine".
7. Kiev wants to terminate the contract with the Russian Federation on the Kerch Strait and the Sea of ​​Azov.
8. Kiev adopted all the laws to get money from the IMF.

---
18:15 Road accident in Odessa region. Ukrainian radar S-300 rammed a car.


---
15:54 It was reported that train with military equipment headed eastward by rail between Volnogorsk and Verkhivtseve. 2 SPGs, 5 BRDMs, APCs and 12 T-72 tanks were seen on the platforms.

---
14:32 The head of the DPR Alexander Zakharchenko laid flowers at the site of the Malaysian Boeing crash

---
12:24 Gorlovka after AFU firing, which occurred in the night of July 15 to 16.

---
11:58 Grabovo. A memorial service was held at the site where the Malaysian "Boeing" crashed a year ago.

---
11:33 Military exercises of the LPR PM Army Corps tank battalion

---
10:42 During disposal of illegal weapons receipt channels, the Security Service of Ukraine found a large cache of weapons in the Dnipropetrovsk region, the press center of the SBU reported on Friday morning.


"SBU seized six boxes of grenades SHG-5 (20 pieces each), 18 rocket-propelled grenades in their original packaging, 35 flares and 50 boxes of charges for artillery shells in the dilapidated dug near the village of Dacha in Mezhevsky district." - the message said.
---
9:55 Australian journalists published footage made by militias at the crash site immediately after the crash of Boeing in Donbas.
The footage shows the militia inspecting the scene.
The commander who arrived at the scene is telling someone on the phone that there were two aircraft. This indirectly confirms the version about the downing of the passenger airliner by Ukrainian fighter.

The leader of the militia ordered all civilians to clear the area.
He instructs his men to disperse, and to find the black box flight recorders.

---
9:17 Map of hostilities and the humanitarian news of Novorossia with guerrilla zones for July 15, 2015