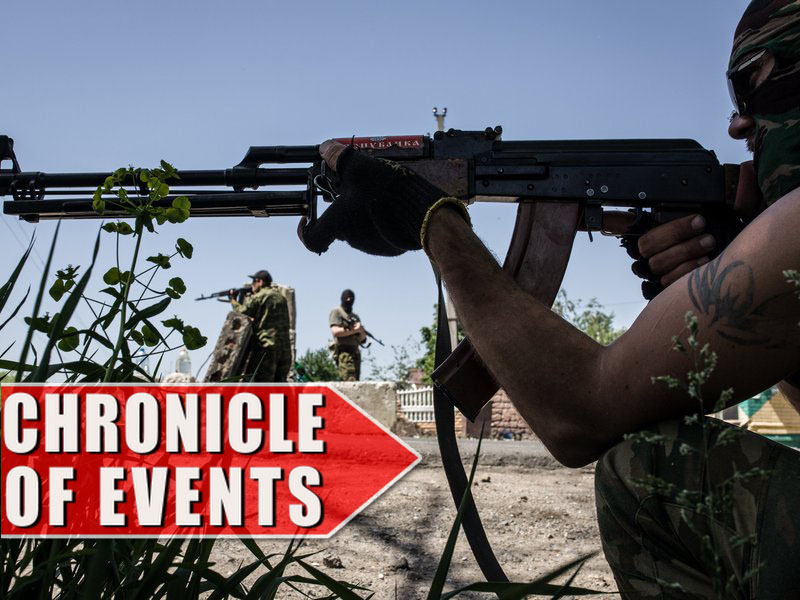 Timely information from the fronts of DPR and LPR, military reports from the Armed Forces of Novorossia, ATO news, photos and videos by military journalists from the flash points of Donbass, topical interviews with leaders of Novorossia.

---
Watch videos of events in Novorossia on Cassad-TV

Collecting help for Novorossia. Charitable Foundation "Global Initiatives"
---
- The war in Novorossia Online 07.19.2015 Chronicle
- The war in Novorossia Online 07.18.2015 Chronicle
- The war in Novorossia Online 07.17.2015 Chronicle
---
20:00 Roundup of the day for July 19-20, 2015
1. The situation over the last day in the DPR and the LPR.
2. Right-sector set a roadblock on the border with Transnistria.
3. Moskal: 80% of "Right Sector" supporters have three or four convictions.
4. Explosion in Odessa.
5. Dnepropetrovsk held a protest against Poroshenko's regime.
6. Chernihiv suddenly stopped distributing food packages.
7. Poroshenko returned the lustrated general to AF.

---
17:21 New video from the MH 17 crash site in Ukraine

---
15:51 In memory of those killed in MH17flight. There are still many remains (July 18, 2015)

---
14:42 US military equipment convoy was seen at the Polish-Ukrainian border near Korczowa heading to Ukraine. The convoy stretched for about a kilometer. The convoy consisted of tractor-trailers without any distinguishing marks and registration. They carried large cargo containers and multi-purpose vehicles Humvee - also without distinctive markings. There were American soldiers in sand color uniform in the cabs of tractors. Transportation was accompanied by a Polish military police who tried to stop taking pictures.

The US military confirmed that that was an American convoy. It was, they say, sent from Germany to Ukraine for participation in the maneuvers «Rapid Trident». The contents of the containers were not disclosed, as the Polish police was guarding the convoy on the territory of Poland without screening content.

International exercise "Rapid Trident – 2015" to be held on July 20-31 in the war-caught Ukraine. They will involve about 1800 representatives of Ukraine, the USA, Belgium, Bulgaria, Canada, Estonia, Georgia, Latvia, Germany, Lithuania and Romania.
---
11:41 A woman, sobbing, is pleading militias not to withdraw warfare.

---
9:15 Military and humanitarian map of Novorossia and the south of Ukraine for July 18