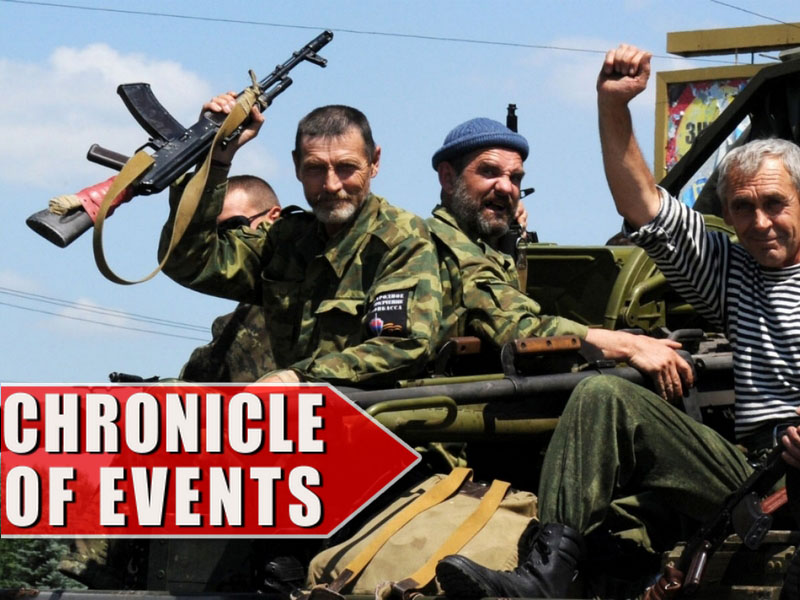 Timely information from the fronts of DPR and LPR, military reports from the Armed Forces of Novorossia, ATO news, photos and videos by military journalists from the flash points of Donbass, topical interviews with leaders of Novorossia.

---
Watch videos of events in Novorossia on Cassad-TV

Collecting help for Novorossia. Charitable Foundation "Global Initiatives"
---
- The war in Novorossia Online 07.21.2015 Chronicle
- The war in Novorossia Online 07.20.2015 Chronicle
- The war in Novorossia Online 07.19.2015 Chronicle
---
20:41 DPR intelligence intercepted documents showing the preparation of unscheduled seventh wave of mobilization by Ukraine. The materials were provided by the Ministry of Defense of People's Republic of Donetsk.


"DPR intelligence sourced a document confirming last week rumors and speculation about the plans of Kiev on the seventh, unscheduled mobilization", - the Defense Ministry of the Republic told.
Earlier, after the announcement of the sixth wave of mobilization, Ukrainian media reported that it will be the last one in 2015.
---
20:07 Roundup of the day for July 21-22, 2015
1. The situation over the last day in the DPR and the LPR.
2. Yarosh announced a "new stage" of revolution in Ukraine.
3. Poroshenko decided to strengthen the defenses of Mariupol.
4. The results of the meeting in Minsk.
5. SBU blocked 110 million hryvnia of Yanukovych's son.
6. Gerard Depardieu is in Kiev's "black list".
7. Arsen Avakov announced the creation of a new brigade of Special Forces.
8. Schengen countries limit visas for Ukrainians.

---
18:23 Storage of weapons from the United States was found during the clearance of the debris in the Lugansk airport. This was reported by the head of the investigation department of the LPR Prosecutor General Leonid Tkachenko.


"Workers found ammunition depot with small arms and heavy weapons, including US-made ones, during the clearance of the debris in the Lugansk airport. Access to the premises was physically impossible before, because the entrance to the storage room was littered with debris, "- Tkachenko said.
He said that portable anti-aircraft missile systems, presumably "Stinger", were also found under the rubble.
"All of these items have special labeling and marking belonging to the US Department of Defense," - the head of the investigation department said.
---
17:50 Drunken AFU soldiers congratulate their commander

---
14:50 The inhabitants of the settlement Dokuchayevsk reported that the AFU have been firing at Yasnoye with cannon artillery and mortars during one and a half hours at 5:10 am of July 22. The fire was conducted from Beryozovoye. AFN army had to respond, after which the provocative actions of the Ukrainian security services stopped. Driving on the highway for the civilian population was blocked at the time.


---
13:45 Capture of a fighter from Battalion Aidar (18+)

---
10:00 Video by Graham Phillips. Evening of July 21. At the forefront of Donetsk.

---
9:03 Military and humanitarian map of Novorossia and the south of Ukraine for July 19-20