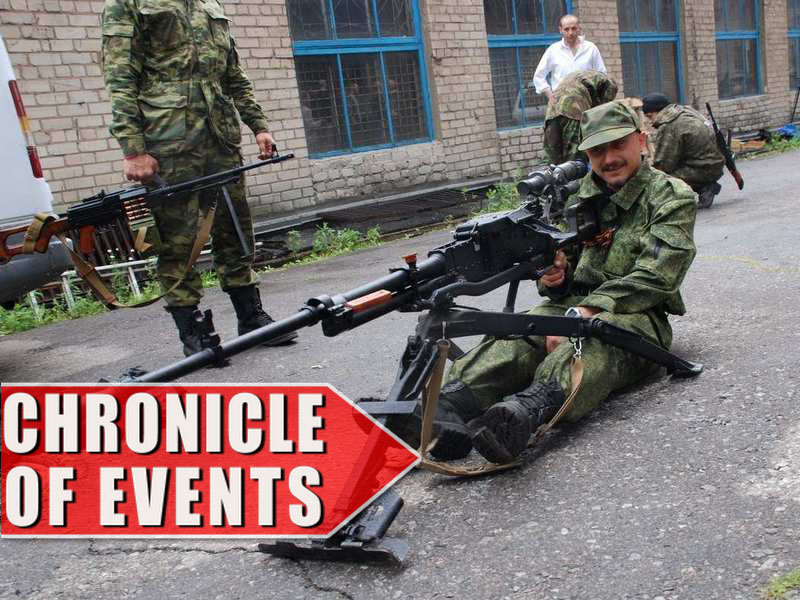 Timely information from the fronts of DPR and LPR, military reports from the Armed Forces of Novorossia, ATO news, photos and videos by military journalists from the flash points of Donbass, topical interviews with leaders of Novorossia.

---
Watch videos of events in Novorossia on Cassad-TV

Collecting help for Novorossia. Charitable Foundation "Global Initiatives"
---
- The war in Novorossia Online 07.23.2015 Chronicle
- The war in Novorossia Online 07.22.2015 Chronicle
- The war in Novorossia Online 07.21.2015 Chronicle
---
20:00 Roundup of the day for July 23-24, 2015
1. The situation over the last day in the DPR and the LPR
2. The bank fired in Kiev.
3. Kiev creating new battalions of police Special Forces
4. Ukrainian nationalists called for the Jewish pogroms.
5. Traders from the Kiev subway picketed the presidential administration of Ukraine.
6. The results of the Norman four leaders' telephone conversations.
7. Humanitarian assistance will be checked in the logistics centers.

---
18:54 War days of "Pyatnashka": working out combat missions on the training ground.

---
16:36 LPR militia reported on fighting near Stanitsa Luganskaya and Schastye at night of July 23 to 24, increased activity of Ukrainian drones was observed in the skies over Lugansk.

At 8:00 there were battles in Popasnaya and Sokolniki, activity of sabotage and reconnaissance groups was observed along the Seversky Donets River. There were shooting battles with mortars in the area of ​​ Krimskoye.


---
14:37 The volunteer with the call sign "Zubr" reported that at 2:30 of July 24 there was active fight with different weapons in Peski, militia managed to destroy the AFU battery, probably, mortar one. At 04:30 am there was the battle between Staromikhailovka and Krasnogorovka for about half an hour with the variable intensity.



the front line on the map is conditional

Ukrainian security forces repeatedly opened fire with small arms in the area east of Shirokino and Gnutovo, acting in infantry groups.



the front line on the map is conditional
---
14:00 Unknown people set fire to the office of the "Right Sector", located in one of the administrative buildings, in Gorodenka town of Ivano-Frankivsk region. This was reported in the regional prosecutor's office.


"In the night of July 23 to 24, unknown persons damaged the doors, entered the premises of the Centre of administrative services in which there was the office of the" Right Sector ", where they committed arson," - the prosecutor's office said.
Now investigative team and experts are working at the scene. Gorodenka District Prosecutor's Office suited criminal case "on the fact of deliberate destruction of property."
---
13:06 Ukrainian bus accident near Warsaw.

---
12:21 LPR PM 4th Independent Tank Battalion and the 5th motorized infantry company in action.

---
10:40 On the Ukrainian army atrocities in Pervomaisk [18+]

---
9:50 Destruction in Yasinovataya during the war in Donbass.

---
9:20 Oktyabrsky village survives under fire.