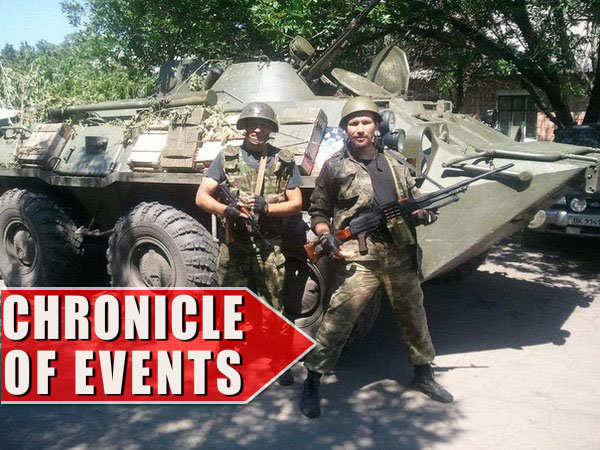 Timely information from the fronts of DPR and LPR, military reports from the Armed Forces of Novorossia, ATO news, photos and videos by military journalists from the flash points of Donbass, topical interviews with leaders of Novorossia.

---
Watch videos of events in Novorossia on Cassad-TV

Collecting help for Novorossia. Charitable Foundation "Global Initiatives"
---
- The war in Novorossia Online 07.24.2015 Chronicle
- The war in Novorossia Online 07.23.2015 Chronicle
- The war in Novorossia Online 07.22.2015 Chronicle
---
19:58 Kharkov zonal department of military law enforcement service received the first British armored personnel carrier Saxon. It was reported by the press service of the Defense Ministry.

According to the plan, other armored vehicles of this type will be transferred in the coming weeks, as well as several US military Humvees. The agency did not specify the exact number of cars that are planned to be delivered to Kharkov.
It is assumed that Saxons and Humvees will be sent also to the area of ​​the ATO in eastern Ukraine.

---
18:50 A group of representatives of the OSCE, which got under the AFU mortar attack this morning, was forced to hide in the sewer and dugouts for two hours. This was reported today in the LPR People's Militia.


"When the OSCE delegation our arrived at our positions, they opened fire on us again ",
- the department noted, adding that the firing on positions of the People's Militia in the area of ​​Schastye began in the morning and lasted till noon.
"Some observers with the People's Militia fighters took refuge in shelters, some - in the sewer pipe, to avoid being hit by shrapnel and hurt anyhow," – they added.

"The OSCE phoned someone, asking to stop the bombardment, but their requests were ignored and the fire continued," - the People's Militia said.
---
15:31 "Vasilyok" in action. Peski.

---
11:02 Donetsk airport view from the drone.

---
9:01 Military and humanitarian map of Novorossia and the south of Ukraine for July 23-24